Art and Architecture History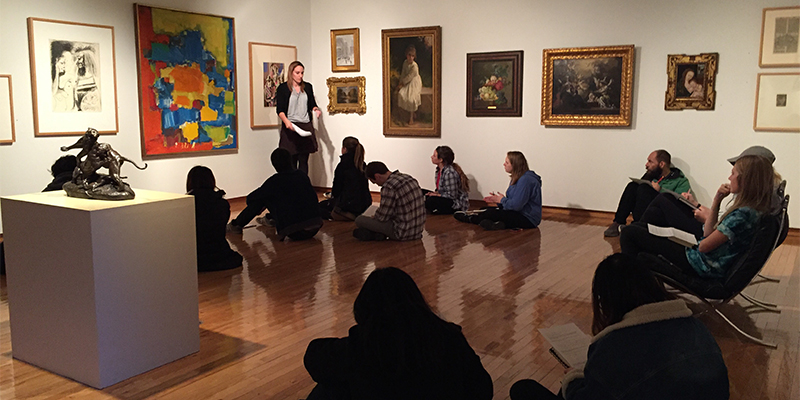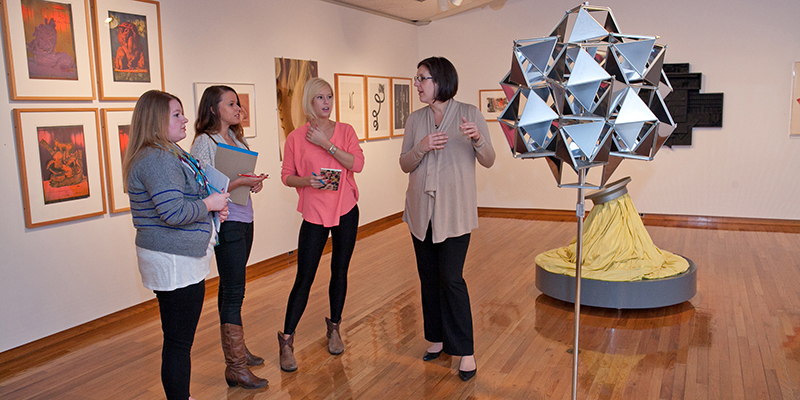 Program Description
The Bachelor of Arts in Art and Architecture History focuses on the many different roles that art, architecture, and visual culture have played in human development. Emphasis is placed on how art reflects not only its specific history, but the aesthetic, social, philosophical, and religious values of the culture that produced it. Students develop research and writing skills to better understand and critically evaluate the manifestations of the visual arts throughout the world. Additionally, they gain experience through internships and international study opportunities.
The program prepares students for careers in museums, galleries, and historical societies, as well as in communications, publishing, corporations, and education. It serves well as a preliminary degree for many fields, including law, business, library science, and arts management. The Art and Architecture History degree is an interdepartmental major that includes the departments of Art, Architecture and Interior Design, Classics, and the Miami University Art Museum.
At Miami, Art & Architecture History majors can:
Choose from an array of global courses that leave you wanting to jump on a plane and study abroad.
Work closely with internationally-known professors at the cutting edge of their fields of research.
Intern in a gallery or museum and take the classroom into the art world.
Develop lasting friendships by participating in art history student organizations
Engage with your passion for art at the Miami University Art Museum, Hiestand Galleries, and the McGuffey Museum.
Hone your writing skills by publishing in Effusions Art Journal or presenting a paper at the annual Art History Symposium.
Expand your knowledge through a multitude of extra-curricular presentations and programs across campus.
Merge your interests by adding a co-major, double-major, or minor in complementary programs.
---
Program Requirements
(48 hours, plus 2 years foreign language)
Bachelor of Arts in Art and Architecture History
Level One: Introductory Courses, 12 hours
Level Two: Themed Courses, 6 hours
Level Three: Area Courses, 15 hours
Level Four: Seminar, 3 hours
Other Required Courses
Field Study, 3 hours 
ART 391 Structured experience outside the classroom: internship or study abroad. 
Advanced Research Methods, 3 hours
ART 498 Capstone: Seminar in History and Methods in Art and Architectural History. Required during the fall semester of the senior year.
Studio Requirement, 6 hours
Foreign Language Requirement, 6 upper division hours
At least two years foreign language (completion of 202 or equivalent). Students planning to pursue graduate studies in the history of art and architecture should discuss additional language study with an adviser.
Majors are required to maintain a minimum 2.0 GPA. All courses for the major must be taken for a standard grade.
Miami Plan Requirements, 48 hours
Foundation courses within the major may be applied toward fulfillment of Miami Plan requirements.
A Thematic Sequence must be chosen from departments outside the major.
ART 498, the Capstone Seminar taken during the senior year, meets the Miami Plan Capstone Course requirement.
Departmental Honors
To graduate with Departmental Honors, students must maintain a 3.5 grade point average in the major and complete an honors thesis. Thesis proposals are submitted during the junior year. Successful applicants earn six upper division hours* for research and writing (ART 477C), after which the thesis is submitted for approval to the Departmental Honors committee.
*These credit hours are in addition to the upper division credits required for the major.
Guidelines for the Research and Writing of the Honors Thesis
Students should choose their topic and advisor based upon their area of special interest and qualifications. Applicants should adhere to the proposed schedule of completing research during the fall and completing the writing of the honors thesis during the spring of their senior year unless their advisor agrees upon a different schedule. Students applying to graduate school may want to complete as much of the writing as possible during the fall so that they will have a writing sample to send in with their applications.
Applicants should conduct original research on a topic that will demonstrate their knowledge of art history and reflect their personal interests.
The honors thesis should investigate a subject in depth and result in an original conclusion. It will normally consist of about thirty pages and include illustrations.
The Miami University Bulletin series is the official source of information about the programs and courses of study offered by Miami University.
---
Becoming a #ThrivingArtist
Begin planning for your career on Day One!