Oxford Kinetics Festival: "Flight of the Flyer" April 19
Apr 13, 2015
A celebration of all things kinetic
By Susan Meikle, University News and Communications, meiklesb@MiamiOH.edu.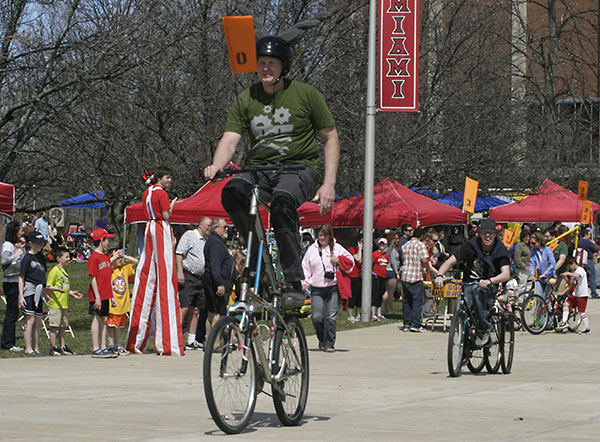 Rod Northcutt, festival co-director and professor of art (photo
by Kate Currie).
The sixth annual Oxford Kinetics Festival, "Flight of the Flyer," will be held noon-5 p.m. Sunday, April 19, at Millett Hall. The festival — free and open to all — includes activities for all ages.
The festival has grown exponentially since it began in 2010. Last year, the number of participants doubled to 2,200 from around 1,000 in 2013, said artist Kate Currie (Miami '93), festival co-director with Rod Northcutt, assistant professor of art.
This year, Currie and Northcutt have extended the festival to two days, with workshops, the Next Kinetic Picture Show and a concert uptown on Saturday, April 18.  Learn more about the April 18 events.
The festival includes music, art exhibitions, puppetry, engineering /innovation competitions, many kids' activities, demonstrations, food trucks, the unique stilt bar and other unexpected activities, Currie said.
Well-known for its "Scramble" — "part parade, part race, part obstacle course and all fun" — the festival has added two new races for ages 16 and up.
Flight of the Flyer

The Wright "B" Flyer (photo Wright
"B" Flyer Inc.).
Special flight-themed features include:
Special appearance by the The Wright "B" Flyer, a look-alike of the world's first production airplane, the Wright Model B. Representatives from Wright "B" Flyer Inc. will be available on the ground.
The Cincinnati Circus will give demonstrations on the flying trapeze. Participants in the April 18 flying trapeze workshop will also show off their new skills (the workshop still has slots available; sign up here).
Pigs Aloft Kite Club: large kites and kite-making kits for participants (sponsored by MAKETANK).
Happen Inc. Toy Lab: stomp rockets and other projects.
For kids, by kids, includes:
Robotics projects by MAKETANK/Talawanda Middle School STEAM Club.
Kenton County Coders and Makers: funny flying things by toddlers, for toddlers.
"Space Quest" by Kramer Elementary students and Big Brothers and Big Sisters of Butler County.
Rocket Man/Woman wearable sculpture - created at Cincinnati's Contemporary Arts Center workshop led by Currie and Northcutt.
Interested in racing with your human-powered contraption?
Register for one of these new races. An awards ceremony will be held during the festival.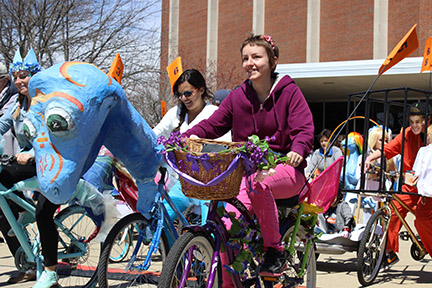 Racing in the Scramble (photo by Scott
Kissell).
The Scramble:  2-2:30 p.m.
This year the Scramble will be for kids under the age of 18 and family teams. The Scramble is "part parade, part race, part obstacle course and all fun." Registration required. Register here.  
The Dog's Breakfast: 11:30 a.m.-12:30 p.m.
Beginning at the Oxford Community Arts Center, ending at Millett Hall.
New for ages 16 and older, The Dog's Breakfast, is an alley-cat style race on human-powered contraptions to five different locations around Oxford. The race begins at the Oxford Community Arts Center and ends at the festival at Millett Hall. Various challenges will be presented at the check-in stations along the way. Register here. 

Practicing for the
Tall Bike Biathlon.
The Tall Bike Biathlon: 3:30 p.m.
Show off your tall biking skills and your aim in the Tall Bike Biathlon. On the grounds of Millett, tall bikers will compete for speed and accuracy. Competitors will race a course dotted with pole-mounted devices for target shooting.Register here.
View more photos and videos on the Oxford Kinetic Festival's Facebook page or website.