Pre-Festival Oxford Kinetics Workshops
Mar 31, 2016
By Susan Meikle, university news and communications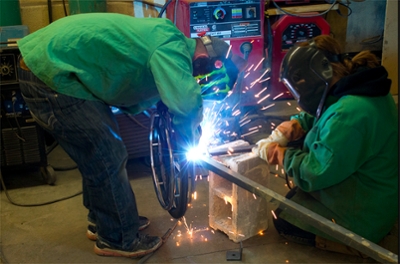 Welding bicycle parts during last year's free
workshops (photos by Scott Kissell; poster
above by Tom Duvall/Wire & Twine).
Tall Bike Building Workshops
9 a.m.-1 p.m., April 2 and April 9, Sculpture studio, Hiestand Hall. Free
Are you planning to participate in the Oxford Kinetics Festival's Tall Bike Race (Dog's Breakfast) or Scramble on April 17 with your own people-powered creation? Come to the free how-to workshops in the sculpture studio located in the ground floor of Hiestand Hall.
RSVP for a workshop on the Oxford Kinetics Festival website. 
MAKETANK Inc. hosts the workshops, providing design consultation, welding instruction and materials (including bicycles) for groups and individuals to build their own original creations to use as race vehicles in the festival.
Circuit Circus
6-8 p.m. , April 6, at the Contemporary Arts Center in Cincinnati. Free.
Artists like Alexander Calder used simple machines like pulleys and levers along with cardboard and wire to create unique kinetic circuses. Participants will update Calder's idea and create giant cardboard automata complete with light and sound.  The finished group project will be shown at the Oxford Kinetics Festival.
Free; registration is not required.  Open to the community and all ages are welcome with parental observation. More information at the CAC website.
Circus Workshop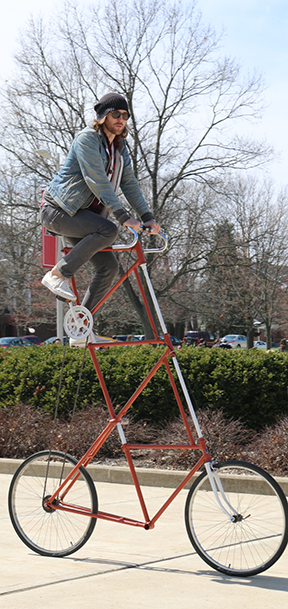 2-3 p.m. April 10, Oxford Branch of the Lane Public Library. Free.

Join the Cincinnati Circus and prepare for the Oxford Kinetics Festival by learning how to juggle, spin plates, and walk a tightrope. For ages 5-11. Registration required at Lane Library's website.
Build your own skateboard
Noon-4 p.m., April 16, at MAKETANK Projects, 35 Main St. College Corner
A team from Station North Tool Library in Baltimore, Maryland, will teach participants to build their own laminated wood skateboards. All materials provided. Cost: $115, deck only;  $165, complete skateboard (hardware, trucks and wheels included).
Register on the Station North website:  Click here then scroll down to the OKF Skateboard Workshop.
MAKETANK Inc.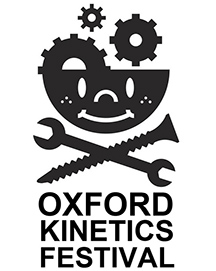 MAKETANK Inc. is a nonprofit that administers the Oxford Kinetics Festival and year-round programming involving art and STEM education, including the Talawanda Middle School STEAM (STEM + Art) club and special projects with the Big Brothers Big Sisters at Kramer Elementary School.
Rod Northcutt, associate professor of art, is co-organizer of the Oxford Kinetics Festival with local artist Kate Currie (Miami '93).
"Our focus is on skill-sharing, building community through creative programming and giving individuals confidence in their creativity," Northcutt said. "All of our programming is guided by a mission to reach the underserved in our region."
Questions? Email oxfordkineticsfestival@gmail.com