Miami students bring shade to Syrian refugee camp
Architecture and interior design majors in Diane Fellow's MUHabitat studio Skyped with craftsmen and artists who live in the Zaatari refugee camp in Jordan (photos provided by Fellows).
Skype sessions bridge cultural divide, 6,000 miles from Oxford to Jordan
Jul 29, 2016
By Margo Kissell, university news and communications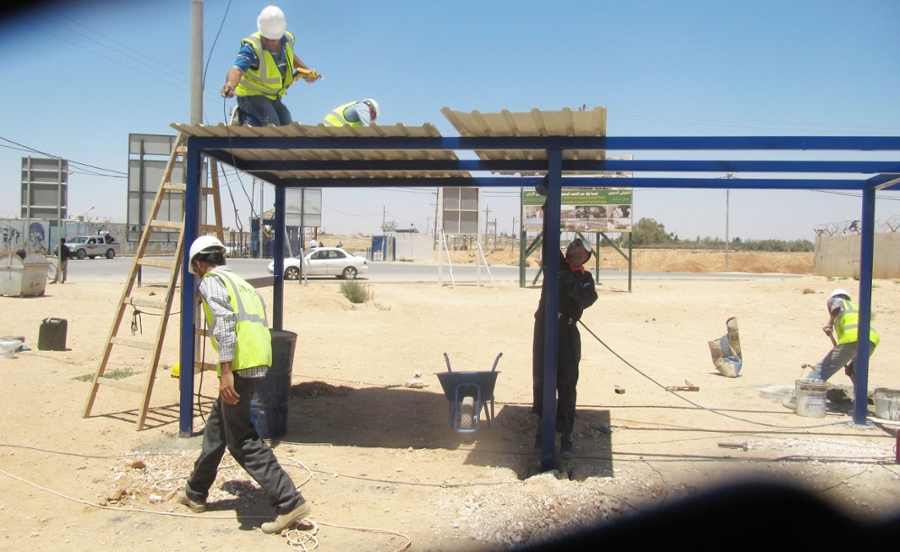 Syrian refugees at the Zaatari refugee camp in Jordan work on one of the shade structures designed by students from the MUHabitat studio.
Sixteen Miami University students spent last semester designing sun shelters, greenhouses, playgrounds and other comforts in hope of making life a little easier for Syrians living in a refugee camp in Jordan.
The architecture and interior design majors spent hours Skyping with a group of artists and craftsmen who live at the Zaatari (pronounced ZAA-tar-ee) refugee camp in Jordan, which opened four years ago to Syrians fleeing violence in the country's civil war.
The camp, covering two square miles of desert at a former military base, is home to more than 80,000 people, including children who were born there.
This week, the second shelter designed by the Miami students was built — with 18 more scheduled to go up in coming months.
The United Nations High Commission for Refugees (UNHCR) and International Relief and Development (IRD), a nongovernmental organization, in June approved financing to build the shelters, plus three prototype accessible beds for the disabled and at least two transport tricycles the students designed for the many refugees who lost limbs in the war.
Diane Fellows, associate professor of architecture and interior design who led the MUHabitat studio, submitted the final 100-page packet of student designs at the end of May. More than three weeks went by with no news. Then, when they weren't sure if anything would result, an email arrived in Fellows' inbox.
It was from Miami alumna Laurie Balbo, an architect living in Jordan who came up with the idea for the collaborative project and helped facilitate it through the agencies. UNHCR had approved financing for construction and was awaiting at least $7,500 in funds, she announced.
"(This is) the biggest project IRD has going, and UNHCR is ecstatic," Balbo wrote. The budget would permit them to hire 80 men in the camp to build the shelters and transport trikes.
"AMAZING this is going ahead!" she wrote.
Bridging a cultural divide
With limited materials available in the refugee camp, designers incorporated recycled materials or reimagined existing materials for future use. Josh Gabbard, who also has an art and architectural history minor, designed a small sun shelter that used corrugated metal as a roof and discarded doors as the table and benches. 
"Zaatari is in an incredibly difficult climate with very little resources, so this is a small step in making the living conditions just a little bit better for the inhabitants," said Gabbard, of Columbus. "It's great to see a collaboration like this turn out so well."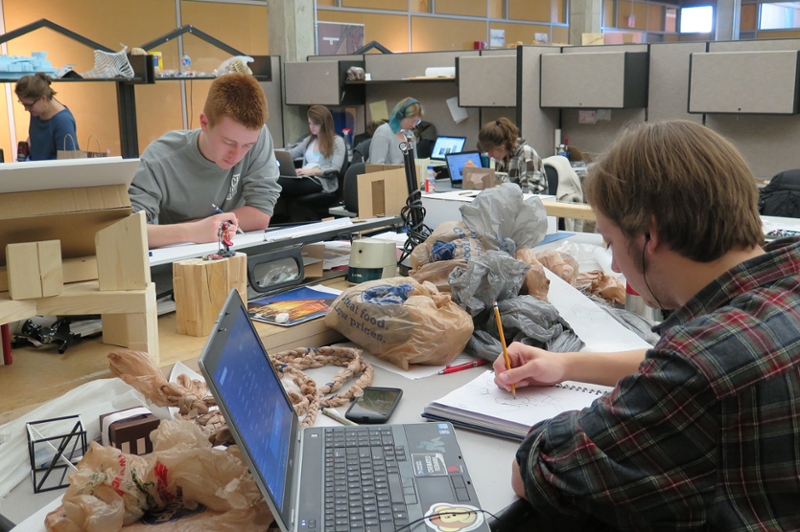 Students at work in the MUHabitat studio.
The experience taught him more than he ever thought he could get out of a 13-week architecture studio, Gabbard added.
The Miami students worked with eight refugees at the camp, seeking their feedback along the way. Their group, known as the United Artists of Zaatari, is made up of men who had been professionals in engineering, art and history or students at the universities in southern Syria before their homes and schools were destroyed in the war, Fellows said.
Their Skype sessions bridged the cultural divide and more than 6,000 miles from Oxford to the camp in northwest Jordan. The students also interacted through a private Facebook group page (with built-in translation software) after learning virtually everyone in the camp has cellphones and is on social media.
"We used technology to break down barriers that would otherwise prevent us from establishing a dialogue," Gabbard said. "The most important thing for me though was just realizing how significant the dialogue was. We may have been talking architecture, but the fact that we were talking at all was much more important."
A photo of Fellows' laptop captured the first shelter being built.
"It took three months, 6,000 miles, at least a half a dozen Skypes, all that effort to get that much shade," she said. "That much shade allows someone in 100-degree heat to find respite, to find refuge."
"Throwing the idea across the planet"
That's what Balbo, a 1980 Miami graduate, hoped for when she pitched the project last November in an email to Mary Rogero, interim chair and professor of architecture and interior design.
Balbo — who has lived and worked in Amman, Jordan, for the past five years — came up with the idea after spending a week at Zaatari. She had gone there every few months to conduct workshops with the artist group.
Refugees live in 10-by-12-foot metal cabins provided by UNHCR with canvas tent structures to provide additional living spaces because Jordan prohibits them from building permanent structures with traditional building materials, she wrote.
On one drive back from Zaatari, Balbo remembered her Miami design studios "and how the best centered on applying design solutions to real-world problems."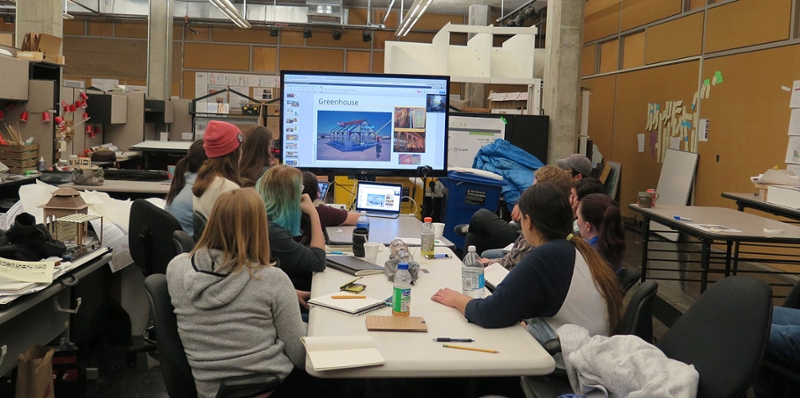 The students and artists spent hours Skyping during the spring semester.
She wondered if there would be interest by the department or individual students to look at Zaatari and, using leftover materials generated there, design useful structures that the refugees could build themselves.
"A design challenge with immediate application and real benefit, to people who will form actual relationships with the students working on the project," Balbo wrote. "Throwing the idea across the planet to you, with no expectations. A sort of modern day message in a bottle. Wouldn't it be wondrous to pull something off together?"
Rogero forwarded the email to faculty. Fellows responded. Balbo urged her to submit an initial proposal to the UNHCR and IRD, which approved it in early January.
Within weeks, the architecture studio was underway.
"This is as real as it gets"
"There was a language barrier, so the big challenge was making the drawings as clear as possible so that they could build them without being able to ask questions," said senior Chelsea Clark, of Syracuse, N.Y., who also has a minor in Italian.
Samia Eid, a graduate student in architecture from Egypt, served as a translator between the students and the Arabic-speaking refugees, who were assisted by Mays Abu-Laila, a community engagement project officer working for IRD who speaks Arabic and English.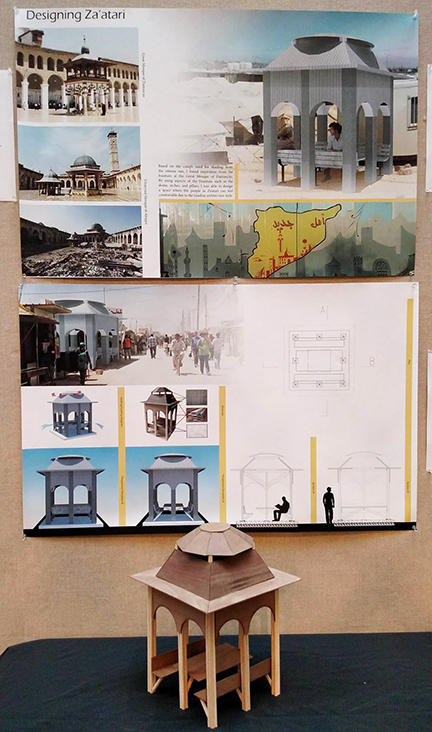 A shade structure designed by student Chelsea Clark was one of three designs selected for building in Zaatari.
Before designing anything, Clark researched the Syrian culture, history and current crisis in order to better understand the people.
She designed a shade shelter with a dome that incorporated facets resembling the Syrian architecture she had seen online (including the Great Mosque of Damascus) "to give a sense of home."
Abu-Laila's two-word review during the Skype session: "That's brilliant."
Clark's design was one of three chosen for the shelters that will be built, Fellows said. However, she noted, the first ones have been "bare-bones versions" of the designs based on what the hired workers (working in two-hour shifts) are able to do.
"It's what they're able to handle," said Fellows, who reminded her students that when they include their sketches in their portfolios, it's not just about the designs, but engaging with other cultures. "This is as real as it gets," she said.
Fellows said all of the seniors who took part in the MUHabitat studio, including Gabbard and Clark, have expressed interest in continuing to work with the refugees on the project in independent study this fall semester.
"They want to follow it through," she said. "Projects like this, when you're working with people in different cultures, you're connected emotionally."
Al Khidaiwi Al Nablsi, one of the craftsmen, captured their new bond well during a late spring Skype session (part of the accompanying video). He likened the United States of America to his camp's group, the United Artists of Zaatari.
"We are now like you," he said, smiling.