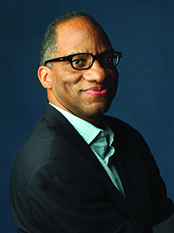 Wil Haygood
Acclaimed author, reporter and alumnus Wil Haygood to speak at Miami University's May commencement
Jan 30, 2013
Acclaimed author and journalist Wil Haygood (Miami '76) will be the commencement speaker at Miami University's spring ceremony, 1:30 p.m. Saturday, May 11, at Yager Stadium. Haygood has been a Washington Post journalist since 2002.

Haygood's front-page story for the Post in 2008 about longtime White House butler Eugene Allen is the inspiration for "The Butler," a big-screen movie directed by Oscar-nominated director Lee Daniels and due to be released next fall. The movie stars Oprah Winfrey, Forest Whitaker, Jane Fonda, Cuba Gooding Jr., Vanessa Redgrave and Robin Williams. Haygood is an associate producer of the movie.

At the Washington Post, Haygood covered Hurricane Katrina for 33 consecutive days and also reported on Barack Obama's 2008 campaign. Previously, he wrote for the Boston Globe, where he became one of the youngest foreign correspondents at the paper, traveling to India, the Arctic, Mexico, Europe and Africa.
Haygood, the author of five books, was a Pulitzer Prize finalist and has earned a National Headliner Award, Sunday Magazine Editors Award and National Association of Black Journalists and other journalism awards, plus distinction for feature writing and national and foreign reporting. He also has been an Alicia Patterson Foundation Fellow and a John Simon Guggenheim Fellow.

"Through his writing, Wil Haygood has provided special insights into people and places," said David Hodge, Miami's president. "As an accomplished author, Ohio native and the first in his family to attend college, he brings to our graduating class an additional set of insights that will encourage and guide them throughout their lives and careers."

In 2009, Haygood's Sweet Thunder: The Life and Times of Sugar Ray Robinson, was named a Best Book of the Year by the Chicago Tribune, Forbes, Parade and The Washington Post. The biography was also named runner-up for the first ever ESPN-PEN Literary Sports Writing Award. In Black and White: The Life of Sammy Davis, Jr. won the ASCAP Deems Taylor Music Biography Award, the Hurston-Wright Legacy Award and the Nonfiction Book of the Year Award from the Black Caucus of the American Library Association. His other books are Two on the River, about a journey down the Mississippi River; King of the Cats: the Life and Times of Adam Clayton Powell, Jr., named a New York Times Notable Book; and The Haygoods of Columbus: A Family Memoir, winner of the Great Lakes Book Award.
Haygood is currently writing a book about former Supreme Court Justice and Brown v.Board of Education lawyer Thurgood Marshall. In 2010, Haygood received the first star on the Lincoln Theatre Walk of Fame in his hometown of Columbus.