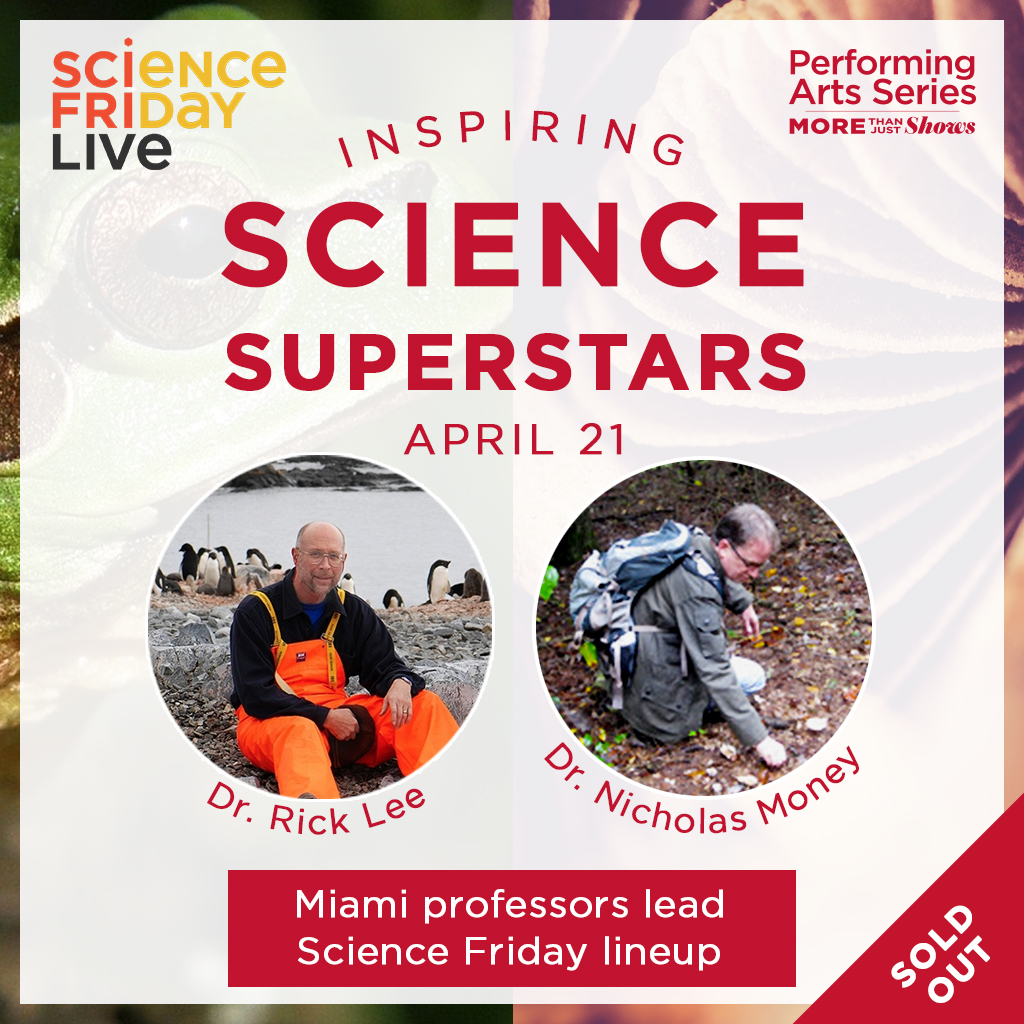 Miami University scientists share their expertise two weeks in a row as guests on the national radio program "Science Friday."
Tune in this this Friday, April 20, to hear more Miami "science superstars"!
When: 2:20-2:40 p.m. (Science Friday program begins at 2 p.m.)
Where: WVXU—91.7 FM on your radio dial
Who: Miami University seismologist Mike Brudzinski, professor, and structural geologist Brian Currie, professor of geology environmental earth sciences. Read about their research on induced earthquakes in Ohio, recently published in Proceedings of the National Academy of Sciences and featured in a Miami news story.
Friday, April 27, Richard Lee and Nicholas Money will be heard nationwide on "Science Friday." Their broadcast will be taken from a recording of "Science Friday Live" that a sold-out audience will see at 7:30 p.m. Saturday, April 21.  See details below.
Live at Miami: Nature's Secrets
Saturday, April 21
7:30 p.m.
Hall Auditorium
The Miami University community joins Ira Flatow and the rest of the "Science Friday" public radio crew during a live show that uncovers some of the amazing science news and stories happening in southwest Ohio.
"Science Friday" is heard nationally on 374 public radio stations, including WVXU 91.7 FM and WMUB 88.5 FM locally from 2–4 p.m. Fridays. The program has 1.8 million public radio listeners each week and @scifri has 777,000 followers on Twitter.
Presented by the Performing Arts Series.
Host Ira Flatow
A radio and television journalist, Flatow has shared his enthusiasm for science with public radio listeners for more than 35 years. As a reporter and then news director at WBFO-FM/Buffalo, New York, Flatow began reporting at the station while studying for his engineering degree at State University of New York in Buffalo. He served as NPR's science correspondent from 1971 to 1986 before becoming host of Science Friday in 1991.
Science Friday Live - Featured Topics and Guests
Mushrooms and fungi and their amazing adaptations/life strategies
Miami University
---
Extreme cold-adapted creatures: flies and frogs
Miami University
Mount St. Joseph University
---
Ancient humans and the paleo environments in which they lived
Cleveland Museum of Natural History