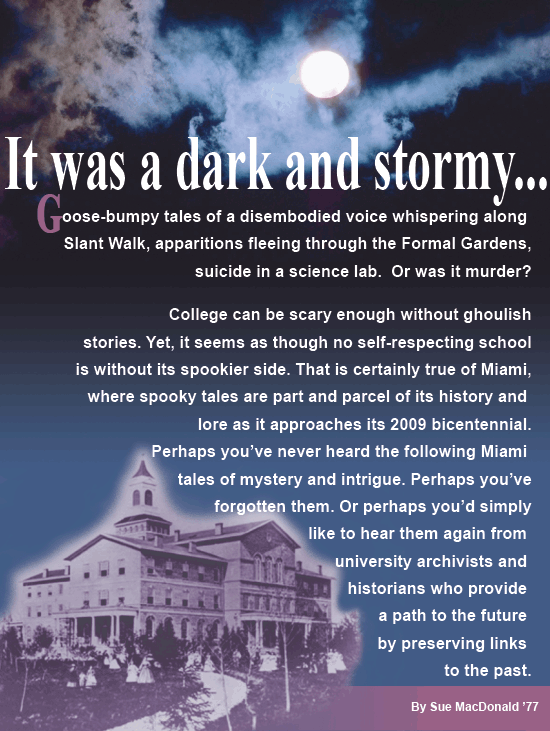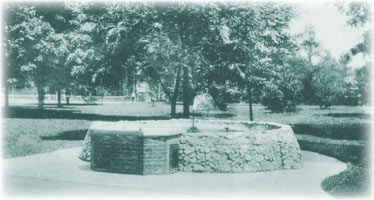 Thobe's Fountain, as told by Frances McClure, administrator emerita and former Special Collections librarian, 1976-94.

When Frances McClure moved to Oxford in 1964, each day she'd walk past a circular, stone fountain along Slant Walk, just west of Harrison Hall, on her way to work.

"I remember it quite well," she says. "I thought it was a neat little structure. At the time there were more dogs on campus, and they would drink out of it. I didn't quite know why they tore the fountain out a few years later."

"Septic problems" was the official explanation. Whatever the reason, the fountain has a legend all its own. And the legend, according to McClure, is this: "Supposedly, if you stand west of where the fountain used to be, facing the nearest oak tree, and call out his name, he'll answer back by repeating his name … 'Harry Thobe … Harry Thobe.' "

Who was Harry Thobe, you ask?

Thobe was an Oxford resident and master stonemason. Fifty years ahead of his time, he was the king of bling, frequently seen around campus impeccably outfitted in a white suit and hat, carrying an umbrella and a megaphone, diamond studs embedded in his teeth.

He was rabid about Miami sports, claiming to have attended 54 consecutive Homecoming games. He boasted of an uncanny ability to predict each game's outcome based on scores that came to him in a dream the night before. Megaphone in hand, he'd shout to the game-day crowd, "I had a dream last night. …"

In the early 1900s, as a sign of his dedication, Thobe built a stone fountain between what is now Harrison Hall and the northeast corner of King Library. But some on campus thought Thobe's Fountain unbecoming, and fraternities occasionally used the site for hazing.

Although Thobe died at age 80 in 1950, legend has it that his showy spirit still resides at the former site of the fountain, now marked by an in-ground plaque and a circular seating area.

Did McClure ever whisper Thobe's name toward the oak tree as she made her way to the library?

"I really didn't try," she says. "Usually when I was walking past there, I would always be in a hurry and never stopped to think about it."

Harry Thobe … are you there?
---
The suicide (or murder?) of Henry Snyder, as told by Bob Schmidt PhD '84, university archivist.



As couples go, Henry Snyder and his wife, Minnie, defied convention. Named Miami's first physics professor in 1885, Henry pursued his serious scholarly endeavors, while Minnie used her husband's professorial status to become the flamboyant musician she fancied herself to be.

To spread his wisdom of physics and chemistry, the scientist with the handlebar moustache developed a presentation style known as the "lecture-recital." In halls across campus, he'd create room-tingling sparks with an electrical apparatus and impress crowds with his physics know-how. Often, Minnie joined him, dressed in seductive gypsy attire and accompanied by her gypsy band, the Oxford Quartet.

"Henry was kind of a meek, mild-mannered guy," says Schmidt, who's researched the couple for several published articles. "He would go out and give a science lecture, and his wife and her gypsy band would follow. The whole idea of combining science and music was his way of getting people to come listen to him … the carrot and the stick, so to speak. As time goes by, Henry is getting — how do you put it? — peevish about this."

In 1898, he reportedly fell ill with "heat prostration." Some say when he returned to campus that fall, his demeanor was different.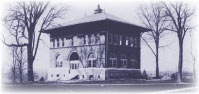 "To make a long story short, poor Henry was found dead in 1898 in Brice Laboratory with a beaker of some sort of poison next to him," Schmidt says. "They were unable to actually analyze the concoction he mixed up, except apparently there was enough to kill an army. The conventional wisdom at the time was that he committed suicide."

The Miami Student attributed his death, which occurred on the first day of classes, to the aftermath of Snyder being "seriously ill." You might think the story of the despondent professor ends there.

But it doesn't.

Shortly after the professor's untimely death, Minnie married William Pugh, the guitarist from her gypsy band … who also happened to be Professor Snyder's lab assistant. The newlyweds moved to Columbus, where Pugh apparently left Minnie in 1919 and was never heard from again. At least that's what Minnie wrote in a letter to Miami President Raymond Hughes in 1926.

That, of course, led to speculation. Was Snyder, in fact, murdered? Did Minnie and William plan Henry's death to look like a suicide so they could pursue their own relationship? Did Minnie know more about poisons than she let on?

"Nobody will ever know what actually happened," Schmidt says.
---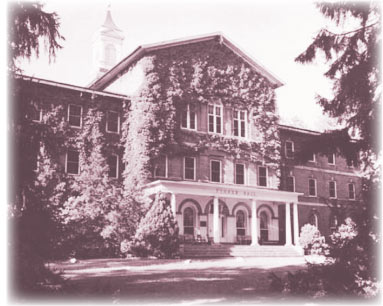 The disappearance of Ron Tammen, as related by Phillip Shriver, president emeritus, with additional details from old newspaper articles. To hear President Shriver tell the full tale in a 1982 recording, go to Miami's Web site.

Except for the unusual late-spring snow, almost everything on the 19th of April 1953 was the same as any other evening at Fisher Hall.

As far as anyone can tell, 20-year-old sophomore Ronald Tammen was studying in the second-story, northwest-corner room of the dormitory that sat in the far northeast corner of East Quad. (Where Marcum Center is now.) It was a large, imposing building that, over the years, had served as the original site of Oxford Female College, a sanitarium/asylum, a war-training site during World War II, and a campus theater.

About 8 p.m., Tammen left to pick up new linens from the hall manager because someone had left a fish on his bed. Ninety minutes later, when Tammen's roommate returned, the door to Room 225 was still open, the lights on, the radio playing, and Tammen's psychology book was open on his desk. Tammen's 1929 Chevy, with a year's worth of insurance recently paid, was parked outside.

But Tammen, a resident adviser, wrestler, and Campus Owls musician from Maple Heights, Ohio, was nowhere to be found. Assuming Tammen was spending the night at a fraternity house, his roommate didn't report him missing until the next day.

Local police searched the campus extensively for the next few weeks and months. In June, more than 400 students combed a three-mile radius of the University for any sign of their fellow student. The FBI was called in.

A woman in Seven Mile, Ohio, recalls a young man knocking on her door about midnight on April 20th, asking directions to the nearest bus station.

But no one ever saw or heard of Tammen again, and his disappearance remains perhaps Miami's biggest unsolved mystery to this day. Did Ron Tammen run away? Was he murdered, his body buried or hidden, never to be found? Did he suffer from amnesia and wander away from campus, never to return? Did he run away to escape something?

What did happen to Ron Tammen?

The unsolved mystery has led to numerous theories, sightings, and ghostly stories over the years, according to Shriver.

In November of 1953, when students returned to campus, voices were heard in the night near where the Formal Gardens are today. Students who ventured outside to follow the voices claimed to see strange, ghostly figures — one all in white, another dark and hairy — running speedily toward the area where Millett Hall now stands, only to vanish in the trees.

When Fisher Hall became a campus theater in 1958, students and faculty reported similarly strange phenomena … lights dimming for no reason, chandeliers swinging, objects moving, visions of a body dragged and buried in the hillside. Even after the upper levels of Fisher Hall were closed and tightly barricaded for safety reasons, professors working late at night would hear footsteps on the upper floors.

In 1978, despite efforts to save the wood-structure building from the wrecker's ball, Fisher Hall was demolished because of safety and fire concerns.

When Fisher came down, Shriver says, only part of the mystery was solved.

Construction crews dismantling the building reported finding Greek letters and fraternity slogans painted and scratched into the building's upper-story walls. It seems that fraternities had been sending pledges inside Fisher for years, their mission to wander upward to Room 225 and leave behind some fraternal symbol of their presence.

"I suspect that those footsteps the professors had heard in the floors directly overhead were the footsteps of young, freshman fraternity pledges — just as scared as the professors down below, just as eager to get out of that place as fast as they could," Shriver says.

The second half of the mystery — Tammen's disappearance — remains unsolved.

For more Miami mysteries, go to www.lib.muohio.edu/mysteries/. If you dare.
---
Sue MacDonald '77 of Cincinnati never encountered fleeing apparitions during her Miami years although Fisher Hall, boarded up and well past its glory days when she arrived, would have been an ideal haunt.
---

Back to the Miamian Magazine Fall 2006 Web page