Expanding the "ripple of hope": CAS celebrates the 2021 graduation of 1407 bachelor's and 233 master's students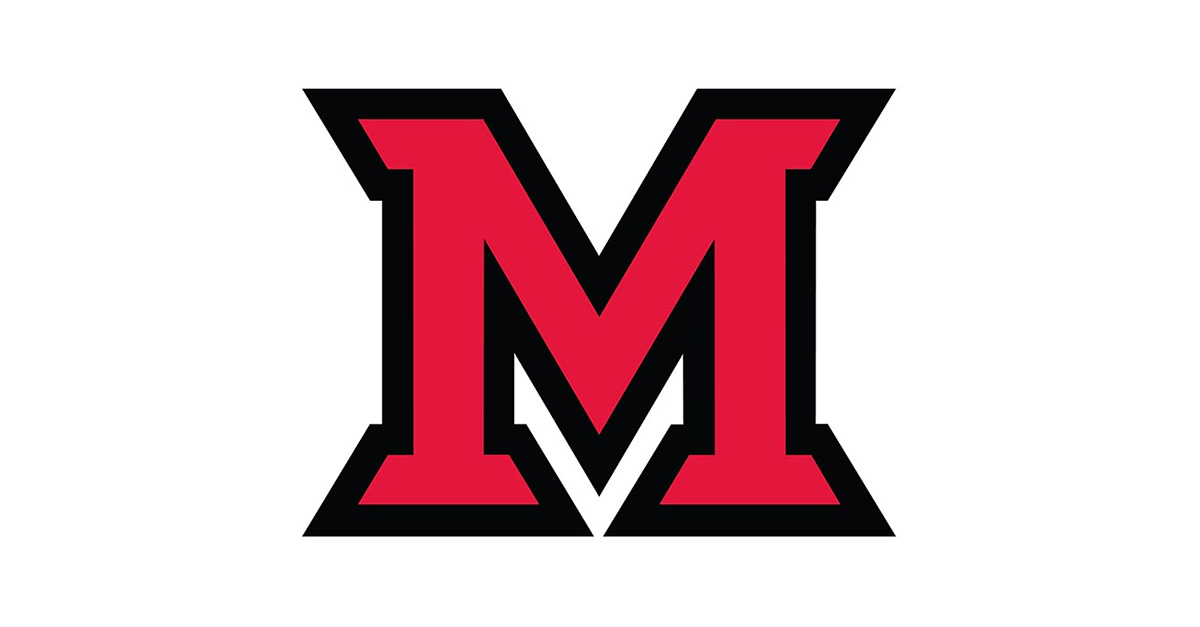 May 25, 2021
As a promising reflection of a resurging economy and reduced pandemic restrictions, the newest College of Arts and Science members of Miami's worldwide alumni network were congratulated in a two-part, socially distant, in-person ceremony on May 15 in Yager Stadium.
Student speaker Jannie Kamara addresses the audience while Dean Chris Makaroff looks on.
Dean Chris Makaroff was joined on the stage by Miami University President Gregory Crawford as well as Dr. Renate Crawford to lead the event, which was held on a seasonably warm Saturday afternoon and evening and attended by over 1100 students and thousands of their friends and family members. Graduating senior Jannie Kamara, majoring in Black World Studies and Individualized Studies, was the student speaker.
Guest alumni speaker Carolyn Jefferson-Jenkins, a 1974 Western College for Women graduate and the 15th President of the League of Women Voters of the United States, gave a stirring prerecorded speech she said was intended to be both inspirational and aspirational in tone.
"When I sat where you sit today, I was in the midst of the greatest social revolution this nation has ever witnessed," she said. "The 1960s and 70s was a time of political and social change unprecedented in its impact on society -- until today."
In his remarks, Makaroff noted that the CAS Class of 2021 was made up of 1407 bachelor's and 233 master's graduates, including 485 students graduating with distinction or honors and 232 graduates receiving two or more degrees via the Combined Bachelor's/Master's Program.
Graduating seniors on the field at Yager Stadium.
In addition, Makaroff briefly listed a number of significant CAS student achievements, including two recipients of the 2020-2023 Beckman Scholars Program Institutional Award from the Arnold and Mabel Beckman Foundation. Miami is one of only a few select institutions nationwide to receive the award five times.
"In spite of the challenges we all encountered over the past year, students of the College of Arts and Science have again distinguished themselves both within the university and nationally by receiving numerous prestigious awards, as evidence of their perseverance, accomplishments, and successes," Makaroff said.
He introduced Kamara as "an active and passionate student leader taking on a variety of roles," including 2020-2021 Student Body President of Associated Student Government and 2019 President of the Diversity Affairs Council.
"I will be the first in my family to graduate from college with two degrees," Kamara said, her voice strained by emotion. "As a Sierra Leonean American and a daughter of immigrants, I came to college with the goal of understanding myself and the world around me. What both of these degrees have taught me was the importance of giving back to the community to receive love and honor."
Kamara's speech echoed that of Jefferson-Jenkins, who concluded her own presentation with these words: "Every time you relive the Miami experience, you reaffirm that you are made for a moment like this [...] to expand the ripple of hope."
Watch the afternoon and evening video recordings of the 2021 CAS Recognition Ceremony on YouTube: