November 2018
Volume 19, Issue 1
News from the Chair
Dr. Margaret Ziolkowski
Dear GRAMELAC Alumni,
Our faculty and students are thriving! Please see below for articles about the many exciting things we have been doing.
Our various programs continue to attract significant attention, with a current total of 84 majors:
51 in East Asian Languages and Cultures
16 in German
15 in Russian, East European, and Eurasian Studies
02 in the Co-Major in Critical and Classical Languages and Cultures
The department also has 182 minors:
23 in Arabic
32 in Chinese
66 in German
51 in Japanese
10 in Russian
In addition to planning for our longstanding summer intensive language programs in Germany and China, we are also developing plans for a program in Japan. Please consider helping us realize our goal of providing support for students studying abroad for the summer, the semester, or the year. The rewards of such study for those with serious linguistic interests are incalculable, but for many of our students, the costs of study abroad represent a serious financial challenge.  Every little bit counts!
Best wishes for a relaxing and enjoyable holiday season!
Sincerely,
Margaret Ziolkowski, Chair
Professor of Russian
---
Winter and Summer online courses being offered
2019 Winter Term (201915)
Dr. Mariana Ivanova
GER 232-A: The Holocaust in German Film, Literature, & Culture (3)
Attributes: CASB - Humanities (CASB); FND - Global Course (GCRS); FND - Humanities (IIB); Online Course/DistanceLearning (ONL)
Course Description:MPF Critical reading, reflection, and discussion of Holocaust representations. Introduction to historical and political context and survey of debates surrounding memory culture. Examination of fiction, autobiographical writing, historical texts, and film with a focus on German-language sources. Taught in English. IIB, IIIB. CAS-B.
Instructor: Dr. Mariana Ivanova
Dates: January 2nd thru January 26th
2019 Summer Term (201930)
Dr. Sascha Gerhards
GER 231-TA: Folk and Literary Fairy Tales (3)
Attributes: CASB - Humanities (CASB); FND - Humanities (IIB); Online Course/DistanceLearning (ONL); Thematic Sequence (TS)
Course Description: MPF Introduction to the principles of folklore studies. Close reading of all 210 tales in the Grimms' collection, and a survey of literary fairy tales from Goethe to Hesse and Kafka. Emphasis in the second half of the course is on the way literary tales use folklore motifs. Readings and discussion in English. IIB. CAS-B-LIT.
Instructor: Dr. Sascha Gerhards
Dates: May 22nd thru June 29th
------------------------------------------------------------- 
GER 232-UA: The Holocaust in German Film, Literature, & Culture (3)
Attributes: CASB - Humanities (CASB); FND - Global Course (GCRS); FND - Humanities (IIB); Online Course/DistanceLearning (ONL)
Course Description: MPF Critical reading, reflection, and discussion of Holocaust representations. Introduction to historical and political context and survey of debates surrounding memory culture. Examination of fiction, autobiographical writing, historical texts, and film with a focus on German-language sources. Taught in English. IIB, IIIB. CAS-B.
Instructor: Mariana Ivanova
Dates: July 2nd thru August 10th.
---
2017-18 GRAMELAC Awards Ceremony
The annual GRAMELAC Awards Ceremony was held April 25, 2018 at 4:30pm in 322 McGuffey Hall. The chair of the department, Dr. Margaret Ziolkowski, welcomed everyone who was in attendance.
Cultural Performances
Emily Tatum, a Political Science and International Studies major, sang "Nezhnost" (Tenderness) written by Aleksandra Pakhutova
Morgan Shumway, a Music Performance major, sang "Der Sandmann" (The Sandman) written by Robert Schumann
Rachel Brown sang "Die Gedanken sind free" (Thoughts are Free-a Folksong)
Specialty Awards Presentations and Announcements
Dr. Robert DiDonato, a German Faculty emeriti, presented the awards for the Outstanding Graduate in each of GRAMELAC's three majors.
East Asian Languages and Culture - Danielle McCalla Rymers
German - Jack Ronald Henne
Russian, East European, and Eurasian Studies - Anna Elisabeth Melberg
The Herr Jacques Breitenbucher Awards for Outstanding Female Juniors in German and Russian, East European, and Eurasian Studies, were presented by Dr. Mila Ganeva.
German - Aimee Liston
REEES - Emily Erdmann
Dr. Mila Ganeva also announced the Fulbright Scholarship finalists chosen from students who are majors or minors in the GRAMELAC's department. For details regarding the winners, visit this May 08, 2018 news article web page from Miami News and Communication Office.
Outstanding Student Language Awards
This award of $50.00 is given to students in all levels studying one of GRAMELAC's offered languages to whom the Instructors feel have given an outstanding scholarly effort. The awards are handed out by the Chief Department Advisor or Language Coordinator for that language. The awardees for this 2017-18 were:
ARABIC - Level 1: Emily Froude; Level 2: Sarah Gaddy; Level 3: Marta Fioretti
CHINESE - Level 1: Molly DeFilippo; Level 2: Juanita Kwarteng; Level 3: Dania Puente Davila; Level 4: Alex Gee
GERMAN - Level 1: Tavis Enderle; Level 2: Christopher Pawlusik; Level 3: Jennifer Peters; Level 4: Sarah Moore
HEBREW - Level 1: Maddie Dahl
JAPANESE - Level 1: Luke Carrafiello; Level 2: Yonghui Tian; Level 3: Binheng Wang; Level 4: Emily Ward
KOREAN - Level 1: Johanna Alexander; Level 2: Sung Lee
RUSSIAN - Level 1: Helen McHenry; Level 2: August Hagemann; Level 3: Emily Erdmann; Level 4: Anna E. Melberg
Recognition of Graduates
The final part of the Awards Ceremony was to recognize all majors and minors in the GRAMELAC department that have or will graduate during the 2017-18 academic year. The academic year consists of the fall, winter, spring, and summer semesters. Each graduate that attended the Awards Ceremony received a special gift from the Chief Departmental Advisor or Language Coordinator. 
Acknowledgements
Arabic graduating minors' book awards courtesy of the Sweptson Fund.
EALC-China and Chinese awards to Outstanding Students, and graduating majors and minors courtesy of The Confucius Institute.
German awards to Outstanding Students and book awards to graduating majors and minors courtesy of the Goethe Grant.
Hebrew awards to Outstanding Students courtesy of the Department of GRAMELAC's Undergraduate Enrichment fund.
Awards to graduating EALC-Japan majors and Japanese minors courtesy of the Department of GRAMELAC's Undergraduate Enrichment funds.
Book awards to graduating REEES majors and REEES and Russian minors courtesy of The Havighurst Center for Russian and Post-Soviet Studies.
Japanese, Korean, and Russian Outstanding Student Awards courtesy of the Marion Lee Miller Award and the Department of GRAMELAC's Undergraduate Enrichment funds.
---
GRAMELAC Alumni Series Talk
Himeji Castle near Hiroshima Japan
Kathryn Callahan, a 2016 alumna, shared her life and work experiences during her talk scheduled Thursday, November 29, at 4:30 in Irvin Hall 040. Her talk was entitled "Japan: Work, Life, and Play." This event was free and open to the public. Light refreshments were served. 
Kathryn attended Miami while she was still a high school student in the PSEO program, taking Japanese classes her junior and senior year. She continued to study Japanese once she entered Miami University, and double majored as an International Studies and EALC student. She enrolled in a study abroad program to Japan the Fall of 2013 and studied at Kansai Gaidai University. Living with a host family there granted her a rare opportunity to really see and understand the day-to-day life of the Japanese. After graduating in 2016, she accepted a two-year position working for an English teaching company near Hiroshima city. She has now returned to the U.S. and is applying for the MFA program in Creative Writing for fiction.
This event was co-sponsored by the Center for Career Exploration and the Department of German, Russian, Asian, and Middle Eastern Languages and Cultures.
---
2018 Intensive German Summer Program 
By Mackenzie S. Rossero, CAS Communications Intern
Ms. Anne Cunagin
Sometimes, Miami University's beautiful campus reminds junior Anne Cunagin of Germany. As she strolls through tree-lined paths and in between red brick buildings, she feels herself being taken back to the German cities where she spent her summer. The calmness that Miami brings her is the same calmness she felt there.
In summer 2018, Anne spent seven weeks exploring Germany in Miami's Intensive German Summer Program. She took eight credit-hours while there and earned the credit to finish her minor in German.
"I've always wanted to go to Germany," Anne says. "So, it was a perfect fit."
Anne began her trip in a town called Neckargemünd, not too far outside of Heidelberg. She traveled there entirely on her own – three flights and two trains – and spent four weeks with a host family.
Anne's host mom was especially helpful as Anne began to adjust to life in Germany. She spoke English but helped Anne with her German. She was supportive and always invited Anne along on errands. She took her to festivals and a fireworks show in Heidelberg. For those things, Anne's host mom always knew where to stand to get the best view, or what time you should get back on the bus if you want to sit, not stand.
Anne learned to navigate the stone paths in Neckargemünd – slabs that were uneven and rough. She remembers every storefront and the street that was only 18 inches wide. She loved Neckargemünd because it was old and small enough to walk. Just like Oxford.
In those seven weeks, Anne was able to immerse herself entirely. She spoke German. She occupied the strange middle ground between tourist and resident. And, for that brief period of time, she couldn't help feeling that she was a part of Germany.
---
Miami students explore Tianjin during Summer Intensive Chinese Program
By Dania Puente, CAS Communications Intern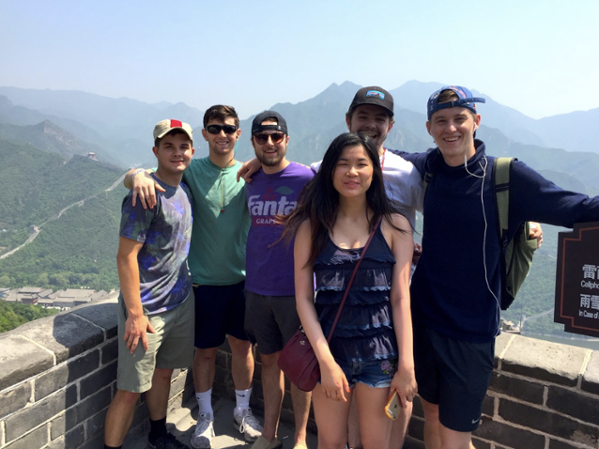 Students at the Great Wall
The Miami Summer Intensive Chinese Program in Tianjin, China is offered by the Department of German, Russian, Asian and Middle Eastern Languages and Cultures (GRAMELAC). It is directed by Liang Shi, Assistant Chair and Chief Department Advisor for Chinese.
"This is an intensive Chinese language study abroad program where students can receive 6-8 credits," said Shi. "For six weeks, they will mostly take language classes at Tianjin Foreign Studies University, which has one of the longest established programs for foreign students in China. We offer a Chinese culture course."
Tianjin is a city and province situated in northeast China, bordering the Beijing municipality and Hebei province. It is the fourth largest city in the country and includes the Port of Tianjin, which is the largest in northern China. Tianjin is home to various museums where special exhibits are held there every year. The city has over 1,000 years of history established in 1793 under the Qing Dynasty.
The summer program is geared for students of all levels, offering courses from 100 level up to 400.
"Students don't need to have any Chinese language background, or they can take classes as high as Chinese 402," said Shi. "The number of students that go every summer varies, with close to 30 students at the most or a smaller group of seven or eight." 
Students attend morning classes from Monday to Friday and have the afternoons and weekends free to do homework and explore the local area. The university's main campus is situated in the heart of Tianjin, with students having the opportunity to mingle with the locals and practice their language skills outside the classroom.
During these six weeks, students also go on special excursions, which vary from year to year. This summer, they will go to Beijing (which has remained one of the excursions since the program began) and Hubei province (specifically Enshi Grand Canyon and Shennongjia National Park).
"The excursions are a great way to explore the different cultures within China," said senior accountancy and East Asian languages & culture major Kayla Gruen.
"Great, awesome trip," said senior economics and East Asian languages & cultures major Hunter O'Hare, who attended the program in summer 2016. "My Chinese got insanely better; it was the fastest and the most my Chinese has ever improved!"
In China, O'Hare said he was not only able to learn about Chinese culture but also got to meet people from all over the world.
Both senior marketing major David Tallman and Gruen also participated during that summer, and both expressed how much the experience improved their Chinese.
"We had the full immersion," said Tallman. "We spoke Chinese all day, every day."
"Being in the town, going to restaurants, and talking to waiters, cab drivers, and other locals really helped improve my fluency," said Gruen.
To learn more about the program, visit the GRAMELAC website or contact Dr. Liang Shi.
---
Miami's German Program Holds Annual M&M Meeting
By Maia Anderson, CAS Communications Intern
The German program, a component of the Department of German, Russian, Asian & Middle Eastern Languages & Cultures (GRAMELAC), held its annual M&M (majors & minors) meeting on Thursday, Sept. 20, 2018.
Dr. Mila Ganeva
German professor Mila Ganeva hosted the event, which takes place every fall. It is designed for German majors and minors to meet each other, as well as the faculty, and to learn about course and experiential learning opportunities within the department. This meeting was also open to any student interested in the German language and/or culture.
The German faculty introduced themselves to students and talked about how long they've been teaching, their favorite courses, accomplishments in research, and hobbies outside of the department. The department's Germanists are Dr. Mila Ganeva, Dr. Sascha Gerhards, Dr. Catherine Grimm, Dr. Mariana Ivanova, Dr. John M. Jeep, Dr. Oliver Knabe, and Dr. Nicole Thesz.
Ganeva presented a preview of German spring courses, special departmental events, German winter and summer courses, and German study abroad programs.
Ganeva touched upon the topic of  a German department honors thesis. The department Germanists invite one to three top student achievers to complete a thesis, giving them the chance to graduate with Department Honors.
Students who are selected work alongside a faculty member for two semesters specializing in the subject of the student's interest and receive assistance throughout the thesis process. Faculty members will also help the students apply to be a CAS Dean's Scholar, and students will present their thesis in April at a university-wide event.
Previous thesis topics include West German films at the beginning of the Cold War and how a wave of migrants to Germany received their German language instruction. Length of the thesis is determined on a case-by-case basis, but tends to be 40-50 pages. Completing the thesis gives students 4-6 credit hours for GER 480, a thesis prep course that runs as an independent study.
Ganeva also discussed KAFFEE im KING, a meeting of the German Language Table. They meet every Monday at 4:15pm at King Café. This is a regular social event held by students studying German and facilitated by assistant teaching professor Catherine Grimm. This is an opportunity for students to  practice their German language skills in a relaxed environment. There is also regular discussions regarding the German culture. Students only need an interest in learning German to attend; no major or minor required.
The Fulbright U.S. Student Program was also discussed at the M&M meeting. Fulbright is a program made for graduating seniors and those who have graduated within the last three years to receive funds to become cultural ambassadors and teach German in other countries. Top performing German students have the opportunity to teach English in Germany for a full year. Past grantees were:
2017 - Graham von Carlowitz - Germany, English Teaching Assistant
2016 - Jonathan Meyer - Germany, English Teaching Assistant
2016 - William Smeal - Bulgaria, English Teaching Assistant
20 to 30 students attended the M&M meeting this year. They consisted of a mix of German majors and minors as well as students unaffiliated with the GRAMELAC department but who have an interest in learning the German language.
---
Chinese instructor comes home to Miami
By Mackenzie Rossero, CAS Communications Intern
Mr. Longsheng Jin
Longsheng Jin has returned to Miami University this fall to continue teaching as a Chinese instructor in the Department of German, Russian, Asian, and Middle Eastern Languages and Cultures (GRAMELAC).
Jin, a native of Taiwan, has previously held influential educational roles at the University of California, Irvine and University of Central Florida. At the latter, Jin worked toward the development of a Chinese program that would inspire and maintain student interest.
In 2014, Jin was hired at Miami as a Chinese instructor, where he taught a variety of courses in Mandarin Chinese. This range allowed him to develop relationships with students from different grades and proficiencies.
Jin spent the past year at Hunter College in New York City, but he missed the suburbs and the natural beauty of Oxford. So, when a position became available in GRAMELAC, Jin was eager for an opportunity to return.
"The campus is beautiful," said Jin. "It really makes you feel like you're teaching at a good, proper educational institution."
Jin loves the enthusiasm of Miami students and appreciates their interest in other cultures.
"Miami students are getting more and more international. In the Midwest… it's hard to get to know different cultures," Jin explained. "I think Miami offers good opportunities."
Jin is currently teaching second and third year Mandarin Chinese and will be teaching sprint courses next spring.  
---
Ayako Reiff promoted to Assistant Lecturer of Japanese
By Maia Anderson, CAS Communications Intern
Ms. Ayako Hatchi Reiff
Ayako Reiff became an assistant lecturer of Japanese this fall semester.
She began her career at Miami in Spring 2008 as a part-time instructor. She then received her masters in transformative education from Miami. She previously received her B.A. in Journalism from University of Findlay and a B.A. in Broadcasting from Nihon University in Tokyo, Japan.
Reiff's academic interests include second language acquisition in Japanese, technical translation and interpretation and Japanese calligraphy.
"Translation is very different than learning the language," said Reiff. "There are also different types of translation."
She has experience in technical translation, working for Neaton Auto Products Manufacturing in Eaton, Ohio. There, she translated their website and company manuals. She also did freelance translation work.
As Assistant Lecturer, Reiff is teaching four classes, including three sections of Japanese 201 and one section of Japanese 401. She hopes to eventually incorporate translation classes into the Japanese curriculum.
At Miami, Reiff also serves as an advisor of the Taiko group. Taiko is a type of traditional Japanese drumming which involves a lot of physical movement. Reiff performed with the group for a semester before becoming the group's advisor. She still enjoys going to their performances.
She hopes to become a senior lecturer in the future.
"I just love the interaction with students, and I love to see their faces and their reaction when they get to know new things," said Reiff. "When I hear them use their skills outside of the classrooms, it's a YAY moment."
---
Ganeva's latest book makes it debut
Dr. Mila Ganeva's latest book entitled Film and Fashion Amidst the Ruins of Berlin: From Nazism to the Cold War (Screen Cultures: German Film and the Visual) made its debut in August 2018.
This book steers attention toward two key aspects of German culture - film and fashion - that shared similar trajectories and multiple connections, looking at them not only in the immediate postwar years but as far back as 1939. They formed spectacular sites of the postwar recovery processes in both East and West Germany. Viewed against the background of the abundant fashion discourses in the Berlin-based press, the films discussed include classics such as The Murderers Are among Us, Street Acquaintances, and Destinies of Women; as well as neglected works such as The Heaven above Us Martina Modell Bianka, and Ingrid.
These films' treatments of fashion during times of crisis offer subtle reflections on the everyday lives, desires, careers, and self-perceptions of the women who made up a large majority of the postwar public. Costume - in films produced both by DEFA and by West German studios - is a productive site to explore the intersections between realism and escapism and between film and fashion. With its focus on costumes within the context of the films' production, distribution, and reception, this book opens up wider discussions about the role of the costume designer, the ways film costumes can be read as intertexts, and the impact on audiences' behaviors and looks. The book reveals multiple connections between film and fashion, both across the temporal dividing line of 1945 and the Cold War split between East and West.
---
Visiting scholar takes advantage of learning opportunities at Miami
By Mackenzie Rossero, CAS Communications Intern
Dr. Qinghua Cao
Qinghua Cao's passion for learning is tangible.
As a visiting international scholar at Miami University, Cao only has a mere 366 days here in Ohio – literally. He arrived here with his elementary-age daughter on July 31 of this year and will leave on Aug. 1, 2019.
That is a very limited amount of time for someone who wants to learn so much.
"Every day, every hour, every minute is very, very precious for me," Cao explained. "There is a long distance between China and the U.S."
Cao plans to spend each of those hours soaking up as much knowledge as he can. He is visiting from Shenzhen University in China, where he teaches Chinese literature. He pulls up a map and points to China, zooming in on the city – one of the country's largest. 
Cao is here to collect information for his research on a prominent Chinese author, which he will compile when he returns to China.
 "I have interest in history," Cao revealed in a whisper. "I want to read more and open my view."
One of the highlights of Cao's time in Ohio so far is the accessibility of knowledge. In China, books are far more expensive and can take months to receive. Here, there is no such problem.
And, judging from his Amazon account, Cao has taken full advantage of it.
"Stalin: Breaker of Nations…Delivered Friday," his smartphone screen reads. Another book was delivered Thursday, and another one will arrive this week.
Those are just the most recent – Cao scrolls backward, and there is a whole slew of books that he has ordered and enjoyed in the four months he has spent here.
And, the best part? He still has eight months to go. 
---
Guest Lecturer Dr. Bradley Boovy
On Tuesday, September 25, 2018 at 4:30pm in Harrison Hall 111, Dr. Bradley Boovy from Oregon State University gave a talk entitled "Pictorial Prosthetics: Martial Masculinity and Veteran Amputees in Early 1920s European Visual Culture"
Painting by German Artist Otto Dix
Dr. Boovy analyzed a selection of paintings by German artist, Otto Dix, from the years following World War I. He focused on the ways in which the painter used depictions of veteran amputees to critique the gendered impacts of war on German and European society. Situating Dix's postwar painting within a larger history of disability representation, Dr. Boovy pointed to the ways in which Dix instrumentalizes disability through his depiction of prosthetic male bodies in order to re-envision postwar German masculinity. Further, he argued that a critical disability studies framework can amplify our understanding of the role that gender, medical technologies, and the body play in German and European visual culture.
Bradley Boovy is Assistant Professor of German and Women, Gender, and Sexuality Studies at Oregon State University where he coordinates the German program for the Corvallis campus and teaches courses on German language and literature, men and masculinities, gender studies, and queer studies. Dr. Boovy's research interests include twentieth-century German literary and cultural studies, critical language pedagogy, and queer and feminist theories. His work has appeared in the Women in German Yearbook, Die Unterrichtspraxis, L2 Journal, Monatshefte, Choice Reviews and Archival Practice, among others. He is currently completing a monograph on West German gay magazines in the early Cold War titled Masculinity and the Magazine: Sexuality, Race, and Belonging in 1950s West Germany.
This event was co-sponsored by The Humanities Center; the Department of German, Russian, Asian, and Middle Eastern Languages and Cultures; the Department of Art History; the Department of English; the Department of History; and the Women's Gender an Sexuality Studies Program
---
Students to learn of American influence on Germany in study abroad to Berlin
Written by Maia Anderson, CAS communications intern 
Dr. Sascha Gerhards
Miami's Americans in Berlin program offers students the opportunity to travel to Berlin, Germany for three weeks over J-term to study the effect of American culture on post-war Berlin.
A collaboration between the Departments of Global and Intercultural Studies (GIC)  and German, Russian, Asian and Middle Eastern Languages & Cultures (GRAMELAC), German/American Studies 399 was created in 2013. It begins with a week of online classes before departure to Germany, and students earn six credit hours total. Students can choose to apply for credit for either department.
In the past the trip has been hosted twice through GIC and twice through GRAMELAC. Sascha Gerhards, visiting assistant professor of German and German native, took the students to Berlin for the first time this past J-term. The program is taught entirely in English.
"The program focuses on the influence of American soft power on West Germany," Gerhards said. "Soft power refers to power that is not military or economic and can include anything from Coca-Cola to Levi's jeans."  
Students attend eight classes and embark on daily excursions, with three days of break total. Excursions vary each year, but this year they included trips to the Sachsenhausen Concentration Camp, Potsdam, Tempelhof Airport, and much more.
A unique aspect of this trip is that students live in apartments as opposed to hotels, which Gerhards says help the students feel as though they are actually living in Germany.
"We really felt that we literally lived there for three weeks," said Gerhards. "I think that contributes to the great experience. My students really loved being there and living in apartments."
Gerhards said his goal for the trip was for students to experience a culture different from their own and gain a different perspective on the world.
"You're really experiencing a different culture," he said. "It's one that is heavily influenced by American culture, but it is a different country. The goal is for students to take a different perspective on things and include different opinions and not just bank on what you think is right is actually right."
All majors are permitted to go on the trip, but Gerhards says majors within the humanities, particularly German, are most common. In the future he says he hopes students from the sciences will also attend.
Lydia Wooten, an environmental Earth science major with a co-major in sustainability and a German minor, attended the Americans in Berlin trip this past J-term. She says the experience was very helpful in enhancing her German skills.
"I left feeling like an expert on the Cold War and feeling far more confident in my German language skills," she said.
Students who have no experience in the German language are also welcome on the trip. Gerhards says language has never been an issue.
"Berlin is such an international city these days it's not a problem," said Gerhards. "So many people speak English throughout the city."
Alyssa Kreider, a chemistry major with a minor in music, also participated in the 2018 trip to Berlin. She says she enjoyed studying a subject that was different from her typical curriculum.
"What I enjoyed most about the program was that it gave me an opportunity to explore studies outside my major but still fulfill a good portion of the Miami Plan requirements," said Kreider.
The trip was a perfect fit for Jake Besanceney, a political science and comparative religion double major with minors in German and business legal studies.
"It focused on the political and cultural shifts and changes in Germany following World War II, which particularly piqued my interest," said Besanceney. "For me, the Americans in Berlin program studied the perfect topic at the perfect time. With Germany, and particularly Berlin, being rife with historical significance for both the state itself and the world, this was an opportunity I simply could not pass up."
Students interested in the trip can find more information on Miami's study abroad page or see first-hand experiences from students on their Facebook page.
---
We Count On Your Financial Support
No matter the size of your donation, it has the ability to help shape and change the life of each student that understands the importance of learning a second language and becoming involved in the culture of a different area of the world. To give to the department of GRAMELAC, follow these easy steps:
Option 1: Study Abroad Scholarship Fund
Once on the Advancement page, click the "WAYS to GIVE" tab at the top of the page and choose "ONLINE GIFT" from the submenu.
Choose the option for the type of donation you wish to make.
Type in the amount of your gift and then check the option to "Give to the area of your choice" under the "Designation" heading.
Type "GRAMELAC" in the Search box and it will take you to the correct option to choose.
Click on the <Continue> button and it will take you back to the original page.
Continue filling out the form and when done, click the <NEXT> button.
Follow the remaining directions.
Option 2: Dept. of GRAMELAC Gift Fund
Once on the Advancement page, click the "WAYS to GIVE" tab at the top of the page and choose "ONLINE GIFT" from the submenu.
Choose the option for the type of donation you wish to make.
If you wish to support the Department in general, once you are on the Designation screen, choose "Other fund" and click <Continue>.
In the "Designations" section of the original page, type in 1587-001.
Continue filling out the form and when done, click the <NEXT> button.
Follow the remaining directions.
As always, from the bottom of our hearts, we THANK YOU for your consideration to support your department!
---
If you are located in the U.S.A. and would like a hard copy of this newsletter sent snail mail to you, just email your request to gramelac@MiamiOH.edu and we will be happy to fulfill your request.
---