Study Arts and Business
At Miami University, we believe the arts have the power to transform the world around us and contribute to contemporary problem solving on a global scale. US Arts and Culture is a $730 billion industry representing more than 4.2% of the nation's GDP. In order to thrive in the creative economy and the gig economy, today's artist must take control of their futures by combining artistic practice, business savvy, and the entrepreneurial mindset and process. The Arts Management & Entrepreneurship Program at Miami University prepares future artists and arts leaders by providing the necessary skills for connecting artistry, arts management, and arts entrepreneurship across disciplines.
Full Name: Abigail Karr
Hometown: Cincinnati, OH
Academic Level: Junior
Expected Graduation Date: May 2020
Major: BA in Violin Performance
Co-Major: Arts Management
Minors: Women, Gender, Sexuality Studies
"The arts have always played a role in activist movements, from education to protest. Not only do the arts have a role in creating activist communities, they are also fundamentally a form of human expression. To me arts activism, and the kind of activism I am interested in doing, means redefining art to create a platform for marginalized voices and making art accessible to wider audiences. I believe it is essential for the future of the arts and for our society that everyone has the opportunity to create and experience art and have their voices heard."
Joshua Sweet

Hometown: Hamilton, OH
Academic Level: Junior/Senior 
Expected Graduation Date: May 2020 
Major: Community Arts 
Co-Major: Arts Management
"The arts fit in an odd place within American society. Although much of the focus for rebuilding economies is rooted in STEM-based businesses, arts organizations are the secret sauce that transform a struggling city into a thriving community. Advocacy and policy outreach are important for not only the sustainability of arts organizations, but as a means of increasing resources that are available for arts education. If we fail to educate young people about the ways in which the arts have influenced cultural change, how are they to grasp the ways in which their creativity can affect society?"
Caroline Avolio

Hometown: Grand Rapids, MI
Academic Level: Junior
Expected Graduation Date: May 2019
Major: Theatre
Co-Major: Arts Management
"In our classes, we rarely discuss hypothetical situations—we read and analyze real arts organizations' tax forms, we help to rebrand currently-operational, local theaters, we develop our own entrepreneurial ventures and create real, online platforms on which for them to live. It's rare to have such experiences before entering the workforce, and it's been incredibly beneficial to have learned about these things while still in school."
Arts Management Program Blog
Arts Management and Entrepreneurship News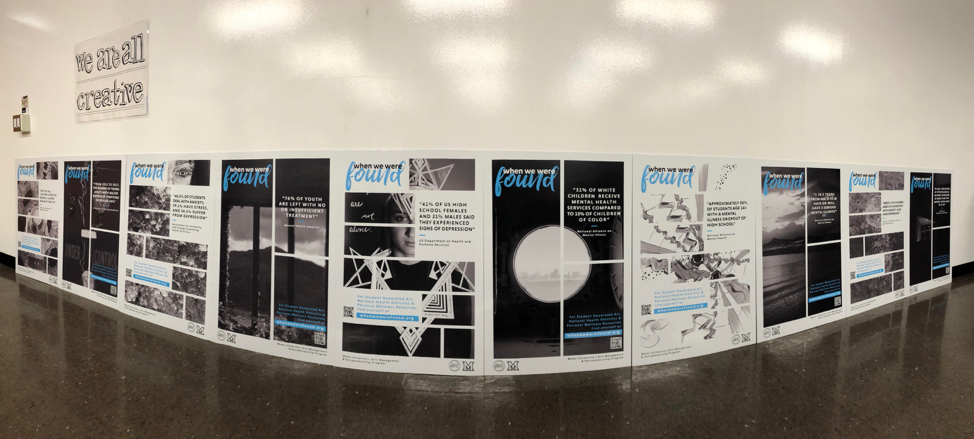 The hit musical "Dear Evan Hansen" follows a high school student with social anxiety who, in a desperate attempt to connect with his peers, fakes a friendship with a classmate who commits suicide. Evan finds himself at the center of the tragedy, and with growing pressure, he's forced to decide between living a lie or revealing the truth.
Arts management and entrepreneurship students turned themes of mental and emotional health from the musical into a digital community engagement exhibit When We Were Found. The exhibit featured a series of 10 posters showcased in the lobby of the Aronoff Center for the Arts during the run of the show, April 30 – May 12, 2019. 

A companion website, WhenWeWereFound.org, includes a digital catalogue of original student artwork, national mental health statistics and personal wellness resources designed to destigmatize mental and behavioral health issues.