Twin sisters sketch Miami landmarks for Great Seal book
The Delgado sisters, Sophia (left) and Madelyn, created pen-and-ink sketches for the Great Seal book.
Photo: Jeff Sabo
Passion turns into business venture
Dec 13, 2013
Miami University seniors Madelyn and Sophia Delgado were selected to sketch 12 Miami landmarks for The Great Seal Essays book after a contest within the department of architecture and interior design last spring.

The book is among the life-size objects included in a 3-D version of the university seal recently installed in the Bicentennial Rotunda of the new Armstrong Student Center, opening in January.

The twin sisters who are majoring in architecture teamed up on the pen-and-ink drawings of Kumler Chapel, Alumni Hall, the Tri Delt Sundial and other well-known sites on campus.

"Madelyn was more in control of the details and the brickwork, and I focused more on the landscaping and the base drawing," Sophia said.

John Weigand, chair and professor of the department of architecture and interior design, said the "enormously talented" duo tackled the Great Seal project together. They did all of the sketches in a two-week period during the summer.

"Completing 12 sketches in only a few weeks is a challenge," Weigand said, "so this team approach produced the drawings quickly and with a consistent look."

Alumni Hall
"A tremendous amount of enthusiasm"
Sophia and Madelyn said they researched the history of the various landmarks and took photographs of each before starting their sketches.

The most difficult building to draw was the one they were most familiar with — Alumni Hall, home to the architecture and interior design department and the studio where they work side by side.

"I think Alumni was a very challenging one," Madelyn said, noting the intricate brickwork and other structural elements, including the front steps and columns.

"Plus, we practically lived there," Sophia added with a laugh, "so we wanted to make sure it was really good."

Another challenging one was the university seal at the hub on campus.

"We did it so that you could also get the Upham Arch in the background. There are all those trees right in front as well," Sophia said, noting the difficulty of blending the building with the trees.

One of their favorites to draw was Kumler Chapel, which graces Western campus, its light-colored stones standing out from the red brick buildings at Miami.

Lisa Blankenship, visiting assistant professor of English, worked closely with the Delgados on the project when she was interim associate director of the Howe Writing Center earlier this year. Their talent and professionalism impressed her.

"They have a tremendous amount of enthusiasm for Miami, and I think it comes through in their sketches," she said.
A passion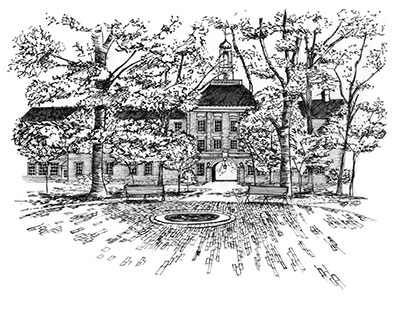 The university seal and Upham Hall
Artwork came naturally to Sophia and Madelyn, whose mother was a freelance illustrator for such publications as Scholastic.

Their parents, Mario and Carol Delgado of Lebanon, Ohio, bought them their first sketchpads and charcoal pencils when they were 16. They share a fond memory of their mother teaching them how to draw a properly shaded apple.

At Kings High School the twins collaborated on an art class mural that featured paint cans (labeled with words like inspiration and creativity) spilling down to create a scene.

When it came time to start considering college, both were thinking about art schools. Their father suggested they also consider architecture.

The summer of their junior year in high school, they participated in the six-week Junior Scholars Program at Miami. One of their classes was in architecture.

"Speaking for myself, after taking that course here with the staff of the department, I ended up falling in love with it pretty easily," Madelyn said. Sophia arrived at the same conclusion, joining her sister at the Oxford campus.

"It feels right. Mad and I both love what we do," Sophia said. "It's a passion now."

Each received a 2012 Miami Undergraduate Summer Scholars award, which paid $2,600 for them to do research over nine weeks and get 3 hours credit.  Madelyn did research on landscape design and proposed a redesign of a park near their hometown. Sophia researched biomorphic design, which models artistic design elements on patterns reminiscent of nature or living organisms.

Their focus lately has been on the January opening of the Armstrong Student Center, where the 3-D Great Seal — and its various elements — are sure to be a focal point.  Read the full story about the 3-D version online.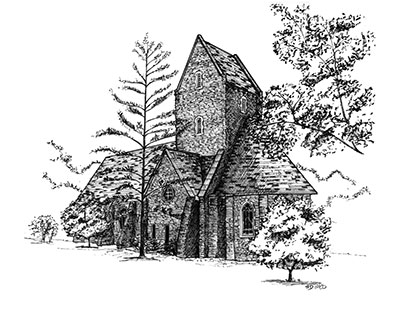 Kumler Chapel
Blankenship said the university plans to sell commemorative versions of the book, both in hard and soft cover. She's thrilled the way it turned out. It was her idea to use traditional pen-and-ink sketches to give the landmarks a timeless quality, and she couldn't be happier the Delgado sisters fulfilled that vision.

The young women have launched a freelance business to make their sketches commercially available as prints, notecards and postcards.

They named the business, Pen and Ink in a Blink, playing off their ability to do architectural renderings quickly. They are developing a website to sell the items online and also are working with Miami's trademarks & licensing office and the Miami University Bookstore.

Samantha Stevens, manager of university trademarks & licensing, said the Delgados own the rights to their artwork. They would get a percentage of the sales, while the university would receive licensing royalties with some proceeds going to student scholarships.

The sisters said they enjoyed being part of the team that contributed to the approximately 150-page Great Seal book. The experience also gave them a unique opportunity to collaborate on something special before they graduate in the spring.

Based on their work in the book, President David Hodge and his wife, Valerie, university ambassador, commissioned them to sketch the president's residence, Lewis Place, as well as the rotunda of the new student center.

"Seeing all of this come together is kind of surreal in a way," Madelyn said.

Written by Margo Kissell, University News and Communications, kisselm@miamioh.edu