Miami Men's Glee Club wins top honors in European Choir Competition
Jun 11, 2014
Written by Susan Meikle, university news and communications, meiklesb@MiamiOH.edu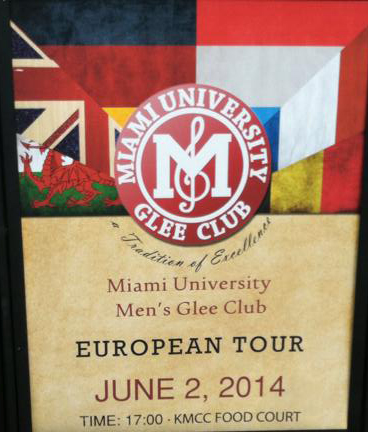 Poster advertising the Miami Men's Glee Club performance at Ramstein Air Force Base, Germany.
The Miami Men's Glee Club, conducted by Jeremy Jones, won the First European Prize with Great Distinction at the Concours Europeen de Chant Choral 2014 (European Choir Competition) May 31. The choir participated in the competition, held in Mersch, Luxembourg, during their international tour of England, Wales, France, Luxembourg, Germany and Belgium.
They also received a monetary award of 1500 euros. 
Ten adult choirs — all very well prepared and excellent ensembles, Jones said — performed in the competition. The Miami Men's Glee Club was the only choir from the U.S. with the others from Luxembourg, Belgium, Germany, France and the Netherlands.
The five professional conductors of the jury represented Finland, Luxembourg, France, Belgium and Germany,
The Glee Club gave a 30-minute performance of a variety of choral works from around the world. 
"We were asked to sing a final song for the audience of choirs and general attendees," Jones said. "We performed "Wedding Qawwali" from A.R. Rahman's "Bombay Dreams". The audience leapt to their feet and cheered for an encore, which we gave." 
"To my knowledge, this is the first international choral competition the Glee Club has participated in many years, if ever."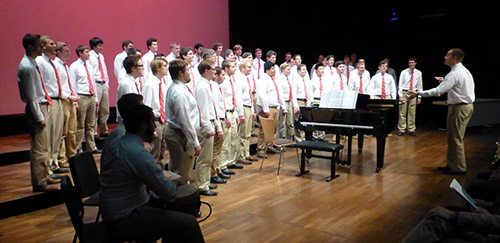 The Miami Men's Glee Club in performance at the European Choir Competition (photo courtesy Federation Nationale de Musique du Grand-Duche de Luxembourg).
The international tour capped off a "historical year" for the Men's Glee Club, Jones said. They were invited to sing at two major conferences this year and gave well-received performances at the American Choral Directors Association Conference in Cincinnati and the Intercollegiate Men's Choruses National Conference held at Rutgers University.
"The ACDA conference performance (as one of only 12 invited choirs) was our 'Rose Bowl' or 'College World Series' of the year," Jones said.
Watch a video of the Men's Glee Club performing A.R. Rahman's "Wedding Qawwali" at the ACDA Conference here.
Auditions: Are you a student interested in joining the Men's Glee Club or the Collegiate Chorale (male and female singers)? 
Auditions for all vocal ensembles will be held during the first week of classes. Additionally, students on campus for summer orientation may contact the director, Jeremy Jones, for an audition time at jonesj5@miamioh.edu or 513-529-6009.
The Choraliers (all women) and Chamber Singers are conducted by William Bausano, bausanwp@miamioh.edu.