The healing power of art becomes inspiration for museum exhibit
Rolinda LeMay's Spiritual Release, 2013, part of an expressive therapies art exhibit.
Oct 31, 2014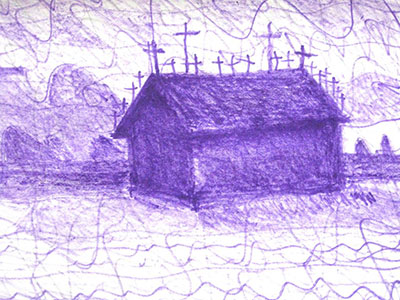 Harry Hansen (1942-2013), Purple Church, 2009
written by Mekenna Sandstrom, University News and Communications Intern
The simple actions of the stroke of a paintbrush or the click of a camera bring joy for many. For some, those paint strokes and pictures are therapy as well.
Expressive therapies are proving to be an effective way of dealing with emotional, cognitive, behavioral or physical issues, and it became the inspiration behind the creation of an exhibition at the Miami University Art Museum.
Open this fall, "Revealing the Light Within: The Healing Power of Expressive Arts," features paintings, photography, music and dance created through art therapy. The exhibit is open 10 a.m. –5 p.m. Tuesdays through Fridays and noon-5 p.m. Saturdays through Dec. 6. It is free and open to all.
Jason Shaiman is the curator for exhibitions at the art museum and is the reason why this exhibit exists.
"Ten years ago I was at U of SC (University of South Carolina), and I was inspired by the idea of art therapy through a friend," Shaiman said. "When I came to Miami, the staff and I looked into inviting faculty from different departments in addition to therapists to put this all together."
In the exhibit, there are five sections based on different forms of expression. Those sections are creative writing, dance/movement, music, drama and visual art.
Shaiman reached out to faculty from many departments for the project. Those departments included psychology, sociology and gerontology and art.
Jennifer Kinney, interim chair and professor of sociology and gerontology at Miami, focuses on the effects of therapy on older adults with dementia. She says the study of art therapy is unique.
"There are a lot of therapeutic techniques out there," Kinney said. "But art therapy represents a way of connecting yourself and other people. It shows the community what people with dementia are capable of."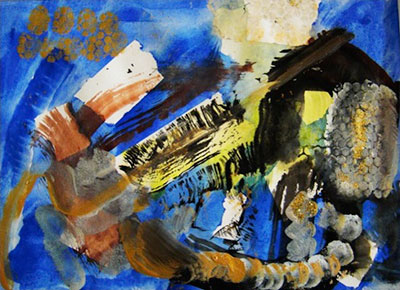 George M., Night Chaos, 2013
Within the visual art section of the exhibit, pieces made by adults in the Opening Minds through Art (OMA) program are on display. OMA programming is offered through the Scripps Gerontology Center at Miami University. The program serves nursing homes and centers for aging in Oxford, as well as various locations in Cincinnati.
OMA is a program in which trained students and adults with dementia work together to create pieces of artwork. There are no instructions for each session, and the adults with dementia are not referred as patients. They hold the title "artist."
Shaiman emphasizes the importance of this collaboration.
"These works were created for more of a therapeutic benefit," Shaiman said. "It's for a feeling of personal importance and self-esteem. It's a failure-free environment."
The museum also benefitted from the help of students.
Alex Czajkowski, senior art and architecture history major, made contact with many organizations across the state for the exhibit. She also searched for testimonials with music or dance. Researching books for the exhibit was also beneficial.
Czajkowski says she didn't expect to work on this exhibit but enjoyed the experience.
"I came across this opportunity as an intern, and I didn't know what it was going to be like at first," Czajkowski said. "But it was cool to be a part of this exhibit, because it shows how people can get relief from art."