"People Get Ready! Meditations on Freedom Summer" Oct. 13
Oct 07, 2014
Multimedia event marks 50th anniversary of Mississippi Freedom Summer Project
Experience an evening of performances marking the 50th anniversary of the Mississippi Freedom Summer Project. The Miami University Performing Arts Series presents "People Get Ready!," a multimedia event combining music, dance and theatre at 7:30 p.m. Monday, Oct. 13, in Hall Auditorium.
The event is free, but tickets are required and seating is assigned. Pick up your tickets at the Miami University box office, 529-3200.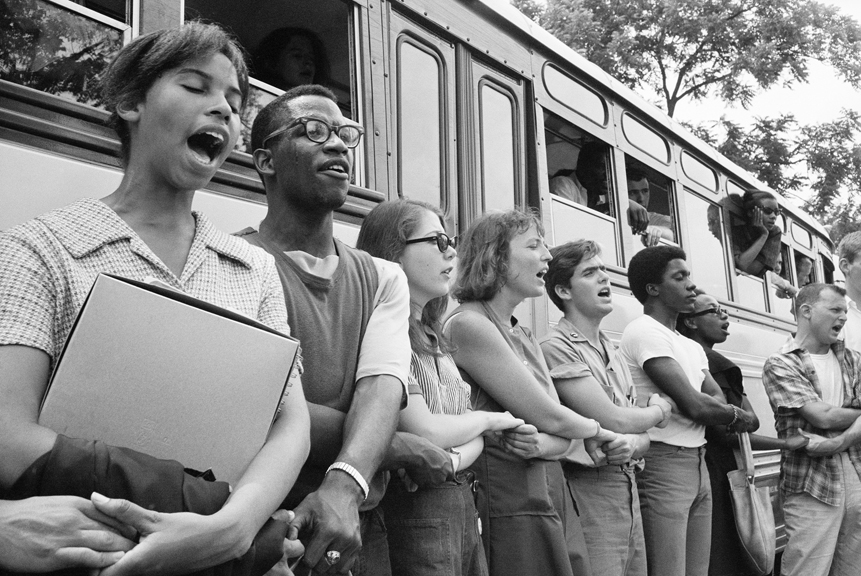 Singing "We Shall Overcome," this group of Freedom Summer volunteers
begins its journey from Oxford, Ohio, to Mississippi. Despite the dangers,
more than 1,000 college students volunteered to canvass, teach and
establish community centers (photo: Ted Polumbaum, Newseum
Collection).
Musicologist Tammy Kernodle, professor of music, and theatre scholar Paul Jackson, professor of theatre, team with local artists to "capture the spirit" of the Freedom Summer Project.
Featured musical pieces include:
 Margaret Bond's "Troubled Water" performed by Siok Lian Tan, associate professor of piano
 "American Guernica" by Adolphus Hailstork, written in response to the 16th Street Baptist Church bombing in 1963, performed by the Miami University Wind Ensemble
 Kernodle's rendition of the freedom song "I Told Jesus it Will be Alright if He Change My Name" and dance in the style of Alvin Ailey
"People Get Ready!" is sponsored by the Center for American and World Cultures and the Western College Alumnae Association and is part of the 50th Anniversary Freedom Summer conference.