Winston Churchill's legacy brought to life by granddaughter Celia Sandys during Churchill Week Nov. 10-11
Prime Minister Winston Churchill gives his famous V for Victory sign to a crowd of 50,000 on VE day, May 8, 1945, from the balcony of the Ministry of Health, London. Learn more about Churchill as a leader, writer and artist during Churchill Week.
Nov 04, 2014
Author Celia Sandys, daughter of Sir Winston Churchill's eldest child, Diana and Cabinet Minister Duncan Sandys, will present several lectures about her grandfather, Winston Churchill, on Nov. 10-11. They are part of a series of events at Miami celebrating Churchill Week.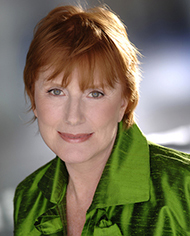 Celia Sandys 
Sponsored by the Churchill Centre, Churchill Week is an academic program that brings Churchill's legacy to life for a new generation. Justin Reash (Miami '12, history), chapter coordinator for the center, said that Sandys will "recount her vivid memories of her grandfather" and bring to life Churchill's unique character.
Sandys is an internationally acclaimed author, journalist and speaker. She has published five books on various aspects of Winston Churchill's life. These combine intensive historical research with personal anecdotes recalled from the time she spent with him in England and abroad.
Her most recent book, We Shall not Fail – The Inspiring Leadership of Winston Churchill, describes the principles of leadership which enabled Winston Churchill, Britain's Prime Minister from 1940 to 1945, to lead his country and the rest of the free world to overwhelming victory against Nazi Germany and its allies in World War II.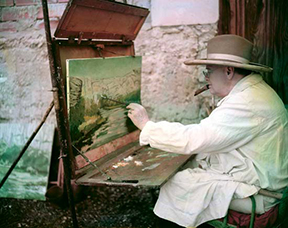 Winston Churchill at his easel.
The lectures, free and open to the public, are:
Monday, Nov 10:
"Churchill As A Writer"  10 a.m., Bachelor Reading Room
Churchill was a professional writer who made his living from the printed word. Sandys will discuss letters of Churchill as a schoolboy, his foreign dispatches for British newspapers and articles written for magazines.
"Memories of my Grandfather"   4 p.m. Bachelor Reading Room
Sandys' favorite lecture topic will provide a personal look at Churchill.
 Tuesday, Nov. 11:

Winston Churchill, 1943.
"Churchill: Painting as a Pastime"   4 p.m., Miami University Art Museum
Sandys will focus on Churchill's passion for painting — that resulted in over 500 completed canvases. She will discuss some of her grandfather's favorite paintings and give the stories behind them.
 "Churchill As Leader: The Power of Words"  7 p.m., Taylor Auditorium, Farmer School of Business
Reflections on Churchill's use of language to inspire his fellow Britons, illustrated by audio/video excerpts of some of his famous wartime speeches and other powerful, though less famous, quotes.
Churchill Week is sponsored by the Churchill Centre, Miami's Wilks Leadership Institute, the College of Arts and Science, the College of Creative Arts, the Humanities Center and the department of English; and is underwritten by the Rose-Marie and Jack R Anderson Foundation, alumna Janet Baines and the American Veterans Center.