The Intergalactic Nemesis. Target Earth. Coming Feb. 10
The coolest theatrical experience Earth has ever seen - Calgary Herald
Feb 05, 2015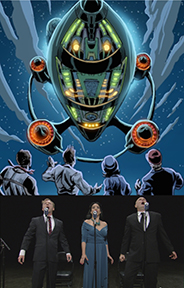 "Something you must experience
if you're a fan of awesome!"
Collider.com
The one-of-a-kind theatrical experience http://theintergalacticnemesis.com/
"The Intergalactic Nemesi: Target Earth. A Live-Action Graphic Novel" will be performed at 7:30 p.m. Tuesday, Feb. 10, in Hall Auditorium. The production is part of the Miami University Performing Arts Series.
Tickets, $18 adults, $17 seniors and $9 students/youth, are available at the Miami University box office.
Telling an all-ages adventure story set in the 1930s, "The Intergalactic Nemesis" mashes up comic book and radio play formats into a new art form, the Live-Action Graphic Novel.
Three actors voice the dozens of characters, a Foley artist creates all the sound effects and a pianist plays a cinematic score, while more than 1,250 individual full-color comic book panels tell a sci-fi adventure story visually from an enormous movie screen. 
"The Intergalactic Nemesis" is "an uproarious and nostalgic look back at the glory days of radio plays, but with a twist."
The show has been featured on NPR, PBS, Conan O'Brien, the Wall Street Journal and dozens of other outlets.
The New York Post called its limited run on Broadway "Great fun! [A] happily retro multimedia extravaganza," the Cleveland Examiner describes it as "pure theater magic" and The Austinist recommends it as "totally nuts and a ton of fun… Do not miss it."
The performance is sponsored by Jerome Conley and Kona Bistro.