Miami Opera presents Sondheim's "A Little Night Music" Feb. 23-25
Feb 17, 2017
By Susan Meikle, university news and communications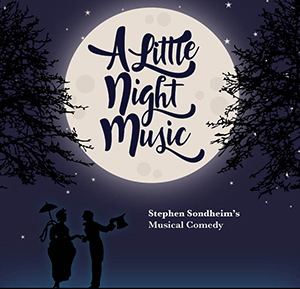 "A Little Night Music," with music and lyrics by Stephen Sondheim and book by Hugh Wheeler, will be presented by the Miami University department of music at 7:30 p.m. Thursday-Saturday, Feb. 23-25, in Wilks Theatre, Armstrong Student Center.
The musical comedy is directed by production professional Tiffany Lusht and Benjamin Smolder, associate professor of music and director of Miami's opera program, with music direction by Smolder. Lisa Hasson, principal coach and chorus master of the Kentucky Opera, is the vocal coach for Miami's production.
"A Little Night Music," suggested by Ingmar Bergman's film "Smiles of a Summer Night," won the 1973 Tony Awards for Best Musical, Best Music and Lyrics, and Best Book. It also won Drama Desk Awards for Outstanding Musical, Outstanding Music, Outstanding Lyrics, and Outstanding Book.
"Sondheim's score utilizes the style of the Viennese operetta, in particular the waltz, to capture elegant, turn-of-the century Sweden," Smolder said.
Set in 1900 Sweden, "A Little Night Music" explores the tangled web of affairs centered around actress Desirée Armfeldt and the men who love her. Both men – as well as their jealous wives – agree to join Desirée and her family for a weekend in the country at Desirée's mother's (Madame Armfeldt) estate. With everyone in one place, infinite possibilities of new romances and second chances bring endless surprises.
"Sondheim, a great lover of puzzles, highlights the triple meter with recurring motifs of three: Three smiles of the summer night, three generations of the Armfeldt family and three love triangles," Smolder said.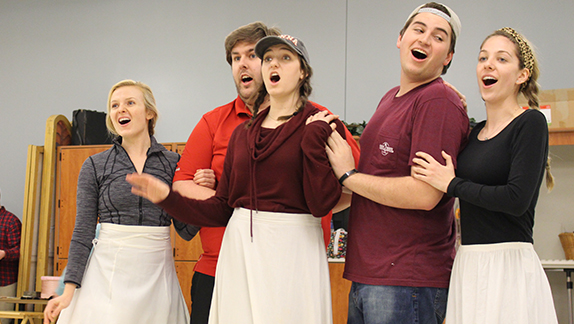 In rehearsal (photos by Beth Pfohl).
 And three more reasons to see this show, Smolder said:
A beautiful score and a libretto that flawlessly pirouettes between humor and poignancy.
Beautiful Victorian era costumes. 
The role of Madame Armfeldt will be played by faculty guest artist, Mari Opatz-Muni, director emeritus of Miami's opera program (Feb. 23 and 24 productions).
The Miami Opera production is choreographed by Jay Goodlett, associate artistic director for the Children's Theatre of Cincinnati and an adjunct professor of dance at Northern Kentucky University. He was a member of the Cincinnati Ballet Company for 17 years.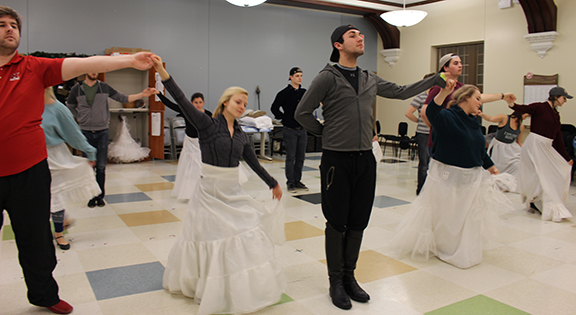 Costume design is by Joy Galbraith, associate creative director of the Costume Gallery in northern Kentucky, a professional theatre costume shop.
Miami Opera is sponsored by the William E. Schmidt Foundation.  
Tickets:
Tickets, $15 adults, $10 students, are available at the H.O.M.E. box office in 129 Campus Avenue Building.
About Miami Opera
Miami Opera students receive coaching in their roles from a professional vocal coach in the semester preceding the performance.  Opera auditions are open to students of all majors.
The program has been nationally recognized three times since 2007 by the National Opera Association for "Outstanding Collegiate Productions."
Miami — recognized as a "major university strong in music" by the 2017 Fiske Guide to Colleges — is home of the Schmidt Youth Vocal Competition. Smolder serves as its national director.