Winners named in 2017 Young Painters Competition for the $10,000 Yeck Award
Feb 07, 2017
"Chickasha Alley," oil on canvas, 2015, by Blake Morgan, is the winner of the 2017 Young Painters Competition.
Blake Morgan, of Chickasha, Oklahoma, is the winner of the 2017 Miami University Young Painters Competition for the $10,000 William (Miami '36) and Dorothy Yeck Award.
This national competition for artists ages 25-35 celebrates the current trends in contemporary painting. This year's competition focused on representational/realist painting.
Winners of the competition, sponsored by Miami's Hiestand Galleries, College of Creative Arts, were announced at a ceremony Jan. 27.
Morgan was selected for his work,"Chickasha Alley," which is now part of the Miami University Young Painters Collection.
He is assistant professor of art at the University of Science and Arts of Oklahoma. He received his master's degree in fine arts in 2007 from the University of South Carolina, where he taught before joining USAO in 2013.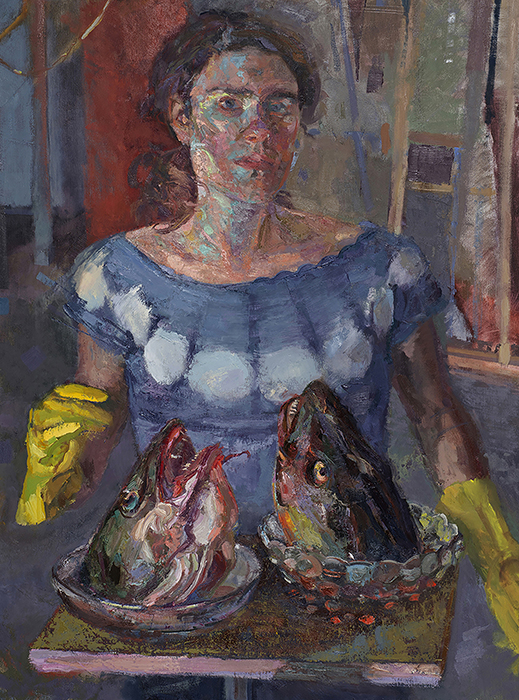 "Loose Fish Fast Fish," oil on linen, 2014, by Suzanne Schireson, won second place.
Morgan's work, exhibited internationally and nationally, consists of narrative figure paintings and observational landscapes.
Suzanne Schireson, of Providence, Rhode Island, received the second place award and $1,500 for her painting, "Loose Fish Fast Fish."
Schireson is currently assistant professor of painting and drawing at the University of Massachusetts, Amherst. She received her master's degree of fine arts from Indiana University in 2008 and was a lecturer in the department of art and art history at the University of New Hampshire from 2009-2012.
Crystal Cudworth, of Sauk City, Wisconsin, won the third place award for her work, "Margaret Cabin." She received her master's degree in fine art from the School of the Museum of Fine Arts at Tufts University in 2015.
Works by the winners and other finalists will be exhibited through Friday, Feb. 10, at Hiestand North Gallery.
The 2017 Young Painters Competition was juried by Jed Perl, artist, writer and critic based in New York City.