Oxford String Quartet, Cincinnati Symphony Orchestra bookend week of music at Miami March 6-10
Mar 02, 2017
By Susan Meikle, university news and communications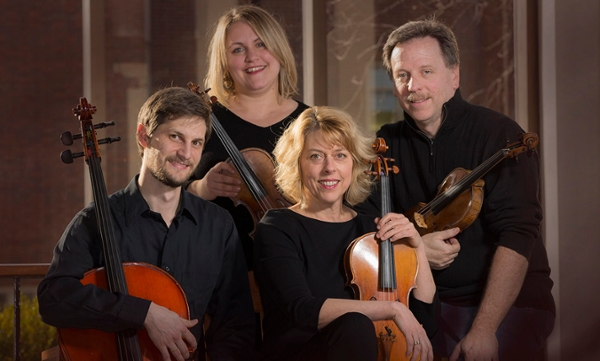 Oxford String Quartet (left to right): Cole Tutino, Amy Kiradjieff, Mary Harris and Harvey Thurmer (photo by Jeff Sabo). This is the first time the group has come together in name since it disbanded in 2006. Read a timeline and learn more about the Oxford String Quartet, formed in 1946.
The Oxford String Quartet will perform a free concert at 7:30 p.m. Monday, March 6, at the Oxford Community Arts Center, 10 S. College Ave.
The ensemble includes Miami faculty Harvey Thurmer, violin, and Mary Harris, viola, associate professors of music; and Amy Kiradjieff, violin, and Cole Tutino, cello, visiting instructors of music.
The program features Mozart's String Quartet No. 16 in E Flat major; "Credo" for string quartet by contemporary composer Kevin Puts; and Dvorak's Piano Quintet in A major, with pianist Frank Huang, assistant professor of music.
The concert is free and open to the public.
It is part of the Oxford Chamber Series, a collaboration between Miami's Performing Arts Series and department of music and the Oxford Community Arts Center.

Other concerts during the week
Tuesday, March 7: Wind Ensemble, directed by Gary A. Speck
7:30 p.m., Hall Auditorium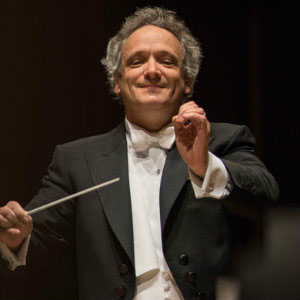 Louis Langrée, conductor of the Cincinnati Symphony Orchestra.
With guest soloist Jaime Morales-Matos. Free.
Thursday, March 9: Symphony Band, directed by Stephen Lytle.
7:30 p.m., Hall Auditorium
With guest ensemble Fillmore Philharmonic Brass. Free.
Friday, March 10: Cincinnati Symphony Orchestra – Part of the Performing Arts Series.
7:30 p.m., Hall Auditorium
"Rhapsody in Hall. "Louis Langrée conducts the CSO in an evening of French delights with an American flair.