New Diversity and Inclusion Model for Incoming Students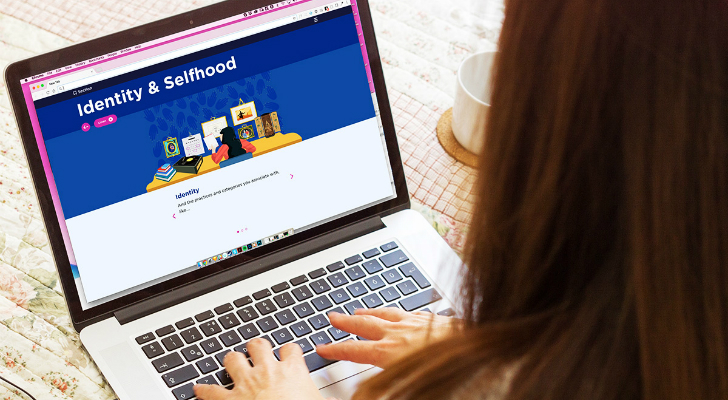 The online Diversity, Equity, and Inclusion (DEI) module for all incoming first-year students was piloted to about 1,300 students during the 2018–19 academic year. The module helps students learn about and develop skills related to identity, bias, privilege and oppression, the benefits of a diverse community, ally behavior, self-care, and inclusive spaces. More than 80% of first-year students who took a transition course that included the DEI agreed they learned new information about bias, power, privilege and oppression, compared to 74% of first-year students who took a transition course that didn't include the module.
Freedom Summer of '64 Award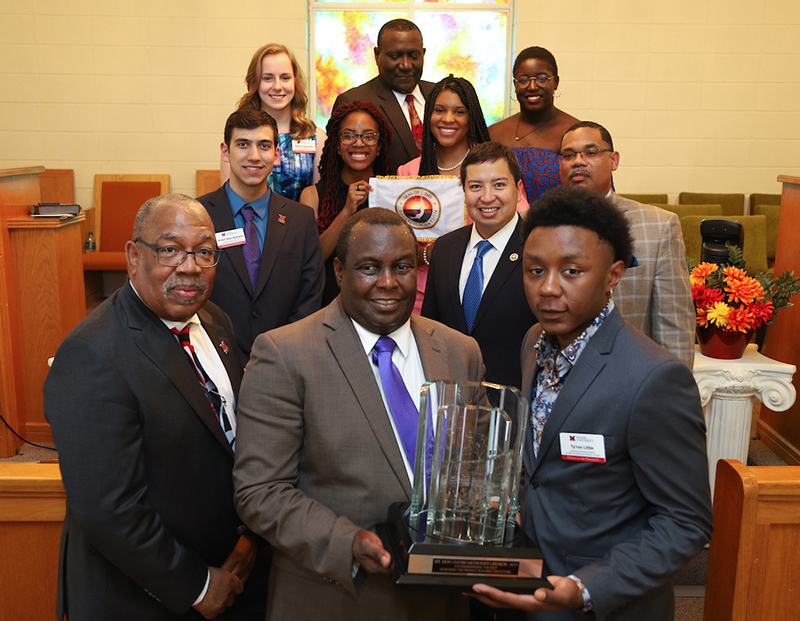 Fifty-five years after three Freedom Summer volunteers left Oxford, Ohio, to investigate an arson at the historic Mt. Zion United Methodist Church in Philadelphia, Mississippi, and then disappeared, Miami honored the church with the Freedom Summer of '64 Award. Every year, Mt. Zion marks the anniversary of the disappearance and murder of James Chaney, Andrew Goodman and Michael Schwerner. On June 16—the anniversary of the fire—University representatives attended the annual memorial at Mt. Zion to present the award.
Truth and Reconciliation
In a effort to promote awareness of injustices inflicted upon African Americans during the country's period of reconstruction, a Spring 2019 graduate seminar course, the Truth and Reconciliation Project was established. A collaboration of the Graduate School and the Department of Family Science and Social Work, the course provides an opportunity to engage directly in a process of truth and reconciliation anchored by the Equal Justice Initiative (EJI), an organization committed to changing the narrative about race in America.
Accessible Technology Symposium
Miami's 5th annual Accessible Technology Symposium commenced with a keynote address by Korey Singleton, Manager of Assistive Technology Initiative from George Mason University. The day's schedule included vendor demonstrations, roundtable discussions, and breakout sessions led by Miami staff from e-Learning, the Libraries, and Student Disability Services.
Study Abroad is for Me
Though Miami has a strong record of students studying abroad, a new campaign by Global Initiatives was designed to expand that access to an increasing number of underrepresented applicants like students of color, those with financial need, males, and international students. "Study Abroad is for Me" aims to give students knowledge and confidence to apply for programs and to raise awareness of the need for increased study abroad scholarship funds.
Laverne Cox: Ain't I a Woman: My Journey to Womanhood
Actress, writer, producer, and transgender advocate Laverne Cox shared her empowering story with a packed house at Hall Auditorium during this Presidential Series on Inclusivity performance. She emphasized practicing radical self love and recognizing the intersectionality of oppressive systems. 
Kate Welling Lecture: Intelligent Lives
This year's Kate Welling Lecture featured the film "Intelligent Lives," by Dan Habib. It stars three young adults with intellectual disabilities—Micah, Naieer, and Naomie—who challenge perceptions of intelligence as they navigate high school, college, and the workforce. Host Micah Fialka-Feldman led a Q&A session after the April screening.
ETHEL and Robert Mirabal: The River
This February Presidential Series on Inclusivity performance featured the quartet ETHEL and Native American artist Robert Mirabal, invoking the spirit of flowing water and the power of collaboration to create The River. The audience was immersed in the rush of music, narrative, and ritual grounded in Native American traditions and expressed via contemporary music.
Lunar New Year Gala
This year's Lunar New Year Gala celebrated the Year of the Pig in February with renown guest artists and student performers. Co-sponsored by the Confucius Institute at Miami University (CIMU) and Chinese American Cultural Association, along with the Performing Arts Series, the Gala was a great opportunity to learn more about China and Chinese culture.
Miami University Evening at the Museum
In late January, Miamians gathered at the Cincinnati Museum Center at Union Terminal for an evening reception and first look at the new home of the Nancy and David Wolf Holocaust and Humanity Center, which includes unique Cincinnati and Miami connections. Dr. Erik Jensen, Miami University associate professor of history and Jewish studies, were also present to provide additional context and insight into the experience.
Continuing The Dream in 2019
Miami University and the Oxford community joined together on Martin Luther King Jr. Day to commemorate the life and legacy of the civil rights icon. The guest speaker was Terence Moore (Miami '78), nationally-known sports columnist and sports commentator. A complimentary continental breakfast was also served.
Multicultural Student Leadership Conference
The Annual Multicultural Student Leadership Conference (MSLC) provides students with the opportunity to develop intercultural competency, enhance leadership skills, and provide resource and information sharing among students to strengthen the presence of their multicultural/diverse organizations on their college campuses. The 7th annual conference was held December 1.
American Studies Lecture
Elliott J. Gorn, the Joseph Gagliano Professor of American Urban History at Loyola University Chicago has a distinguished record of scholarship and publication, including his latest book, Let the People See: The Story of Emmett Till (Oxford University Press, October 2018). Much like Trayvon Martin and Laquan McDonald in our own day, Till's was a powerful story about race in America. During his lecture, titled "Emmett Till: Why His Story Matters," Gorn delved into the crime, the trial, and the aftermath, examining shifting attitudes and presenting a timely look at the interaction between race and the media.
International Education Week
International Education Week (IEW) provides an opportunity to celebrate the benefits of international education and exchange worldwide. In an effort to prepare students for a global environment, Miami celebrates IEW annually with a wide range of activities, international food, and events. This November, events included a keynote address by Dr. Jason Singh ('94), Senior Vice President, Doctors, VisionWorks of America and the annual Thanksgiving Dinner hosted by International Student and Scholar Services.
Veterans Tribute Memorial Dedication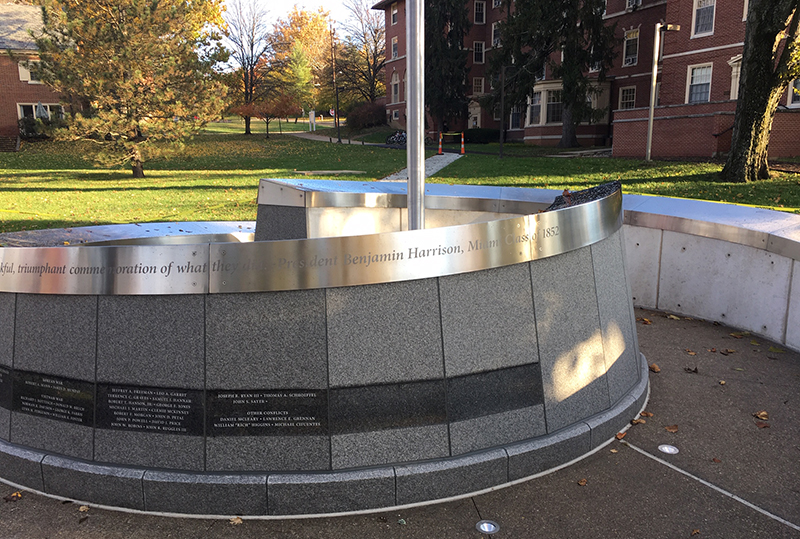 In November, the university hosted a dedication and ribbon-cutting ceremony for its Alumni Veterans Tribute Memorial, located between the Campus Avenue Building and Wells Hall. Guest speakers included President Gregory Crawford, Dave Miller (Miami '60, MBA '69), David Lawrence (Miami '64) and Emma Wott, president of the Student Veterans Association. 
Lecture: Undocumented Migration Project
In October, Dr. Jason De León, 2017 MacArthur Fellow and Director of the Undocumented Migration Project (UMP) presented Land of Open Graves: Understanding American Politics and U.S./Mexico Border Enforcement through the Lives and Deaths of Migrants. His work combines ethnographic, visual, archaeological, and forensic approaches to understand this violent social process.
Chinese Warriors of Peking
This October evening of entertainment featured high-intensity martial arts and breathtaking acrobatics. Set in Peking during the Ming Dynasty, Chinese Warriors of Peking tells the true tale of two rival martial arts schools vying for domination. Only the emperor can decide who reigns supreme. This performance was the first in this year's Presidential Series on Inclusivity, established to promote Performing Arts Series productions that challenge us to "Ask More. Engage Intentionally. Think Differently."
The Defamation Experience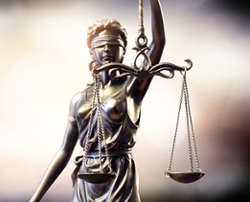 Nationally acclaimed The Defamation Experience begins with a riveting courtroom drama that explores the highly charged issues of race, class, religion, gender and the law with a twist: the audience is the jury. Combined with an audience deliberation and a facilitated discussion, The Defamation Experience provided a unique opportunity for our community to engage in civil discourse about the most pressing social issues of our day. This October event was hosted at the Dave Finkelman Auditorium on Middletown's campus.
Anti-Racist Education
During the months of September and October, Miami faculty and students participated in the revival of a historical 1981 anti-racist education initiative, recently titled "Racial Consciousness 101." The afternoon program featured a student panel discussion on the results of a survey conducted to identify racial myths and reveal insights and experiences of students of color at Miami University.
Chinese Festival
The entire Miami community was invited by the University's Confucius Institute to its fifth annual Chinese Festival in September, which began with Chinese Martial Art demonstrations and kite-flying activities. In late afternoon, the festival shifted Uptown, where many culture and language booths were located, followed by cultural performances until early evening.
Wil Haygood's Tigerland debuts at Miami Convocation
When he addressed Miami University's incoming students in August 2018 at the Freedom Summer Memorial, award-winning author and journalist Wil Haygood (Miami '76) spoke about Tigerland, a saga of race, politics and high school sports set inside the tumultuous year of 1968-1969. By special arrangement with the publisher, Miami freshmen were the first to receive copies of this highly anticipated book.