Multicultural Opportunities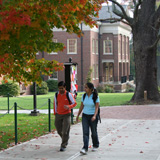 Partnerships
Take advantage of scholarships and other educational opportunities available to underrepresented students
Student Organizations
Miami has more than 400 organizations on campus, including many organizations established to support and serve the interests of multicultural students.
Events
Coordinate your campus visit with a cultural or sporting event to get a true sense of the Miami Experience.
Special Programs
Several programs at Miami are specially designed to provide academic support to students of non-dominant cultures.