Come spend the day with us
If you're considering one of our graduate programs, the best way to get to know the programs is to come for a visit! Whether you have already applied to a graduate program or not, a campus visit will be a helpful step in your graduate school decision process.
During your visit, we'll arrange time for you to meet with staff and discuss the details of the programs, spend time with our faculty, and we can help arrange a tour of one of the most beautiful campuses in the country. If you have already applied to the program, we'll also arrange for an admission interview while you are with us.
If you're unable to visit us in person for your admission interview, we are available to connect by phone or video conferencing. Visits are scheduled on weekdays during normal business hours.
Visitors to campus are encouraged to park in the North Campus Garage, no permit is needed but an hourly/daily rate applies. A permit is required to park for all other lots and parking areas. You can request a visitor parking permit free of charge:
There are several hotels close to campus to choose from:
We are conveniently located near two international airports in Cincinnati and Dayton, Ohio. You can find more information on airports, shuttles, and other transportation services on Miami's visitor pages: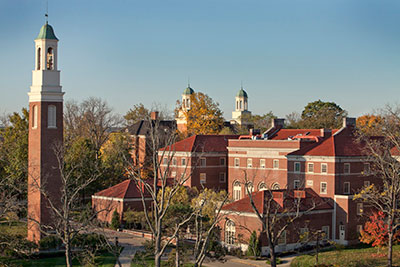 Schedule a visit to meet faculty, research staff, and to see one of America's most beautiful campuses. 
To set up a visit, contact The Scripps Gerontology Center:
We're centrally located on Miami's Oxford campus in 396 Upham Hall. Be sure to include time to find parking, as it can be scarce at certain hours of the day.