What Our Students Say
Emmanuel Caster
Kinesiology major
"Coming into Miami I had no idea what kinesiology was. After doing some research on the major, I realized that it was just right for me...
"I love learning about the biomechanics of the human body and this major allows me to learn and experience it through many different--and exciting--classes. After I graduate, I've got my sights set on becoming a physician's assistant."
Matthew Gingras
Kinesiology major
"Choosing to be a kinesiology major was the best decision I have made since choosing to come to Miami University. The professors are all extremely knowledgeable, experienced, and best of all approachable...
"They have a great diversity of backgrounds and are always willing to offer you advice about both class and future endeavors. There are also just enough students in the KNH major so over the four years at Miami you become very close to your classmates which makes studying for exams, doing group projects, and filling out graduate school applications much easier."
A few more facts about me:
Member of Alpha Delta Phi fraternity
Former Vice President of the Interfraternity Council
Currently a student manager at the Rec Center
Studied abroad twice with Dr. Mark Walsh of the KNH department: once to the Himalayas and Mt. Everest Base Camp, and a second time to Machu Picchu."
Aishah Newson
Health Promotion major
"I chose to be a health promotion major because I have always had a passion for the field of health and fitness. I felt that Health Promotion would be a great compliment to this and it has turned out to be such a great experience for me…
"The KNH department has provided me with the knowledge that I need to be able to go out into the field and gain some real world experience. Now that it is my last year here at Miami, I wouldn't change anything about choosing to be a Health Promotion Major. I absolutely love it!"
A few more facts about me:
Group Fitness Instructor at Miami Rec & on Lead Staff
Volunteer Youth Basketball Coach
Study Abroad in Australia with Dr. Massie. In addition to my studies, I also went sky-diving in Australia!
Interning at the YMCA in Hamilton with the Executive Director of Healthy Living & Marketing
Cami Gilman
Nutrition major
"I love dietetics! I couldn't dream up a major that fits me better. I'm really into fitness and health, but even more than that I just love food! Working in the food lab, we get to make delicious treats that are good for you too…
Then in our other classes we learn about how and why they are good for you. There are so many job opportunities for Dietetics majors - from being a Registered Dietician to working in culinary arts. Right now, I'm looking to go to culinary school after graduation."
Scarlett Shader
Health Promotion & Kinesiology major
"I chose health promotion to be a second major during the second semester of my sophomore year. I thought it went along really well with my kinesiology major and getting the classes done in time to graduate was really do-able since a lot of them overlapped...
"I hope to go to physician assistant school and focus on educating my patients about a healthy lifestyle to prevent sickness and injury. Health promotion and the classes I have taken in the field give me the tools I'll need to do this."
A few more facts about me:
I am a research assistant for Dr. Rose Marie Ward in a health psychology research lab through the KNH department.
I am the current PR chair and incoming president of Colleges Against Cancer here on campus.
I am currently working at Elements Wellness center as an intern in Hamilton. I spend about 5 hours a week working hands-on with the clients using things I learned in Dr. Timmerman's "exercise prescription" class. I also get academic credit that counts for my Health Promotions major!
This summer I will be interning at Karmanos Cancer Institute in Detroit, working with patients and gaining experience in order to apply to physician assistant schools.
Anjali Naik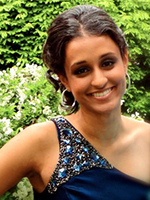 Kinesiology major
"I am a senior kinesiology major and I absolutely love it! Coming into college, I knew I wanted to go to medical school, but I did not want to take the typical route and be a zoology or biology major...
Kinesiology has given me many hands-on experiences, which I will be able to practice in my future profession. Besides having a lot of anatomy classes (which I love), being in this major has opened up my opportunities to participate in research as well. Finally, the faculty is always willing to help students out in any way possible!"
Kelsey Barnes
Health Promotion major
"I have always been passionate about health and wellness, which led me to pursue a major in health promotion. Throughout the past 4 years I have learned more about the importance of health than I ever thought was possible...
"The professors I had prepared me to take what I have learned with me into the real world, and I feel confident to chase my dream of a future career in the health field. I would not change anything about my experience at Miami, especially my decision to be a health promotion major."