What Our Students Say
Emmanuel Caster
Kinesiology major
"Coming into Miami I had no idea what kinesiology was. After doing some research on the major, I realized that it was just right for me...
"I love learning about the biomechanics of the human body and this major allows me to learn and experience it through many different--and exciting--classes. After I graduate, I've got my sights set on becoming a physician's assistant."
Mark Luoma
SLAM major
"Miami's SLAM program excels because its outstanding professors care for students on an individual level while integrating them into Miami's established and growing network with a variety of internship and career opportunities. The passionate faculty are very knowledgeable and are always eager to help students reach their goals both inside and outside of the classroom. With plenty of resources available, SLAM students will find tremendous opportunities to gain real-world experience in diverse settings both on and off campus.
Since joining the SLAM program, I have discovered many opportunities to engage in the sport and fitness industry that I never knew existed. With the goal of promoting positivity and facilitating character development within educational athletics, I chose a SLAM concentration of sport management. I plan to pursue a career in sport administration and I am confident that the SLAM program has prepared me with the knowledge, experience, and leadership skills to succeed in the various roles that I will assume along the way."
Sarah Schlabig
SLAM major
"The Sport Leadership and Management (SLAM) program at Miami is one different than any I had considered. Not only does it combine the concepts of business, leadership, and sport, but it goes even further. Through the program I have been taught to critically think about the socioeconomic, ethics, and psychophysical aspects of every sport, not just the major American Sports. SLAM has given me some of my best friends, greatest mentors, and best experiences.
After graduating from Miami I hope to pursue a career in sport event management and marketing."
Matthew Gingras
Kinesiology major
"Choosing to be a kinesiology major was the best decision I have made since choosing to come to Miami University. The professors are all extremely knowledgeable, experienced, and best of all approachable...
"They have a great diversity of backgrounds and are always willing to offer you advice about both class and future endeavors. There are also just enough students in the KNH major so over the four years at Miami you become very close to your classmates which makes studying for exams, doing group projects, and filling out graduate school applications much easier."
A few more facts about me:
Member of Alpha Delta Phi fraternity
Former Vice President of the Interfraternity Council
Currently a student manager at the Rec Center
Studied abroad twice with Dr. Mark Walsh of the KNH department: once to the Himalayas and Mt. Everest Base Camp, and a second time to Machu Picchu."
Aishah Newson
Health Promotion major
"I chose to be a health promotion major because I have always had a passion for the field of health and fitness. I felt that Health Promotion would be a great compliment to this and it has turned out to be such a great experience for me…
"The KNH department has provided me with the knowledge that I need to be able to go out into the field and gain some real world experience. Now that it is my last year here at Miami, I wouldn't change anything about choosing to be a Health Promotion Major. I absolutely love it!"
A few more facts about me:
Group Fitness Instructor at Miami Rec & on Lead Staff
Volunteer Youth Basketball Coach
Study Abroad in Australia with Dr. Massie. In addition to my studies, I also went sky-diving in Australia!
Interning at the YMCA in Hamilton with the Executive Director of Healthy Living & Marketing
Cami Gilman
Nutrition major
"I love dietetics! I couldn't dream up a major that fits me better. I'm really into fitness and health, but even more than that I just love food! Working in the food lab, we get to make delicious treats that are good for you too…
Then in our other classes we learn about how and why they are good for you. There are so many job opportunities for Dietetics majors - from being a Registered Dietician to working in culinary arts. Right now, I'm looking to go to culinary school after graduation."
Scarlett Shader
Health Promotion & Kinesiology major
"I chose health promotion to be a second major during the second semester of my sophomore year. I thought it went along really well with my kinesiology major and getting the classes done in time to graduate was really do-able since a lot of them overlapped...
"I hope to go to physician assistant school and focus on educating my patients about a healthy lifestyle to prevent sickness and injury. Health promotion and the classes I have taken in the field give me the tools I'll need to do this."
A few more facts about me:
I am a research assistant for Dr. Rose Marie Ward in a health psychology research lab through the KNH department.
I am the current PR chair and incoming president of Colleges Against Cancer here on campus.
I am currently working at Elements Wellness center as an intern in Hamilton. I spend about 5 hours a week working hands-on with the clients using things I learned in Dr. Timmerman's "exercise prescription" class. I also get academic credit that counts for my Health Promotions major!
This summer I will be interning at Karmanos Cancer Institute in Detroit, working with patients and gaining experience in order to apply to physician assistant schools.
Brianna Lipscomb
SLAM major
"I had a passion for sports but no idea how I could turn that into a career after graduation. That's when I found the Sport Leadership and Management (SLAM) major the second semester of my freshmen year...
"SLAM is a great mix of the business aspect of sport as well as the culture sport creates. It has helped me develop the necessary leadership skills I'll need to be successful in any sport industry career. SLAM is perfect for me and I'm so thankful Miami has knowledgeable professors to help guide me in my education and on to my career path."
Alex Wold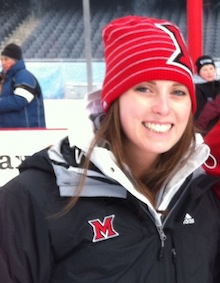 Athletic Training major
"I chose to go into athletic training because I love sports, I've been around them my whole life, and love being able to help an athlete get back to achieving their goals after an injury...
 
"At Miami, I have been working with our various intercollegiate teams since my sophomore year and have had a ton of hands-on learning and great professional experiences. It's one thing to learn about injuries and special tests in the classroom, but it is even better when you are out at practice seeing the injury that was discussed in class occur right in front of you and the steps that happen after an injury occurs.
"Now as an athletic training student, I haven't exactly had the typical college experience. During the week I not only have class and homework but practice with a team as well which can sometimes include traveling or weekend games. Although it is a big time commitment and I have more responsibilities than other students, the opportunities and professional experiences I have had are priceless and have put me in a great place to succeed after I graduate in May and start working as a graduate assistant athletic trainer with a brand new D1 football program in Georgia. Just have to pass my certification exam first."
Michelle Perry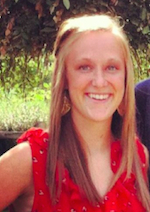 Athletic Training major
"As someone that came into college with a strong desire to get involved in the medical field and an equally strong passion for sports, athletic training has given me the best of both worlds...
Not only am I gaining hands-on experience with Division-1 athletes, but I'm also learning how to become a medical professional everyday in the training room.
Athletic training is such a unique major because the time spent on the field and in the training room is sometimes far more valuable than anything you can learn in the classroom.
Throughout my time as an athletic training major thus far, I have had the opportunity to work with a variety of Miami University athletic teams in addition to spending a semester at a high school. One of my favorite aspects about my major are the strong relationships that I've built with the Certified Athletic Trainers at Miami and the tight-knit group of athletic training students that have become some of my best friends.
 A few more facts about me:
President, Miami University Student Athletic Training Association (MUSATA)
Newcomer of the Year, 2013, Miami University Athletic Training Education Program
Qualifier for the Boston Marathon
Anjali Naik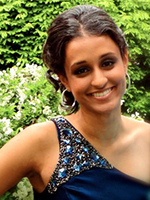 Kinesiology major
"I am a senior kinesiology major and I absolutely love it! Coming into college, I knew I wanted to go to medical school, but I did not want to take the typical route and be a zoology or biology major...
Kinesiology has given me many hands-on experiences, which I will be able to practice in my future profession. Besides having a lot of anatomy classes (which I love), being in this major has opened up my opportunities to participate in research as well. Finally, the faculty is always willing to help students out in any way possible!"
Kelsey Barnes
Health Promotion major
"I have always been passionate about health and wellness, which led me to pursue a major in health promotion. Throughout the past 4 years I have learned more about the importance of health than I ever thought was possible...
"The professors I had prepared me to take what I have learned with me into the real world, and I feel confident to chase my dream of a future career in the health field. I would not change anything about my experience at Miami, especially my decision to be a health promotion major."