Roger & Joyce Howe Award for Excellence in Disciplinary Writing Instruction
The Roger & Joyce Howe Award for Excellence in Disciplinary Writing Instruction honors individuals or teams of faculty who have made concerted and continuing efforts to innovate writing instruction in their disciplines in order to ensure that students in their courses and programs are provided numerous opportunities to write and are supported in these efforts through innovative writing instruction across time. 
There are two award categories: one for an individual faculty member and another for a team of faculty members (2-5 in a team).
Priority will be given to applicants who demonstrate attention to how writing is taught and learned across courses and across time in their department/program, rather than in only one course. However, faculty who have made innovations in a key course in a department or program will also be considered strong candidates for this award.
Funding from Roger and Joyce Howe (both Miami class of 1957) has made this award possible. The Howes have donated over $15 million to support writing at Miami.
Nomination Information
Faculty members may nominate themselves or nominate another faculty member, or nominations may be made by members of the Liberal Education Council (LEC) or Miami Global Plan Writing committees. Students may also nominate faculty or teams of faculty.
Please direct questions regarding the award application process to Elizabeth Wardle, Director of the Howe Center for Writing Excellence and Chair of the MGP writing committee, at wardlee@miamioh.edu.
Eligibility
Each nominee for this award must:
Be a current Miami faculty member in a continuing faculty line (TCPL or tenured/tenure-track). 

Have taught at Miami for at least two years (four semesters) at the time of nomination.

Have demonstrated a commitment to excellence and innovation in the teaching of writing in their courses and programs. 
How to Nominate Individuals and Team Awards
Nominations should include a nomination letter (no more than 4 single-spaced pages) and supporting documents (no more than 20 pages).
The letter of nomination should outline the following: 

What the nominee's (or nominees') innovations around writing have been and why these are innovative (i.e., how they enact best practices in teaching and learning writing, broadly understood);
How these innovations have occurred across time;
How the innovations impact students across courses rather than in only one course; and
Evidence that the innovations have positively impacted students

Documentation to support claims made in the nomination letter may include selections from syllabi, writing assignments, assessment reports, articles describing innovations, student work, student statements, etc. (The total body of supporting materials should be no more than 20 pages).
Selection Process
All nominations will be reviewed by the members of the Local Advisory Board for the Howe Center for Writing Excellence, which also functions as the MGP Writing Committee for the Liberal Education Council. Recommendations for finalists will be submitted to the President and Provost, who make the final selection. 
Notification of the award winners will be sent to the winners, their chairs and deans, and the nominator by mid-March. Those who were not selected will be notified, along with their nominators, by mid-March.
The Award and Recognition 
Awards will be given to an individual or team. 
Individuals will receive $1,000 in professional development funds, while teams of three or more will receive a total of $3,000 in professional development fund to be split among team members. These funds can be used for travel, books, technology, etc. 
Award recipients will also receive a plaque and be recognized at a major awards reception hosted by the President and Provost in March or April.
2023 Award Winners
The Roger & Joyce Howe Award for Excellence in Disciplinary Writing Instruction was awarded for the fourth time in Spring 2023. Discover the winners, and the stories behind their exemplary contributions to disciplinary writing at Miami, below.
Individual Award Winner
Elizabeth Hoover, Teaching Professor, Department of Music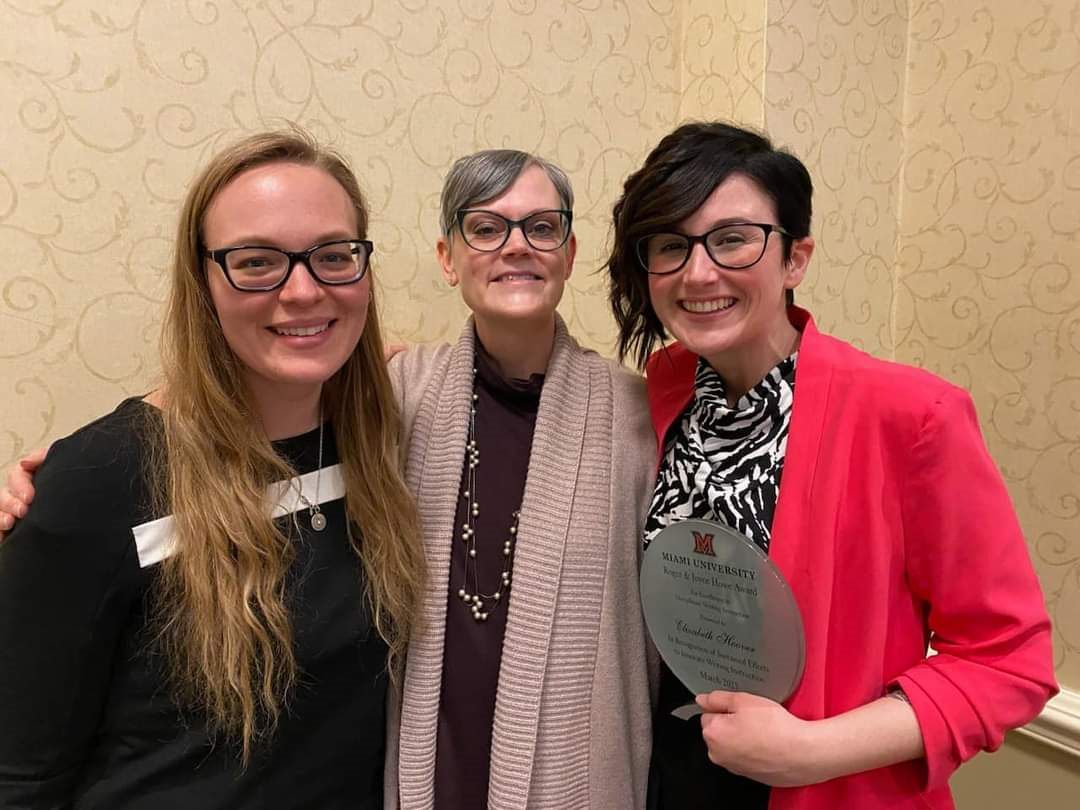 Dr. Elizabeth Hoover richly deserves this award for her innovations and consistent efforts to support the teaching and learning of writing not only in her own undergraduate and graduate courses but across the courses in her department and in the wider university through her work in the Office of Liberal Education. She began her efforts to innovate with writing as a Howe Faculty Writing Fellow in Spring 2019 and continued her work through a year-long Howe Faculty Learning Community focused on innovating graduate support structures for writing. She has innovated, assessed and revised her department's 2-course Advanced Writing sequence, resulting in a portfolio, one of AAC&U's "high-impact practices." She also conducted extensive research with the alumni of her department's MA program in order to entirely revise it. Through the Office of Liberal Education, she invented and implemented the Miami Plan Innovation Lab, helping cross-disciplinary teams completely reimagine what is possible in high-impact courses. The awards committee noted that she apparently works "tirelessly" across disciplinary and divisional lines to promote the role of writing throughout the University.
"Elizabeth Hoover's efforts have led to innovations in writing instruction not only in her own courses and programs but also across Miami. In the Howe Center, we often see and celebrate Howe Faculty Writing Fellows innovating writing instruction in their courses, but it's especially worth celebrating when they move beyond their own individual courses to think more systematically about their programs in the ways that Hoover has done. It has been my immense pleasure to work with her for a number of years and be able to see the impact of her curricular revisions around learning and writing. Her efforts have innovated writing instruction not only in her own courses but across music and the wider university." --Mandy Olejnik, Assistant Director, Howe Writing Across the Curriculum
Team Award Winners
TCE and Educational Psychology:

Nazan Bautista, Jane Lance, Jennifer Mysona, and Meghan Phadke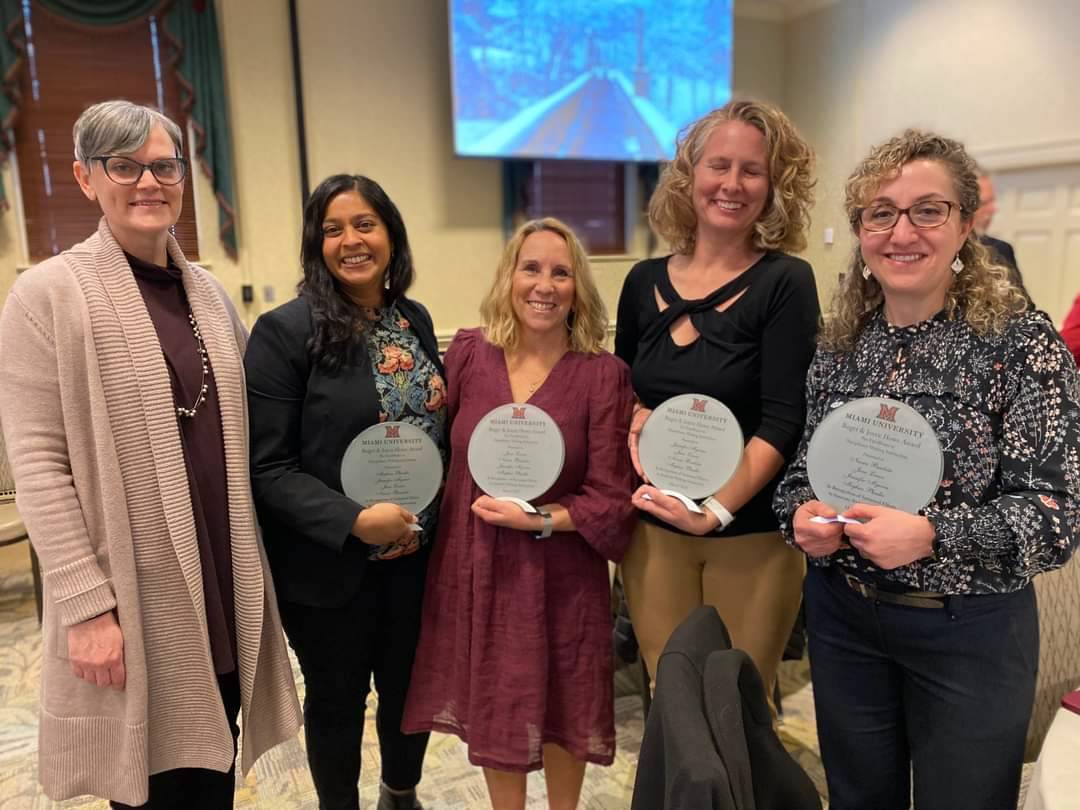 Bautista, Lance, Mysona, and Phadke build on the work undertaken by previous cohorts of TCE faculty members who, over the course several years, have worked to entirely redesign their departmental goals, mission statement, curricula, and assignments. This team sought to re-imagine the key assessment their department utilizes. They determined that their department's previous key assessment did not embody their shared values or effectively measure their student's enactment of threshold concepts across time. Together, this team researched the AAC&U high-impact practice of cumulative eportfolios that TCE students could create and revise across time. They piloted an eportfolios for the undergraduate Primary Education (Grades PK-5) Program. This entailed designing reflective assignments to help students draw connections between their courses, building training for students at various points in the semester, designing a rubric, and doing collaborative assessments of student work. They generously shared what they learned with other teams engaged in eportfolio piloting this spring. Their work not only enacts best practices for assessing learning and writing, but also provides an important model for other departments and programs at Miami.
"Their efforts and success with ePortfolios continue to inspire other faculty at Miami, exemplifying the meaningful work for student learning that can be accomplished through ePortfolios as assessment tools as well as through writing-related faculty learning communities." --Rena Perez, Howe Graduate Assistant Director, Writing Across the Curriculum
Previous Winners
2022
Individual Award Winner
Brian Schultz, Professor and Chair, Department of Teacher Education
Dr. Brian Schultz has consistently worked to help faculty in Teacher Education reconceptualize their courses and programs in order to enact not only best practices around writing, teaching, and learning, but also to engage in a justice-oriented, anti-oppressive program of teacher education.
He began by engaging the faculty in creating a meaningful strategic plan in Fall 2017, and then pushed faculty to engage in small groups to learn how to enact that strategic plan in their courses and sub-programs. He participated along with a faculty team in the Howe Faculty Writing Fellows in Spring 2018, guiding faculty to name threshold concepts that would align with their strategic plan.
He then engaged HCWE leadership to help lead a department-wide workshop on threshold concepts and curricular revision, and has sent four additional teams through the Fellows program. Together, the faculty members in this department, under Dr. Schultz's leadership, have redesigned their area courses to ensure coherence and scaffolding across them, revised the senior capstone class to engage students in using writing to solve real-world problems, and designed and offered an alternative to the state's student teaching performance assessment. This teacher education department is the only program in Ohio to design an alternative to a commercial, for-profit teaching assessment, and it allows students to use writing in meaningful ways to demonstrate their readiness to teach.  
Dr. Schultz regularly teaches the senior capstone course, and has helped lead two HCWE/LEC co-sponsored workshops on how to innovate capstone writing projects. He is also currently working with his faculty to collaborate with the Department of Educational Leadership to re-imagine the Transformative Education master's program. He has published and presented about this work, always in collaboration with his colleagues. While he will argue that his entire department deserves the award, the faculty have nominated him because his leadership has made these widespread changes possible. 
Team Award Winners
Department of Psychology: Drs. Jay Smart, 

Associate Professor;

Jennifer Quinn, 

Associate Professor;

 Carrie Hall, 

Associate Teaching Professor
Drs. Jay Smart, Jennifer Quinn, and Carrie Hall have worked both collectively and individually over time to provide scaffolded, research-supported writing instruction for their students in Psychology.
They participated as a team in the HCWE Faculty Writing Fellows program in Fall 2019, and subsequently revised the assignments, scaffolding, and assessment of their program's writing and research methods course (Psych 294), recognizing that writing should be taught as a developmental process that facilitates growth and thinking rather than simply trying to communicate to an abstract audience. (13 sections of which were offered on Oxford campus in 2021-22, impacting 325 students in one year). They invented a process-based rubric that they call 'state of the draft,' which focuses on growth rather than an end product. 
Smart and Quinn also participated in an HCWE Faculty Learning Community on supporting graduate writers in 2020, where they designed supports specifically for graduate students learning to write as psychologists. Quinn won a grant to work with her graduate students on a project about team writing instruction. 
Smart and Quinn have both shared their instructional innovations at HCWE workshops for other faculty members, and Smart recently gave a department lecture about supporting graduate writers. Smart, Quinn, and Hall co-authored a chapter for the forthcoming peer-reviewed book, Changing Conceptions, Changing Practices: Innovating Teaching and Learning Across Disciplines.
2021
Individual Award Winner
Dr. Mark Sidebottom, Assistant Professor, Mechanical and 
Manufacturing

Engineering

Sidebottom was one of the first faculty members from the College of Engineering and Computer Science to participate in the Howe Faculty Writing Fellows Program. He graduated with the Fellows cohort of Fall 2019. In an immediate effort to put what he learned in Fellows into action, Sidebottom began research on the role of writing in MME courses. He conducted a rigorous audit of existing writing instruction and underlying departmental support for it. The results showed that MME students write in nearly all classes, and in a range of genres. Writing evaluation could be worth as much as 70% of a course grade, with writing assuming particular importance in upper-level and laboratory classes. Typically, Sidebottom found, feedback came in the later stages of a student's writing process.
Equipped with data on how students were writing in MME, Sidebottom worked with others on a comprehensive guide for faculty and students on the threshold concepts of writing in the discipline. He sought to make explicit the conventions of common writing genres like the lab report, the design/project report, the research/term report, and the master's thesis. Sidebottom also collaborated with Kristen Adams and Eric Johnson of the University Libraries to develop appendices on best practices for conducting literature reviews, visualizing data, and citing sources.
In just 2 years as a faculty member, Sidebottom has helped establish a writing standard in the MME curriculum and forged sustainable partnerships with the Howe Center for Writing Excellence (HCWE) and the University Libraries.
Team Award Winners
Department of Economics: Janice Kinghorn, Teaching Professor & Assessment Director; Ling Shao, Assistant Teaching Professor

As Faculty Writing Fellows in 2017, Kinghorn and Shao began a project to understand how writing was being taught in economics classrooms. They designed a survey, documented existing practices and assignments, then presented their findings to colleagues. An insight they found, for example, was that they could not necessarily depend on certain aspects of writing, like how to communicate findings from a statistical model, to be taught by faculty outside the economics department. They realized the department could revise its curriculum to ensure that both College of Arts and Sciences students and Farmer School of Business economics majors were being taught conventions of writing for economics by experts in the field.
With Kinghorn and Shao's leadership, the department identified multiple sites where writing instruction could take place in their major. They developed a scaffolded course sequence (ECO 311, 315, 317 and two 400-level classes) that fulfills the Global Miami Plan's Advanced Writing (AW) requirements. They've also developed an ongoing, iterative, department-wide assessment of student learning that reflects research-based principles and best practices in writing.
What distinguishes Kinghorn's and Shao's contribution to writing instruction at Miami is how they've embraced the principle that writing is disciplinary and learned over time. This illustrates best practice in teaching writing in multiple ways. First, the approach does not assume that writing can be learned in one course or even a set of courses taught by non-disciplinary specialists. Second, it assumes that all students benefit from additional instruction in writing in economics.
2020
Individual Award Winners
Joseph Johnson, Professor, Psychology

Dr. Johnson demonstrates the difference that one faculty member can make when committed to core practices around the teaching and learning of writing in a discipline. He has been working for 15 years to improve disciplinary writing in psychology at Miami on many fronts. He redesigned the PSY 293/294 course sequence required of all majors to a problem-based approach that includes writing in both and created a set of scaffolded materials for the sequence; he conducted training for the graduate students teaching the associated lab sections; he worked on a departmental committee that added a capstone course, PSY 410, to ensure continued writing in the major. His work resulted in an approved Advanced Writing plan for his department. He has since spearheaded an effort to revise the 293/294 curriculum, demonstrating a commitment to ongoing reflection and revision in pedagogical practices. He also founded an undergraduate research journal in the Psychology department, in order to provide a venue for disseminating the best honors theses written by psychology students each year. To support this work, he developed a course in editing and publishing, PSY 394, in which the journal's undergraduate editors could be trained. As the inaugural Director of Undergraduate Research, he designed a two-course sequence, UNV 171/72, where first-year students could conduct and present original research. He also leads the professional development seminar, PSY 603/604, required of all doctoral students, and includes instruction on genres important to the discipline.
Jennifer Kinney, Professor, Gerontology

Jennifer Kinney exemplifies the teacher/scholar model for which Miami is rightly known. She has worked tirelessly with her colleagues in gerontology to support the teaching and learning of writing for gerontology graduate students. Although she has been consulting with the Howe Center for Writing Excellence staff for many years, in Summer 2018 she completed the Howe Faculty Writing Fellows Program with two of her colleagues. As a result of their thinking in that program, she worked to completely redesign the support for writing across the graduate curriculum, pushed students to take the teaching certification offered by CTE, and then in curricular space left by that move,  designed an innovative new course, GTY705, devoted to helping graduate students write in the ways that the field expects, and draft both articles and grant proposals. She created a scaffolded set of assignments to help students understand the rhetorical moves of various academic genres, and work to enact those moves themselves. She and her colleagues created a disciplinary writing guide which the HCWE shares on its website, outlining the interdisciplinary nature of writing in gerontology, and the characteristics of what she describes as the "gerontological voice." She and her colleagues have been highlighted twice in the HCWE's Miami Writing Spotlights, once for overall curriculum redesign, and a second time for her innovations in GTY705. Dr. Kinney is a tireless advocate for her students, and they recognize this, sending in five letters of support for this award, where they praised her transformational, innovative and transparent pedagogy. Dr. Kinney's pedagogical transformations are seeing publication, as she is currently working on a book chapter for an edited collection and an academic paper on writing in gerontology.
Team Award Winners
Department of Philosophy: Keith Fennen, Associate Teaching Professor; 
Gaile Pohlhaus, Associate Professor; 
Elaine Miller, Professor and Department Chair

Drs. Fennen, Pohlhaus, and Miller represent the very best of what is possible when groups of faculty team up to innovate and revise their curriculum in ways that align with their discipline's values and practices, while also recognizing the need to explain to students, parents, employers, and the public at large the value of a degree in the humanities. They have worked tirelessly since May 2018 to implement a "mindful, coherent system of practices for teaching students how to write philosophy."  After completing the Howe Faculty Writing Fellows Program in May 2018 (work highlighted in a Miami Writing Spotlight), they entirely revised their department Advanced Writing course (and then revised it again after teaching it), created and delivered a set of pedagogy workshops for their full faculty, articulated a set of statements and resources about writing in philosophy that they use in their courses and share more broadly via the HCWE website, undertook serious curriculum redevelopment for their complete undergraduate program, and are implementing a portfolio requirement for their majors to showcase their work--and which will also be used for a more comprehensive departmental assessment of writing and critical thinking. All of this work is being coupled with a new career liaison position the department has created in an effort to help students recognize how the reading and writing skills they have cultivated in the philosophy major will lead to a meaningful career pathway. Not only this, but Elaine, Gaile, and Keith are also publishing about their innovations: they are writing a chapter for a forthcoming edited collection, and are also drafting a textbook about teaching writing in philosophy.