Apr 28, 2021
Tammy Kernodle and David Berg named University Distinguished Professors
By Susan Meikle and Margo Kissell, university news and communications
Tammy Kernodle, professor of musicology, and David Berg, professor of biology and professor of biological sciences, have been awarded the title of University Distinguished Professor by Miami University's board of trustees, effective July 1.
Established by the trustees in 1981 to attract and retain eminent professors, the title includes an annual stipend for conducting research and other professional activities. 
University Distinguished Professors have national and international stature with demonstrated recognition and projected high level of scholarly productivity in the future. They must be a teacher of demonstrated excellence and a contributor to the life and mission of Miami University.
The call for nominations for the University Distinguished Professor Award is issued every other year, alternating with the Distinguished Service Award. 
Tammy Kernodle
Tammy Kernodle (image by Jeff Sabo)
Kernodle — a professor of musicology and affiliate faculty of American studies, black world studies and women, gender and sexuality studies — is one of the most respected scholars in her field, according to nominators from Miami as well as outside the university.  
"She has a stellar reputation in the field of musicology," a nominator wrote, "but more than that, she is widely admired as a person of great integrity and caring who seeks to make higher education a more welcoming place for all."  
Kernodle is well known for her pioneering studies of African American women musicians. A nominator called her monograph, Soul on Soul: The Life and Music of Mary Lou Williams, a landmark study.  
"More than an engrossing chronicle of the pianist and composer, it is a model of scholarly biography and a significant contribution to gender studies, Black studies, and jazz studies."  
For the past three years, Kernodle has served as president of the Society for American Music.  
Her "status as a preeminent figure in the realm of Black music is evident through her consulting work for the Smithsonian Institution's National Museum of African American History and Culture from 2012-2016," a nominator wrote.  
She was featured on-screen in the 2019 documentary film, "Miles Davis: Birth of the Cool," part of the American Masters series on PBS that was later streamed on Netflix. As of October 2020, its most-viewed documentary had garnered 52 million views, a nominator wrote.  
"These engagements prove that Tammy's voice is sought after on a national level, and that her perspective on Black music and culture, which has been informed through decades of in-depth research and study, is highly valued," a nominator said.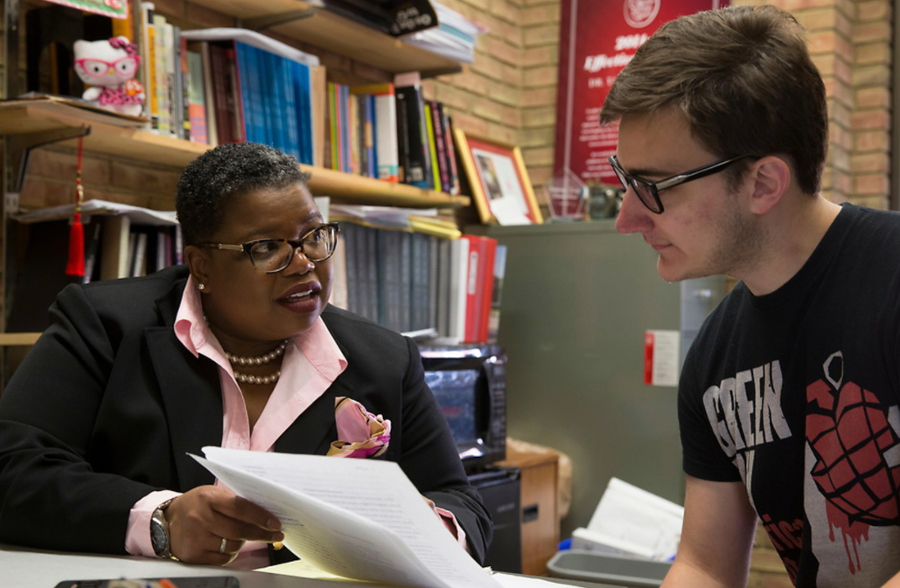 Kernodle was honored with Miami's Benjamin Harrison Medallion in 2018 and the Effective Educator Award in 2014.
A nominator said modern musicology engages "virtually every aspect of culture, and it embraces scholarly apparatus from a raft of fields: critical theory, gender studies, political theory, psychology … This is the environment in which Kernodle flourishes, to discover how a thing in one universe affects a thing in another universe…"  
She was honored for her achievements and teaching with Miami University's Benjamin Harrison Medallion (the highest honor Miami bestows) in 2018 and the Miami University Alumni Association's Effective Educator Award in 2014.   
Kernodle is a tireless advocate for student success and an active mentor to many, a nominator said. "She spends a great number of hours in her office, in one-on-one meetings with students, not only going over material from class, but also providing general advice. In other words, her efforts in communicating with students do not end at the classroom door."  
Kernodle, who received her doctorate in music history from Ohio State University, joined Miami in 1998. During her career, she has been a visiting scholar to such places as the College of Music at Florida State University. Most recently, she conducted two days of activities via Zoom, "but the virtual interactions didn't diminish her impact."
David Berg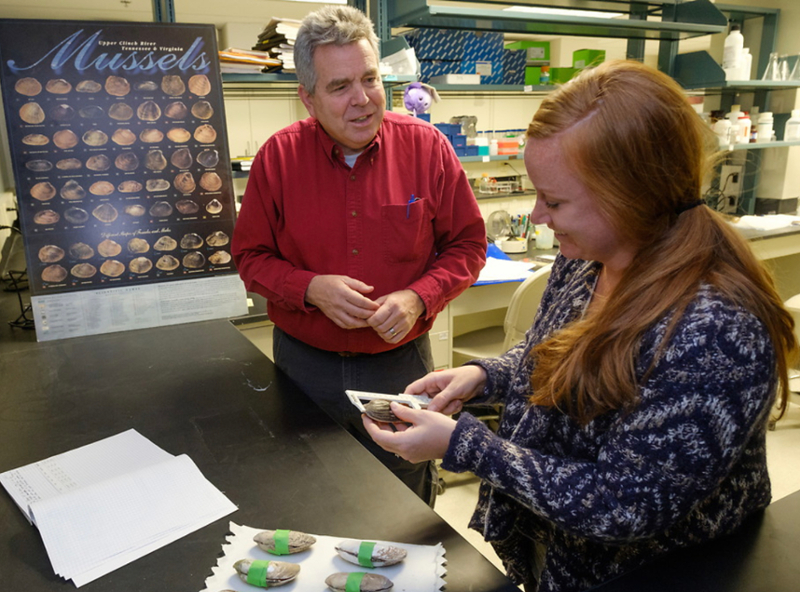 David Berg and a student measure mussel shells (photo by Scott Kissell).
Berg researches the evolution and conservation of biodiversity with a focus on freshwater mussels, which are among the most endangered animals in North America.
His expertise and stature in conservation genetics have been sought out frequently for species status assessments for endangered species decision making, a nominator said.  
His research is highly impactful and includes describing five new species in the amphipod genus Gammarus and providing critical information for the listing of three native species (including one native freshwater mussel, the Texas Hornshell) on the Endangered Species List, a nominator said.
He has been awarded more than $4.07 million in extramural grants from agencies including the National Science Foundation (NSF), the U.S. Fish and Wildlife Service, the New Mexico Department of Game and Fish and the World Wildlife Fund. He has also received more than $400,000 in internal grants.
"What is especially impactful in Dr. Berg's scholarly work with freshwater mussels and other aquatic organisms is that he brought the science of population genetics to many government agency biologists who had little knowledge of how to pair measures of genetic diversity to population dynamics," a nominator said.
Berg has maintained a vibrant and well-respected research program with outstanding productivity despite his heavy teaching load at the Regionals, according to several nominators.
Berg and his Aquatic Biodiversity and Conservation Laboratory group explore the genetic and community diversity of invertebrates that live in isolated streams throughout the South and the desert Southwest of New Mexico and Texas. 
The conservation status of these species is often undetermined and "the work that Dr. Berg and his students perform to determine the genetic structure of these populations is of great interest to the U.S. Fish and Wildlife Service and many state fish and game agencies," a nominator said. His research team provides the data these agencies need to evaluate how close to extinction these species might be. 
Berg collects a freshwater mussel in the field (right).
His work has resulted in more than 60 peer-reviewed publications, averaging four publications per year for the past four years (and about 20 of which are co-authored with undergraduate students). His papers appear in high impact journals, including Global Change Biology, Molecular Ecology, and Conservation Biology.
This productivity would be commendable for a faculty member at a university "with far less of a teaching commitment than Dr. Berg's," a nominator said.
His academic and research mentoring has included three postdoctoral scholars, 12 doctoral students, and eight master's degree students. He has also mentored more than 125 undergraduate research students.
He serves as chief departmental advisor in the department of biological sciences at the Regionals, and has been a leader in curriculum development and implementation for the applied biology major which launched in 2018 — the first science bachelor's degree offered fully at the Regionals campuses.
The goal was to reach 30 majors after the first year of the degree program. After two years, there are now more than 100 applied biology majors.
Berg's signature contribution to undergraduate experiences is co-directing the NSF Research Experience for Undergraduates (REU) focused on "Ecology in Human-Dominated Landscapes" that has been running since 2001. Known as Miami's "Eco REU," this competitively funded program brings a group of undergraduates from all over the country to Miami's Oxford campus in the summer.
The program, supported by $1.6 million over 20 years, has served 174 participants from 119 institutions, with 54% of participants from minority groups typically under-represented in the sciences.
Berg is a founding member of the Freshwater Mollusk Conservation Society executive committee. He serves as a co-editor for the society's journal Freshwater Mollusk Biology and Conservation (2017-present) and is co-chair of the society's publications committee. He was associate editor of American Midland Naturalist from 2005 to 2017.
He has been recognized for his teaching and service with numerous awards, including the 2017 Miami University Distinguished Scholar Award, the 2017 Faculty Excellence Award for Research from the Southwestern Ohio Council for Higher Education, the 2012 Faculty Excellence in Service Award on the Hamilton Campus, among others.
"What I find particularly extraordinary when reviewing Dr. Berg's career," an external nominator said, "is his ability to manage a first-class research program, mentor graduate and undergraduate students, and serve the university and the wider community," given his heavy teaching load at the Regionals.