Miami softball pitcher Courtney Vierstra focuses on striking out batters. She threw a perfect game on April 11, an 8-0 victory over the University of Akron.
Photo: Scott Kissell
Apr 22, 2021
Miami student-athletes, coaches excited to be competing after tough pandemic year
By Margo Kissell, university news and communications  
They're back playing on the baseball and softball fields this spring, enjoying success after the pandemic abruptly canceled their seasons last year.  
These senior field hockey players have won every MAC title during their time at Miami. 
For field hockey, which saw its competition postponed from fall to spring due to the threat of COVID-19, it's shaping up to be a magical season. The RedHawks just clinched the MAC title — earning an automatic bid to the NCAA tournament.  
"What is exciting is that Miami Field Hockey was the first Division I program to punch a ticket to the big dance!" said senior forward Allie Grace Joyner, who can't wait to learn this weekend who they'll be playing next.
"This season has been incredible and one that we will all never forget," Joyner said. "I think what I will remember most about this year is how my senior class helped to make Miami Field Hockey history by winning the MAC championship title and earning an NCAA tournament bid four years in a row!"  
A potential MLB Draft pick
For the baseball team, excitement is building around junior pitcher Sam Bachman, a potential first-round pick in this summer's Major League Baseball Draft.  
These days, it is not unusual to see several scouts — clutching radar guns — filling the stands when Bachman is on the mound. One of his fastballs was clocked at 101 miles per hour.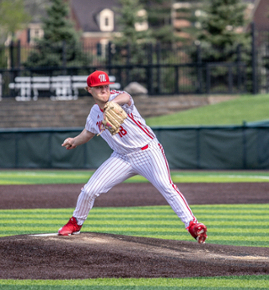 Pitcher Sam Bachman has drawn the attention of MLB scouts this season.
Head Coach Danny Hayden said Bachman has been a lot of fun to coach over the past three years. He has watched the young man grow on and off the field and develop into a team leader. He described Bachman as "an incredibly hard worker who has earned everything coming his way."  
Hayden said having the team back on the field has been so important to everyone. 
"These guys, like all of us, have been through a lot over the last 14 months. It has been very satisfying to see them compete again," he said. "It's cool to see them worry about a 2-2 slider instead of COVID. I think our guys have a heightened appreciation for how special 'normal' is." 
Focusing on the present … and throwing strikes
Senior softball player Courtney Vierstra also is thankful for things returning to normal after the way the season grinded to a halt last spring.  
"I took time to reflect and used that time to work harder. My brother (Marietta College first-year quarterback Connor Vierstra) was my biggest help through that time. He had his own goals and he kept me accountable," she recalled.
 They would run every day or work out together in their garage.  
"He may not know it, but he got me through a very tough time," she said. "It made me value the time I have left and appreciate the opportunities I'm given when I am given them. Now I focus a lot more on the present."  
Courtney Vierstra will graduate in May but she'll be back on the field next season while pursuing a master's degree (photo by Scott Kissell).
At the present, things are looking good for Vierstra and her teammates.  
She was recently named MAC Pitcher of the Week and National Fastpitch Coaches Association Co-Pitcher of the Week after throwing a perfect game on April 11, an 8-0 win over the University of Akron. The RedHawks are leading the MAC with a 17-1 record.  
Vierstra said last season's challenges brought the team closer together. 
"Both our motivation and eagerness were at an all-time high, and we were itching to get back on the field with each other and play."  
There is another positive that came out of the pandemic for the star pitcher.  
Vierstra will graduate this May with a degree in integrated English language arts education but plans to play softball for Miami again next year (to make up for the lost 2020 season) while she pursues a master's degree in educational psychology.  
"I am able to get my master's degree while doing it," she said, "so it's a win-win!"  
First, third and coach of the year
The men's swimming and diving team celebrated winning the MAC at home.
The men's and women's swimming and diving teams recently wrapped up their season on a high note. The men finished first in the MAC and the women third (their highest finish since 2014). Head Coach Hollie Bonewit-Cron was named men's MAC Coach of the Year.  
What a difference a year makes. Bonewit-Cron recalled how last spring they were competing at the National Invitational Championships in Cleveland when it became clear the pandemic would have an impact on their season.
"We had just finished our prelim session when we heard that some teams were being sent home based on the decision from their institution," she said. "Later that evening, it was announced that the competition would be canceled following the finals that night."  
The abbreviated season "reignited our goals for this season," she said. Capping it off by doing well in the MAC was their goal.
"We had a very focused group of young men and women who were committed to the process of their training and, ultimately, the MAC Championships."