Partnerships for Business and Industry
Miami possesses a broad range of talent and research infrastructure to partner with business and industry to provide:
Basic and applied research and development
Technology development and commercialization
Entrepreneurship, business, and marketing consultation
Policy and management development and consultation
Educational and training opportunities
Student talent for internships, co-ops, and employment pathways
Analytical chemistry, genomics, and imaging services
Corporate and Foundation Relations
Miami's Corporate & Foundation Relations team is your front door to making connections and building partnerships throughout campus.
Corporate and Executive Education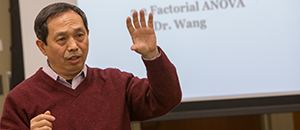 If you represent a corporation or are a business professional seeking credit or non-credit offerings in management and leadership, you can connect with Miami through our nationally ranked Farmer School of Business or through our Corporate and Community Institute.
Career Services offers several ways to effectively connect business and industry leaders with potential candidates at Miami, one of the nation's outstanding undergraduate institutions.