Management, Sales and Consulting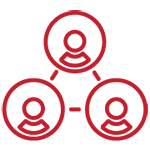 Description
The Management, Sales & Consulting Cluster focuses on careers that involve solving business-related problems for organizations and creating value through the selling, management, and transportation of goods and services. This cluster explores ways you can utilize an interest in communication, persuasion, problem solving, and leadership to explore a wide variety of opportunities in industries that sell products and services to customers. Positions will vary widely depending on the type of organization and resource being sold.
Possible Job Titles
Account Executive
Athletic Director
Business Development Manager
Client Relations Manager
Consultant
Inside Sales Manager
Management Trainee
Outside Sales Manager
Project Manager
Salesperson
Supply Chain Manager
Talent Acquisition Lead
Employment Services Coordinator
Event Planner
Recruiter
Check back in 2021 for more programs!