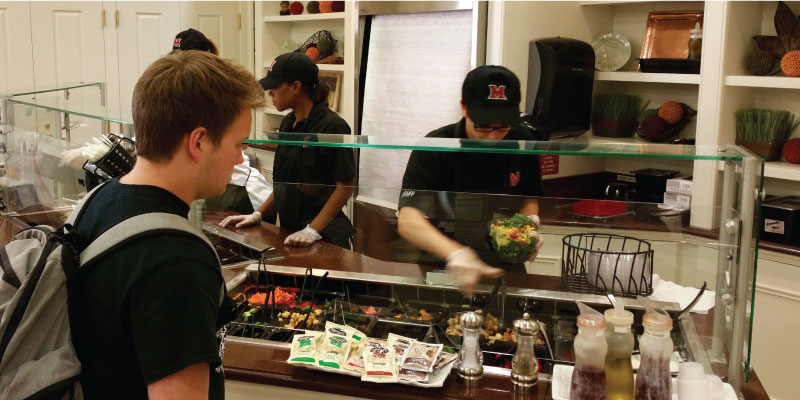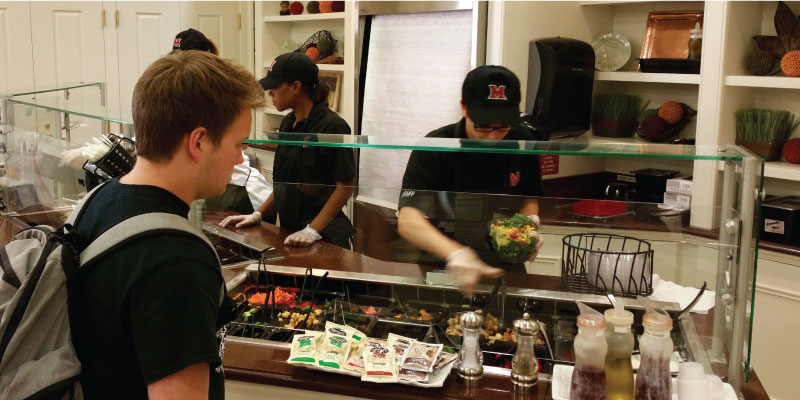 Students visit the salad bar at Dividends.
Sep 12, 2018
Miami ranks in top 25 for campus dining offerings
By Shavon Anderson, university news and communications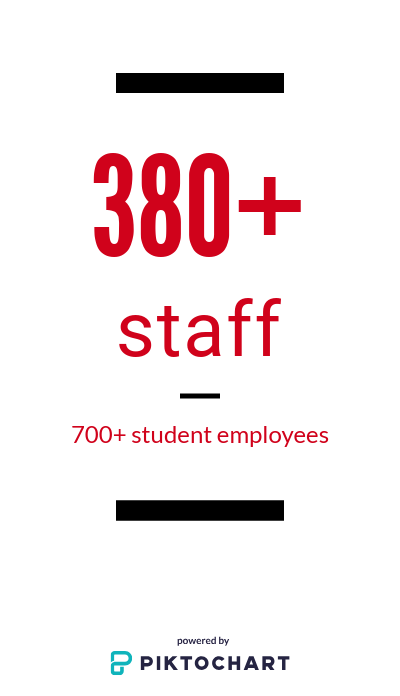 OXFORD, Ohio — Where do you go for that late-night snack? How about a quick break in between classes?
Whether it's a grab and go pack, a toasted roll or a burger sizzling on the grill, feeding the Redhawk family takes an army. 
"We open up here at the Culinary Support Center at 4 a.m.," said Geno Svec, senior director of food and beverage for Miami University.
Recent rankings place Miami in the top 25 Best College Dining Halls, according to College Consensus. College Consensus analyzes data from more than one dozen college ranking publishers and combines that with thousands of student reviews from other sources.
"Our culinary program is very strong, but it's not where I want it to be yet," Svec added. "Top 25 is pretty cool. I'd like to be in the top five," he said.

"We cook in the moment, and I don't think a lot of people understand that. It's made fresh every day," said Svec.
Miami touts its commitment to locally-sourced products and vendors, which at times can account for 25 percent of the annual budget. From honey and ice cream to all-natural beef and chicken, some of the multigenerational family farms used by Miami are a few short miles from campus. Partnerships between businesses managed by alumni are a bonus.
Miami even has its own coffee blend, Miami Grind, courtesy of Rooted Grounds Coffee Co., a regional brand owned by Miami alumni.
 The Culinary Support Center also creates a wide range of unique dishes, including vegan desserts for the dining commons. But, the devil is in the details. In addition to meticulously developed calorie counts and allergen badges on menus, Svec says he's proud of bringing in two dietitians to specifically work one-on-one with students who have unique needs.

"A lot of the larger universities don't do it to the detail that we do," said Svec. "In some cases, they don't do it at all."
In the two years he's been at Miami, Svec has worked to transform dining services by rolling out new projects, expanding services and revamping facility plans.
Some new changes this fall:
Red Zone (Armstrong Student Center) added wings to its menu.
Starbucks opened on the ground floor of Withrow Hall.
Haines' switched to Mediterranean-inspired dishes.
StrEATS (attached to Mein Street) features Asian-style street food.
Maplestreet Commons expanded.
As far as Svec's top three eateries, you can catch him at Red Zone, grabbing something at Toasted Bagel or inside Western's dining hall.
You can find a full rundown of changes to dining services, including menus, closings and locations on the dining services blog and the main dining services website.