Miami sophomore zoology major Ty Cooley searches for amphibians at Shaker Trace Wetlands in Harrison, Ohio
Photo: Jeff Sabo
Oct 17, 2019
Students from around the country conduct research at Miami
NSF-funded program gives access to Miami faculty and state-of-the-art resources
By Alicia Auhagen, university marketing and creative services
They ventured from Iowa, North Carolina, Puerto Rico and other communities to study at Miami University during the summer as part of the NSF-funded Research Experience for Undergraduates (REU) program. Miami students also are eligible to apply to the program. Some undergraduate researchers came to take advantage of equipment and resources that might not be available at their universities. Others came to be mentored by a specific faculty member. They all gained valuable research experiences, connections and the thrill of scientific adventure.
Here are a few of their stories.
* * *
Laser mystique
"Penelope" is a laser-based sensor created by professor Samir Bali and his dad. It measures the properties of opaque substances.
Samir Bali looks back fondly to 2006 when his baby, of sorts, was born. You won't find arms, legs or even a stray hair on Penelope. Think more twisting wires, camera lenses and laser beams.
Despite the seemingly breakneck speed of technological advancement, current methods of measuring turbid (opaque) substances' properties are not foolproof. With the help of his dad, Bali, a physics professor at Miami, built and refined a laser-based sensor to solve this problem.
A prototype like this doesn't come with an instruction manual.
Before visiting undergraduates Menaka Kumar, from North Carolina State University, and Sydney Rollins, from Whitman College in Washington, could begin investigating turbid media, they first needed to understand how the device works and develop a standard process for using it.
"She [the sensor] was kind of making us mad. We gave her a name so we could call her something," said Rollins.
"I was introduced to a physics research lab at the age of 19, and I'll never forget the sights and sounds when I first walked in -- the green, red and orange colors of the lasers, the quiet humming of the vacuum pumps. I remember feeling this powerful sense of intrigue. I enjoy recreating those moments for myself by reliving them with my undergraduate researchers.
-- Samir Bali
Miami graduate student Vinoin Vincely (left) and undergraduate Sydney Rollins (second from left) prepare "Penelope" for testing a melamine sample.
Penelope, they quickly realized, requires extensive cleaning. Even the smallest speck of dust skews the results.
After weeks of testing, Kumar and Rollins hoped to turn their attention to melamine – a compound that is virtually indistinguishable from milk when diluted in water. It's used to produce glues, adhesives and other plastics.
In 2008, melamine was discovered in a Chinese company's infant milk. Melamine artificially inflates the protein content of a substance and has nearly the same particle size as milk, making it hard to detect. Infants across China who consumed the melamine-contaminated milk developed bladder stones, and several died. The scandal shocked the world and pointed to a need for better contamination detection methods.
"Chemical detection methods are very targeted," Bali explained, "but you need to know what you're looking for."
As with many opaque substances, it's challenging to determine the properties of liquid melamine. Penelope, they hope, can shine light on this substance to prevent future contamination.
Chemical change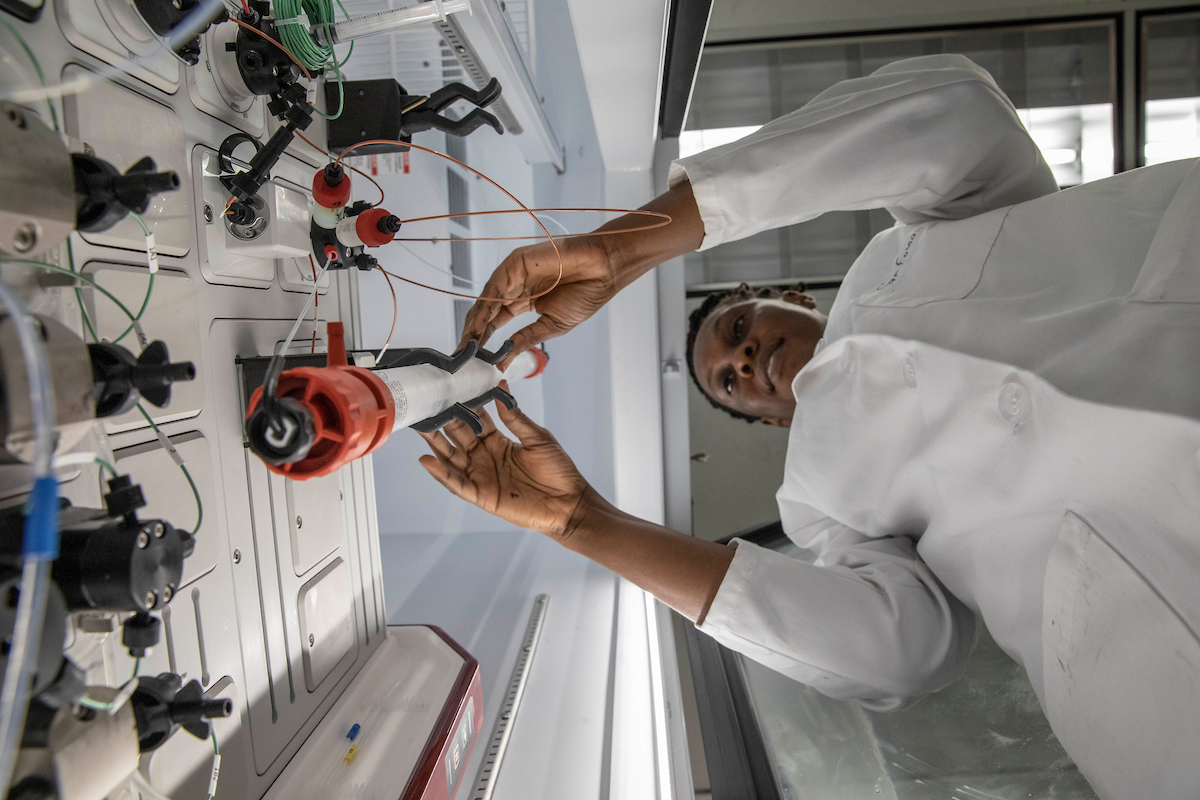 Miami graduate student Yaa Amankwah monitors the AKTA FPLC (fast protein liquid chromatography) instrument, which is used to separate proteins.
REU student Echo DeVries, a senior at Clarke University in Iowa, was mentored by Hang Ren, Miami assistant professor of chemistry and biochemistry this summer. Their project: measuring the distribution of surface charge on electrodes.
Echo DeVries (front) and Hang Ren (back) use a potentiostat to measure the voltage or current of their sample.
An electrode conducts electricity and allows reactions to occur on its surface when electricity is applied. These electrodes play a key role in electrocatalysis, the process of using electricity to drive chemical reactions. For example, an electrode can be used to convert water to hydrogen fuel. Hydrogen is a clean fuel, which produces no CO2 emissions – the same fuel NASA uses to launch rockets. However, the generation of hydrogen on the electrode surface is not uniform. Hot spots exist that efficiently catalyze this reaction.
That's where Ren and DeVries' research comes in.
Different electrode surface charges could cause electrochemical reactions to behave differently. That's why Ren and DeVries analyzed electrodes' properties and surface charges.
Down the hall from Ren's lab, Kevin Ruiz, an REU student from the University of Puerto Rico, explored a different area of chemistry research. Alongside his mentor Andrea Kravats, Miami assistant professor of chemistry and biochemistry, and graduate student Yaa Amankwah, Ruiz studied molecular chaperones, which are proteins that assist in maintaining cellular integrity by folding and unfolding proteins that are misfolded. Incorrect folding of proteins has been linked to degenerative diseases such as Alzheimer's, Parkinson's, cancer and Type 2 diabetes. Kravats hopes her lab's work can one day be used to establish new cancer treatments or therapies.
" Students are eager to learn and tend to get involved early in their undergraduate careers here, giving them an excellent opportunity to excel in their studies.
-- Andrea Kravats
Andrea Kravats (back) helps Kevin Ruiz (front) measure the optical density of the cells he grew.
At the University of Puerto Rico, Ruiz is a chemical engineering major, but his goal is to become a biochemical engineer. His summer at Miami provided an opportunity to dig into research he's excited about.
"I already work with protein purification in Puerto Rico, but not the background of why the protein purifies, how it purifies, how we can separate proteins from others. It has been a really good experience," he said.
Wetland wonders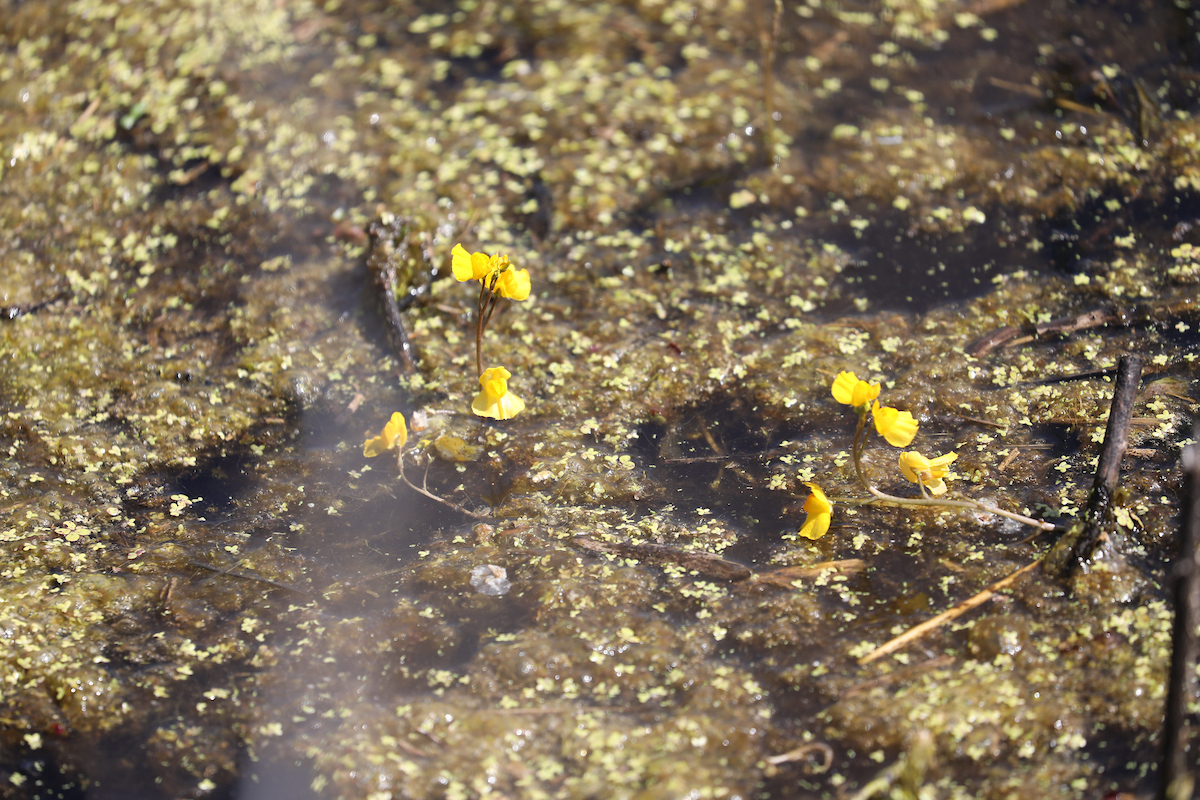 Organisms large and small thrive at Shaker Trace Wetlands in Harrison, Ohio.
Ty Cooley, a Miami University sophomore zoology major, hunched eagerly over a bucket filled with pond water from Shaker Trace Wetlands in Harrison, Ohio, about 20 miles southwest of Oxford. Cooley, originally from New York, gently swirled the bucket's contents, revealing a host of creatures swimming beneath the algae: mayflies, water mites, water boatmen, glass worms, water scorpions. His eyes lit up as he dug deeper into the bucket and pulled out a large dragonfly larva.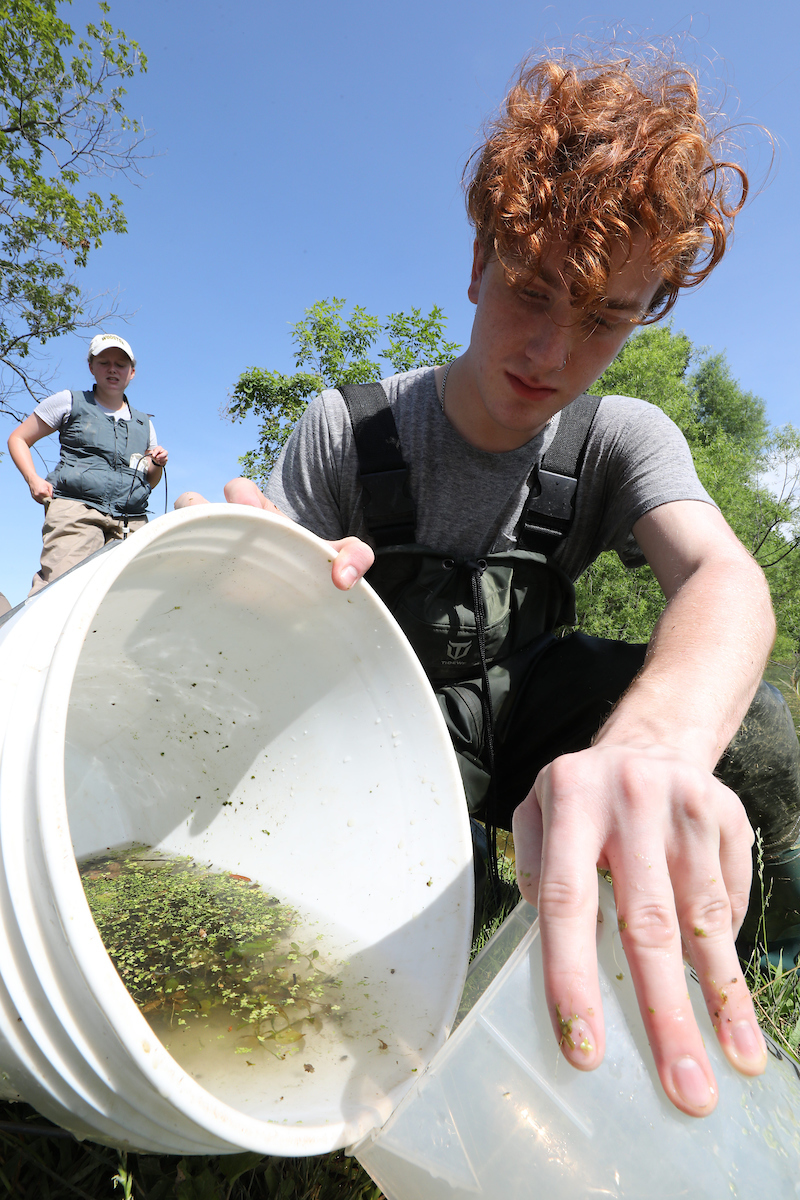 Ty Cooley transfers organisms between buckets as Jess McQuigg looks on.
"You see this?" he said, pointing near the arm. "This is where the mouth is located. Let me see if I can get him to- Whoa!" The dragonfly suddenly expanded and thrust an arm-like tongue outward.
Cooley maintained his grip.
"They will shoot out like that, grab stuff, and pull it in. It's like an alien!"
He's been bitten by water scorpions. Poked by dragonfly larva. Burned in the scorching July sun. Such is the life of a field researcher, but it is, without question, one chosen gleefully.
Cooley and his mentor, graduate student Jess McQuigg from Mount Vernon, Ohio, are both researchers in biology associate professor Michelle Boone's amphibian lab. This summer they studied different types of macroinvertebrates in 21 different wetland systems around Hamilton, Butler and Preble counties. Macroinvertebrates are visible to the naked eye but lack a spine. As part of the lab's larger project, they wanted to see how certain macroinvertebrates affect the density of a pathogen called Batrachochytrium dendrobatidis (Bd or amphibian chytrid fungus for short) in a given wetland.
Bd is responsible for a significant number of amphibian declines and extinctions, and many sources call it the most devastating pathogen in wildlife history. According to research in Boone's lab, this pathogen exists in about 30% of wetlands in southwest Ohio.
But the team is optimistic that they'll discover a method for controlling the pathogen. One of the lab's big goals is to understand how wetlands can be created that are more naturally resistant to Bd.
As the weather turns colder, Cooley and McQuigg will be back in the lab performing DNA analysis to determine the locations and quantities of the pathogen – what McQuigg refers to as their "fall and winter sport."
Photography by Jeff Sabo