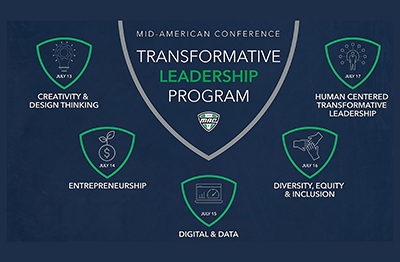 Aug 20, 2020
Student-athletes participate in MAC Transformative Leadership Badge Program
Miami instructors lead sessions on diversity, equity and inclusion
By Margo Kissell, university news and communications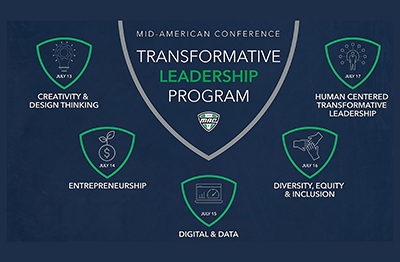 Miami University senior Priyana Kalita was among 316 student-athletes who attended the inaugural Transformative Leadership Badge Program recently. The Mid-American Conference (MAC) hosted it via Zoom.
"I would have for sure loved it to be in-person, but it was a good experience learning about five different aspects of leadership in five days," said Kalita, a double major in sport leadership and management (with a concentration in coaching) and women's, gender and sexuality studies.
Kalita, who is from Assam, India, plays for the varsity women's tennis team and was among 57 Miami student-athletes who participated in the weeklong event.
The July 13-17 program, focused on holistic human development, was created at the recommendation of Miami President Greg Crawford and with the unanimous endorsement of the MAC Council of Presidents.
"This passion for student-athlete success is at the heart of the MAC," Crawford said. "The educational initiative demonstrates the powerful and collaborative spirit of our unique and forward-looking conference."  
The badges included those in entrepreneurship, digital & data, creativity & design thinking, diversity, equity & inclusion and human-centered transformative leadership. Student-athletes earned a badge for attending each session. Completing all five earned them a certificate in transformative leadership. 
Twenty professors from several universities volunteered to teach the sessions. Miami's Rodney Coates, professor of global and intercultural studies; Bennyce Hamilton, Regionals director of diversity and multicultural services and deputy Title IX coordinator; and Randi Thomas, director of institutional relations, led three, two-hour sessions on diversity, equity and inclusion for 225 student-athletes.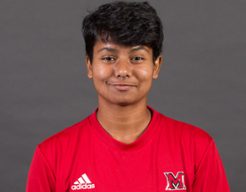 Miami student-athlete Priyana Kalita
Kalita, a co-leader of Black Lives Matter in Oxford, said she really enjoyed that particular session.
"Dr. Rodney Coates, who was one of the instructors for the session, made it a friendly and easy environment for everyone to talk in," she said. "One of the things that (he) emphasized upon seeing the current racial injustice and work and the fight for justice is that people are protesting NOT to be violent but to make a change and earn the rights and justice they deserve," she said.
The program's goal was to empower the student-athletes to identify their own strengths and weaknesses, grow in personal leadership and establish habits of thought and action that will position them for success in any environment.
Coates said he hopes the student-athletes came away with an appreciation for the range of issues regarding diversity and inclusion, including their role or place in diversity, the meaning and importance of allyships, as well as biases and privilege "and the reality that we all have privilege, both earned and unearned."
Miami's Randi Thomas, Bennyce Hamilton and Rodney Coates led sessions on diversity, equity and inclusion.
He added, "We concluded that these conversations are not about naming, shaming or blaming but in encouraging athletes to use their unique positionality on college campuses to be a voice for change."
Thomas said it was uplifting to see the student-athletes so engaged in the conversations. He's glad they found it a valuable experience, based on their comments afterward.
Hamilton called the MACtion program for student-athletes outstanding.
"We got the opportunity to see our 'student' athletes in action off the playing field. The athletes were engaged, knowledgeable and had great ideas and input," she said.
"I hope that Miami student athletes took another step toward developing strategies for allyship and reaching across differences to come up with solutions."