Cruising on campus: A new meaning to 'unlimited mobile'
Neil Danielson, professor of chemistry and biochemistry, doesn't have to worry about parking since he commutes to campus on his vintage English Raleigh bicycle.
Photo: Scott Kissell
Oct 08, 2015
By Margo Kissell, university news and communications, kisselm@miamioh.edu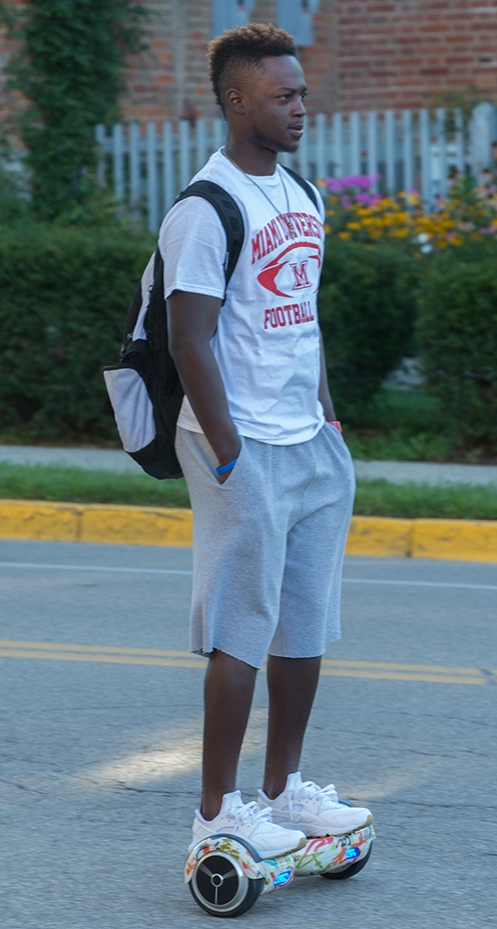 Senior Fred McRae on his electric scooter (aka "hover board")
As Neil Danielson commutes by bicycle to Miami University's campus, he occasionally sips coffee from a cup he keeps in a holder mounted on his handlebars.
The longtime professor of chemistry and biochemistry pedals two and a half miles each way on his vintage English Raleigh bicycle that's also equipped with rear baskets to secure his laptop and paperwork. He's been getting around campus this way for three years, logging 1,500 miles annually and reaping health benefits along the way.
"I never have to worry about parking," he said.
Miami senior Fred McRae prefers a different method of getting to class.
He zips around on a futuristic-looking, self-balancing electric scooter.
The two-wheeled devices — resembling a cross between a skateboard and a hands-free mini Segway — popped up on campus this semester and are all the rage with several of the RedHawks football players. McRae said he and eight teammates ride their scooters together Uptown on Thursday nights.
"The best thing about riding it around campus is how fast I get to class," said McRae, a sport leadership and management major and a wide receiver. "It's more convenient than walking, especially when you're an athlete and are sore most of the time."
On any given day, students, faculty and staff are using all sorts of creative ways to get from point A to point B. They have selected modes of transportation that work best for them.
Skateboards, a perennial favorite, are the top choice for some. Traditional Razor scooters still dash by. You may even spot an occasional unicycle, and don't forget the walkers. There are lots and lots of walkers.
But where are the hover boards?
It's been 30 years since the 1989 "Back to the Future Part II" sequel sent Marty McFly and "Doc" Brown into the future — arriving on Oct. 21, 2015, and discovering manufactured hover boards in use.
Not quite reality at this point in time, but …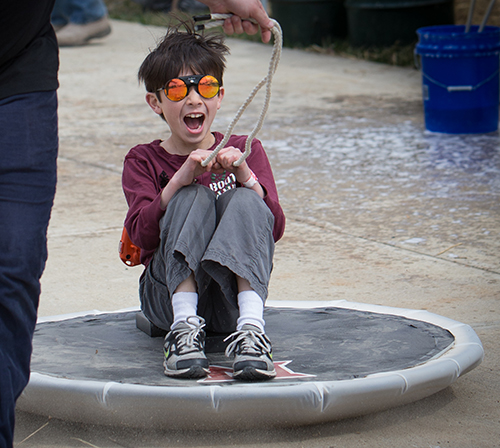 Riding the hovercraft at the 2014 Oxford Kinetics Festival.
Last year, a team of four Miami engineering students in a senior capstone class designed and built a couple of hovercrafts that could carry up to 250 pounds in weight. The saucer-like devices, each powered by a leaf blower, were popular with visitors at the Kinetics Festival, especially the children who rode them while tethered to a rope pulled by Miami engineering students.
While entertaining to watch, Tim Cameron, professor and chair of mechanical and manufacturing engineering, doesn't believe college students will be riding hover boards or hovercraft to get to class anytime soon.
"It's technically possible now, but I don't think it will be practical (in terms of cost and safety) for decades," he said. "To do it magnetically would be safer but would probably require an inground track. To do it mechanically requires a momentum exchange with air (like the hovercraft), but the power requirements are high and there are problems with noise and safety."
The high velocity air exiting the bottom can kick up dust and debris like a lawn mower, Cameron added.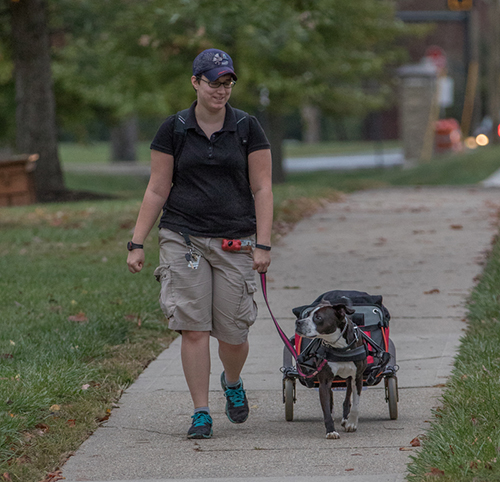 Naomi Cole and Rhududu commute to campus on foot.
There is no denying, however, that other advancements have made it easier to get around Miami in 2015 — or at least more fun.
Already known for its walkable campus, new bike lanes and multiuse trails make it easier.
Campus operator Naomi Cole enjoys walking with her service dog, Rhududu, who tows a small cart containing her blanket, toys and treats. She lies on the blanket at Cole's feet while she works her shift at Hoyt Hall. They are a familiar sight to commuters who see the duo walking along Patterson Avenue each workday morning and evening.
"I really like the exercise," she said.
Other ways to travel, now and in the future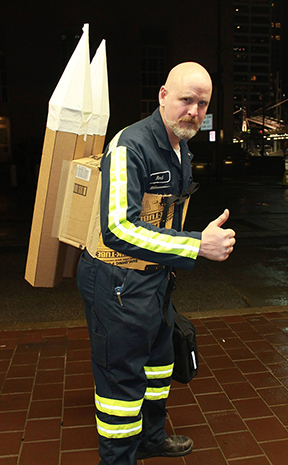 Rocket Man Rod Northcutt 
Rod Northcutt, an associate professor of art, has seen all three "Back to the Future" movies.
As co-organizer of the annual Oxford Kinetics Festival, he'd like the campus community to focus on another date once October has passed: April 17 when the next Kinetics Festival will be held at Millett Hall. Known for its "kinetic contraptionism," visitors likely will see all kinds of unusual and creative self-powered vehicles people dream up, such as recliners hooked up to bicycles or Personal Flight Devices (like that modeled by Northcutt at left, from a workshop he led at the Contemporary Arts Center in Cincinnati, part of 2015 Kinetics Festival events).
And how does Northcutt think we'll be getting around campus 30 years from now?
"I think it's still going to be primarily on foot, because it's probably the most efficient. What I mean by that is your feet don't break down as much," he said. However, he suspects there likely will be some cool novelty items that will come out and live for a few years before something new comes along.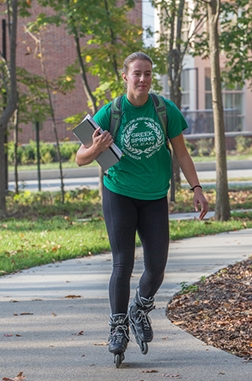 Inline skating to class
Northcutt also believes the old reliable bicycle, first introduced in the 19th century in Europe, will still be a popular form of travel on campus decades from now.
That brings us back to Danielson, who picks up the new bike path on Spring Street, then cuts between Kreger Hall and the Armstrong Student Center before arriving at his final destination, Hughes Laboratories.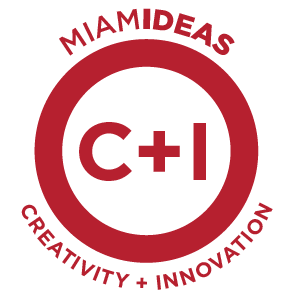 Danielson used to take a statin drug to keep his borderline cholesterol in check but no longer needs the medication, thanks to the five miles of pedal power he puts in each workday.
"I started feeling really good, both physically and psychologically. It clears your mind," he said. "I'm at the point now where if I don't ride my bike, I think it hasn't been a good day."