A perfect pitch launches Paulina Zeng and her team into the app world
Oct 15, 2015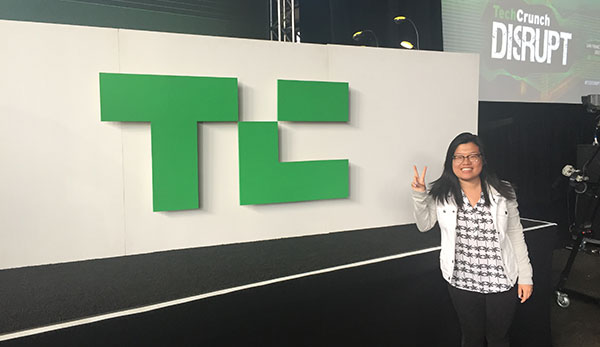 Paulina Zeng's love for design and technology landed her a spot in a national competition where innovation ruled the stage.
A perfect pitch launches Paulina Zeng and her team into the app world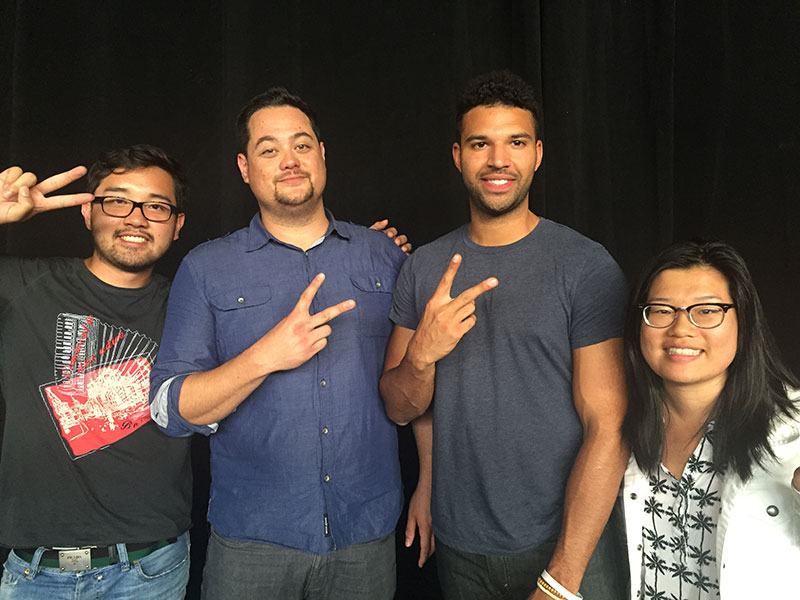 Paulina Zeng, right, and her teammates (l-r): Terence Pae, Dan Carr and Lofton Taylor. (Photo courtesy of TechCrunch)
by Carole Johnson, university news and communications
A new app designed to help public speakers practice their pitch received 1st runner-up in the TechCrunch Disrupt SF Hackathon challenge and launched Miami graduate student Paulina Zeng and her team into intensive product development.

Zeng, a candidate in Miami's master's of fine arts experience design program, worked on the user interface and user experience with her team for PitchPal, an app that helps people improve their speech by analyzing tone, pitch and speed. Team members are Dan Carr, Terence Pae and Lofton Taylor.
In the 24-hour national Hackathon competition held in San Francisco, Zeng and her teammates fine-tuned their idea as they competed against hundreds of hackers making up 167 teams. They created a working app that impressed the judges – due in part by their "pitch." View their product demonstration online at TechCrunch.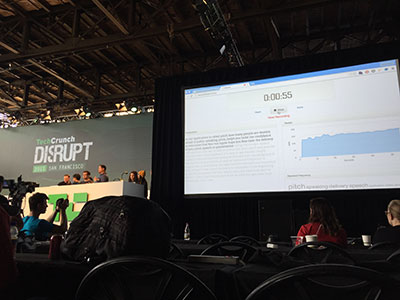 PitchPal presented its app to the judges in 57 seconds. View the pitch online.
About a month prior to the September event, the team members brainstormed through Google chat sessions. They passed ideas back and forth, later focusing on speech recognition technology.

"Somehow the idea morphed into presentations, and we all agreed that we have problems with practicing for them. That's how we came up with the idea for PitchPal," she said.

Zeng's teammates, Pae and Carr, presented their app by using it to practice their speech for the final rounds. The speech came in at 57 seconds, 3 seconds under the 60-second time limit set by the judges. 
Zeng developed the logo and the design of the app and contributed to the navigation aspects.

Last spring, Zeng joined a cohort of students who spent a semester in San Francisco with Miami's Armstrong Interactive Media Studies/Entrepreneurship Institute's Digital Innovation Center. She participated in several competitions in the Bay area and met Pae, who invited her to be a part of his team.

"We all worked very well together," she said. "It was so exciting to see this come together."
The team is thrilled with its placement in the competition, and is now working to bring the app to the general market. Zeng will be designing the look and feel for the brand.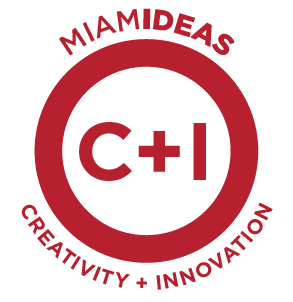 Receiving her bachelor's degree in graphic design from the University of Nevada, Las Vegas, Zeng searched for a graduate program that combined her interest in design with her love for technology. She discovered Miami's master's of fine arts in experience design, coordinated by interactive media studies and the graphic design program.
"Experience design is where design and technology meet," said Dennis Cheatham, co-chair of the master's program and assistant professor of graphic design. "Businesses are very interested in being memorable and approachable and understanding more and more what their customers need to do, what they want to do, and how they feel while doing it.
"We study philosophy to gain different ways to see the world as designers. Then we use ethnographic methods to learn what matters to people — to get a clearer picture of their personal and cultural makeup," he said.

These methods often include interviews, observations and focus groups.

"We look at space, color and what the steps are for interaction. It's all about enabling someone to complete a task in a way that they enjoy," he said.
Gathering user data is top priority for Zeng as the team moves toward production.